Album Announcement: Alborosie Meets The Wailers United - Unbreakable
04/24/2018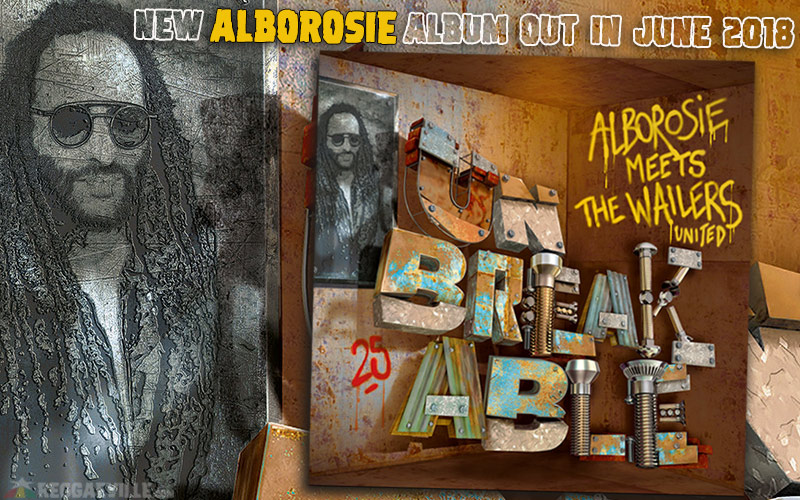 We first heard about this special album project in January 2018, when Alborosie made a post on Facebook. The album title Unbreakable was revealed end of March and in early April Puppa Albo made a video announcement [watch it below] to reveal some more details.

Today we got all the details, cover artwork and tracklist:

Unbreakable is Alborosie's his sixth full length vocal studio album and his choice of players and vocal feature guests on the album have resulted in a product that amplifies his multiple talents on a new level.

Included are performances from Aston "Family Man" Barrett, Tyrone Downie and Junior Marvin - bass, keyboards and guitar, all of the famed Bob Marley backing band, now called The Wailers United - plus four awesome singers who get into combination with Alborosie: Chronixx, Jah Cure, Beres Hammond and J Boog. Mr. Alberto d'Ascola (aka Alborosie) and his team tour constantly and the release cycle for his new longplayer will be no exception! Check all upcoming tourdates here.

Tracklist: Alborosie Meets The Wailers United - Unbreakable
01. Wailing Dub
02. Mystical Reggae feat. Jah Cure
03. Lie
04. Live Conscious
05. Contradiction feat. Chronixx
06. Mission
07. Too Rock feat. Beres Hammond
08. Table Has Turned
09. Youth Like Me
10. Unbreakable feat. J Boog
11. One Chord
12. Under Control
13. Fams Dub (Outro)

Unbreakable (Greensleeves Records) will be available as Digital Release, CD and LP on June 29th, 2018.