Review
Album Review: I-Octane - My Journey
03/03/2014
by Angus Taylor
I Octane now has two well written, bona fide albums under his belt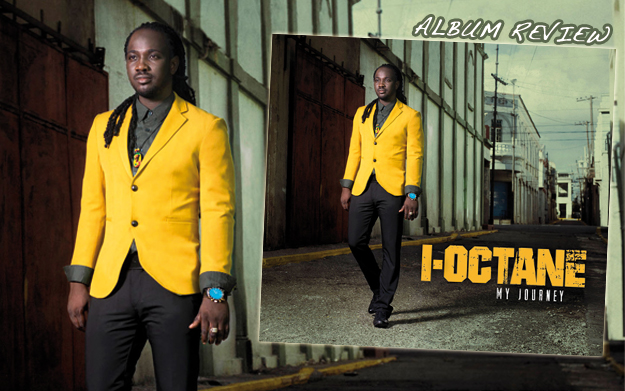 Since the seismic shifts of the 80s, reggae and dancehall have coexisted - with many artists making both. Few however have straddled them with such comfort as I Octane. Blessed with a striking voice that combines Bob Marley's broken tone, Buju's rock stone grain and the vulnerable yearning of Jah Cure, he dwells at all points on the singer-to-deejay spectrum.

First album Crying to the Nation, produced by Robert Livingstone and sold to VP Records, was equal parts reggae and dancehall with several tracks sitting at their crossroads. His typically professional new effort My Journey (released by Tad's Record and produced by DJ Frass who helmed 2011 hit My Life) puts its reggae foot forward but mutates into familiar fusions towards its end.
 
Like Crying, this is an agreeably unified record rather than a singles patchwork (note that My Life, which never saw long format release, is not included). It maintains a computer enhanced yet live instrument based sound: rare when budgetary pressures cause most projects to compromise by adding hits from diverse sources or spoil the flow with an incongruously cheap sounding rhythm as a favour to a friend. I Octane's business-like approach that came over with Livingstone is clear in his work with Frass.
 
Where Crying had a harsh, almost bleak mood My Journey is more sophisticated, upbeat and gentle in tone. Where the debut mixed one drop and uptempo rhythms across its tracklist, the first half of this album is practically 100% reggae - in keeping with trends spearheaded by next young firebrand Chronixx. The second portion gradually gives way to hybrids of downtempo dancehall, groundation drumming and soul-pop.

The songs, this time using co-writers, lose a little of the uniqueness of Octane's writing, and go further than the previous record in their love of big simple hooks that might seem boybandish if they weren't sung in such a raw emotive voice. Yet there are similar touch points to Crying to the Nation. Babylon's driving minor key power will recall System Beat Dem; It's Alright, featuring an unusually pugnacious Gentleman is melodic roots like All We Need Is Love with Tarrus Riley; Love You Like I Do occupies similarly dreamy territory to L.O.V.E. Y.O.U and so on.

Octane has often spoken of the success of Bob Marley as a benchmark and, in the fusion coda, Ky-Mani Marley brings his own grain to the war drums of I Yah We Deh. Less successful is the saccharine Lighters Up with Alaine – whose overblown treatment of the basic request to an audience spreads a lightweight topic too thin. But it is made up for with the inclusion of anthemic single My Story – everything a conscious pop dancehall song should be.

The production is clean, bright and could come across as a touch over-produced for certain ears. Although it's not mastered as loud as the VP project, in places Octane's coarse vocals are so compressed and limited that it nearly distorts.
 
Some will prefer the hardness, angst and creative tension of Crying, while Octane's dancehall fans may feel disappointed that they are not more represented. But I Octane now has two well written, bona fide albums under his belt and seems to be aiming for a policy of quality control that is uncommon since Bob and Blackwell dotted the i's and crossed the t's.
---
Release details
I Octane - My Journey
CD / DIGITAL RELEASE [Tad's Record]
Release date: 03/04/2014
Tracks
01. Time Will Come
02. Million Miles Away
03. Stepping in The Name of Love
04. Babylon
05. It's Alright feat. Gentleman
06. Love You Like I Do
07. I Will be There
08. Mama
09. Pressure
10. Jah Jah Warrior
11. A Yah Wi Deh feat. Ky-Mani Marley
12. Lighters Up feat. Alaine
13. My Story
14. Blood A Go Run
15. Jah Jah Mission
16. Burn It
Featured artists
Alaine
/
Gentleman
/
Ky-Mani Marley