Review
Album Review: Akae Beka - Portals
04/03/2016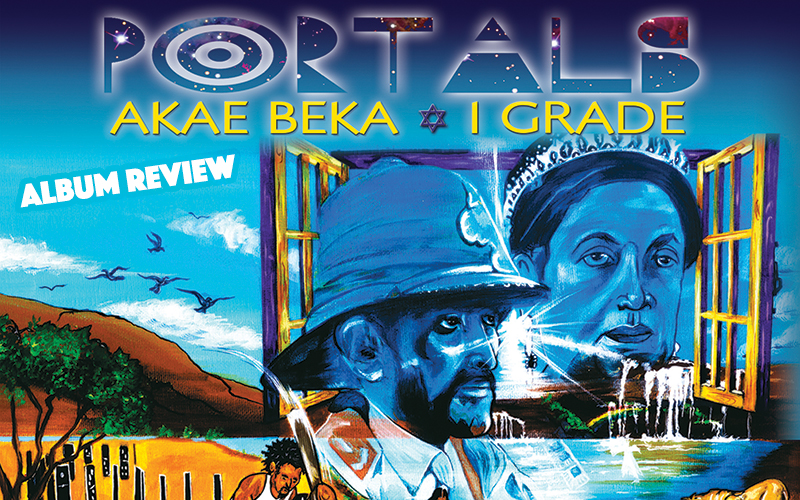 Portals takes you even deeper into those ethereal, nebulous spheres which you didn`t think exist beyond what can be described as the meditative St. Croix style established by Midnite and Dezarie. Almost two decades have passed, since Midnite`s Unpolished and Dezarie's Fya initiated a process of continuous ideological, musical and personal mystification within the manifold and ever-creative space of Reggae music. More and more, cloudy soundscapes began to grow around clear drum- and off beat sounds, wrapped in mysterious baselines in order to eventually from a melancholic soundscape in which pictorial and symbolic lyrics reason around ancient transcendental truths. In deed, the unique and unusual, singing style of Midnite frontman Vaughn Benjamin has always been crucial to this melancholic and impressionist style, and as Akae Beka, he now represents the current manifestation of deep spiritual Roots Reggae.

The music on Portals, which is the second album Benjamin released under his new stage name, flows natural like a mountain stream, cleansing the mind with the pure and cool water of thoughtfulness. Just like the Midnite album Beauty for Ashes, a product of I Grade Records, which is also located in St. Croix, Portals, too, let Lloyd "Junior" Richards take care of the drums, who bestows this unmistakable and unpredictable Midnite groove on the whole album. Further developed, however, than many previous Midnite releases in terms of the quality of sound and mix, the album subtly sets itself apart from the mother project, just as much as it is similar to it.

Portals is a homogeneous potpourri of thirteen songs, similar in approach yet different in implementation. Instrumentally, the album sometimes counts on distorted guitar lines, for example, in Heavy Low and Well Said, on layers of synth pads with loads of reverb as in Changes, or on concise brass contours as in Ideals of the Emperor. As usual, Benjamin's lyrics come along well reflected; a stream of consciousness, allegorical and symbolic, yet pregnant with meaning and full of life's teachings, as the chorus of Like Rhyme elegantly shows: "as perceptions change in time, people go through similar things same time, experience tells a story if you don't mind, cause life to flow like rhyme."

In By All For All, Benjamin builds a wall of mysticism around the core of his message, which, however, makes it so interesting to listen to him. The album's naturalness climaxes in Orderly, a graceful homage to Jah creation, in which the chirping of birds beautifully merges into a sound collage with the other instruments. With a mixture of lead synths and guitar dubs, plus an inventive drum beat, the title song Portals acoustically pushes you back and forth on a psychedelic and fast-moving scenery, more and more towards "the entrance of the portals."

The only feature guest on this album is also from St. Croix. On Let Babylon Go, Danny I adopts to Vaugn Benjamin's singing style so well that it makes you think the both of them must be brothers. Well, they descend from the same musical family, that's for sure. Some sounds in Be Kindly almost have a spooky flair, while Simplest Long rather creates a positive mood through its dry dub style. Dem a Warriah is a heavy and serious tune with a somewhat African touch to Benjamin's articulation and on the album`s last song, where melodicas merge with lead synths, a straight one drop helps the lyricist to finalize his message with the words Love is the Mainstay.
Portals continues the saga of top-class spiritual impressionist Reggae, and those who love Midnite will also find great pleasure in the mystic world of Akae Beka.
---
Release details
Akae Beka - Portals
DIGITAL RELEASE / CD [I Grade Records]
Release date: 04/01/2016
Tracks
01. Heavy Low
02. Ideals Of The Emperor
03. Like Rhyme
04. By All For All
05. Orderly
06. Portals
07. Let Babylon Go feat. Danny I
08. Be Kindly
09. Simplest Long
10. Well Said
11. Changes
12. Dem A Warriah
13. Love Is The Mainstay