Review
Album Review: Akae Beka - Polarities
05/21/2021
by Gardy Stein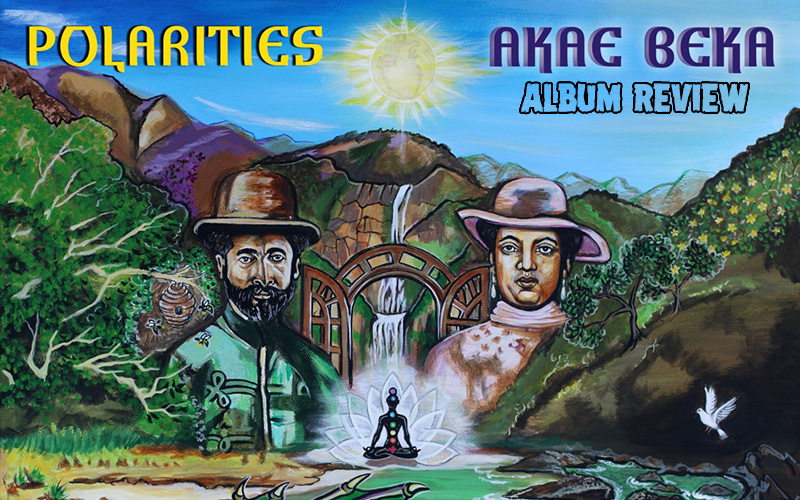 "The heaviest weapon is information!" (Akae Beka, Black Carbon)
Welcome to the Akae Beka School of Higher Education! Principal Vaughn Benjamin invites a select number of students to the Polarities program, a scholarship for all those who seek word, sound and power. The only material you need is the new album Polarities, an open mind as well as a quiet space and sufficient time to immerse yourself in it.
Before we start, let me introduce you to the institution's staff. The program was initiated by teacher Laurent "Tippy I" Alfred of the I Grade Records institute and his Zion I Kings colleagues David "Jah David" Goldfine (Zion High Productions) and Andrew "Moon" Bain (Lustre Kings Productions). Further educators include Lloyd "Junior" Richards, Kirk Bennett and Aston Barrett Jr. on drums, the late Andrew "Drew Keys" Stoch on keys & trombone, Steven Katz and Edmund Filleuteau on guitar and Andrew "Bassie" Campbell on bass and kette. They are all waiting for you, eager to begin.
First of all: on the quest for knowledge, Don't Feel No Way. It's is ok to not know about the stone lions of Assyria, to ask about the ancient inscriptions in Ethiopia, to be unaware of the artefacts of Solomon's wall - that's what you are here for! Heralded by the sounds of trombone (Balboa Becker) and saxophone (Garrett Kobsef), today's curriculum unfolds.
Treating the basics of international law and balance, our Economy class Charges talks about the positive and negative poles of batteries, of import and export, of automobiles... important concepts to be aware of. "Don't want to be identified by your deeds? Some would like to show themselves friendly (...) and would reciprocate their decency." Don't leave now!
Time for some physical activity. To the steppas-driven riddim of Raining Thugs, jump around and move your arms and legs, best done outside in the park or with your window wide open. Make sure you do catch the important lyrics, though: "The book of Joshua say Enoch ascended up on a fiery horse, similar to Pegasus when Ignatius cross. Synchronism in the mythology to get it across, to regain some of the connectivity to generation lost."
Up next, we have the pleaseure to introduce guest lecturer Chronixx for your Biology lesson Black Carbon. "Organic life, organic architecture, organic forms, that is who we are, hydrocarbons." Listen keenly when Chronixx and Vaughn emphasize the origins we all have in common, and make sure you meditate on that sufficiently to understand the global connection we all have. "This is our place under the sun", and equal rights are a must!
Assembling in the school yard, we subsequently put this knowledge to action. Plant seeds and see them grow, but be aware that actions, too, are like seeds - if they are cast with bad intentions, the harvest will not be a good one. Sow And The Reap draws parallels between the slave trade, placing Africans in swamps among mosquitos, to immigration policy, deported people and bloodhounds on the leash. Which buds of cognition does this track bring to blossom in you?
Art class now, including a homework. Listen to the sweet melodies of Royal Tribe (chapeau to background singer Fiona Robinson) and let the words inspire you to paint a portrait of an African Queen or King, Princess or Prince. Whether your result looks like Tamara Natalie Madden's paintings, the royal faces of cover artist Marcus Wilson or the modern digital approach of Taj Francis aka Taj Tenfold - share your picture in the comments below!
Visiting professor Tiken Jah Fakoly then takes us on an excursion into African Linguistics, singing his part of the Everything Bless lecture in the West African language Dioula, accompanied on Kora by Mamadou Sidiki Diabate. How nice it would be if every school included the cultural riches of minority languages in their timetable!
While Viral Trend and Value Good Again are the optional soundtracks of your lunch break, all participants are expected back on time for Music class. The task here is to Sing A New Song, and you are free to choose if you just want to sing along to the quiet, synthie-heavy riddim or create your own. "Rasta on the introspecitve, choose ovastanding in the moment, choose patience in the moment."
Polarities, the title track of this special program, is today's highlight. "Everything in the realm of love, in the realm of peace, on the defence among the polarities." introduces deeply philosophical subjects that can only be grasped by repeated hearing. Akae Beka are at their most characteristic here, with puzzling strings of words to be interpreted and analysed by their students.
Recreation time! School is out for today, but we strongly suggest that you feel the Resonance of all the knowledge you absorbed. To the sounds of a light-hearted flute played by Sheldon Bernard, the history bits hinted at in the first song are deepened in this one, giving you plenty of material to start your own research on.
With a gripping farewell speech, Vaughn Benjamin releases us at the end of the program. "Take Jah Imandment To Heart" are the parting words of our wise head-master, completing today's formation with the important spiritual element of religion. If only real schools gave lessons like that!
Forgive my being carried away with this metaphor - it was so present during the first round of listening that I couldn't help but go along with it. To lend credibility to this rather unusual review, here are some hard facts: The 13th and final full album of Akae Beka and I Grade Records has 13 tracks which were recorded between 2015 and 2018 in St. Croix and on tour in Chile, Vermont, France, Florida and even Jamaica (Everything Bless and Viral Trend were recorded at the Tuff Gong Studios in Kingston). Mixed and mastered at Tippy I's Holy Mountain Studios, the oeuvre guarantees the usual high quality of Akae Beka releases, from the first drum-roll to the final harmony.
Polarities is an exquisite addition to the 70+ albums Vaughn Benjamin has created in his lifetime, and although it has to be published posthumously, it will certainly bring joy to the hearts of the listeners. Your teachings live on, Vaughn!
---
Release details
Akae Beka - Polarities
DIGITAL RELEASE [I Grade Records]
Release date: 05/21/2021
Tracks
01. Don't Feel No Way
02. Charges
03. Raining Thugs

04. Black Carbon feat. Chronixx

05. Sow and the Reap

06. Royal Tribe

07. Everything Bless feat. Tiken Jah Fakoly

08. Viral Trend

09. Sing a New Song

10. Value Good Again

11. Polarities

12. Resonance
13. Imandment to Heart
Featured artists
Chronixx
/
Tiken Jah Fakoly