RIP Vaughn Benjamin - Akae Beka | Midnite
11/05/2019 by Gardy Stein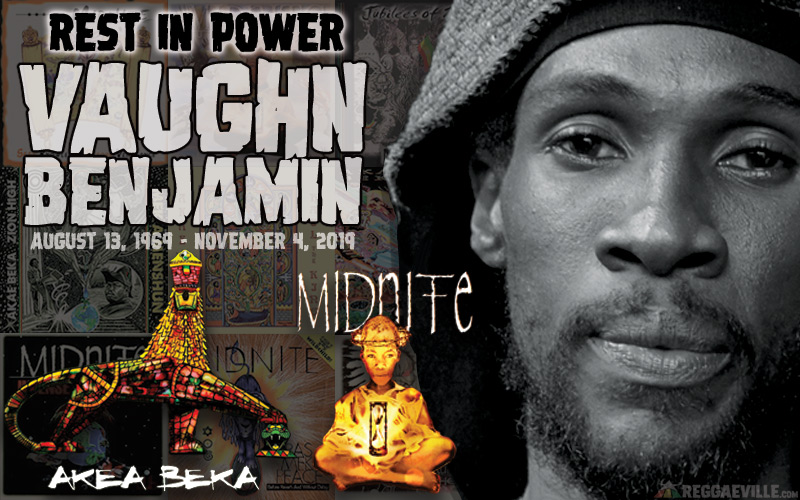 Vaughn Benjamin | August 13, 1969 - November 4, 2019

A light has left our world!
While every death causes consternation and sadness among loved ones, some are more of a shock to us than others. Especially when it comes as unexpected as the passing of Vaughn Benjamin, legendary singer and songwriter of Midnite, who adopted the new name Akae Beka in 2015. Just two weeks ago, well known agent/booker Mark Miller offered dates for an extensive European Tour planned for 2020, so there was no sign of any ailment or cause for concern. The circumstances of Benjamin's death are not known as yet, but the mournful fact itself was shared by Yared Tekeste of the Uppsala Reggae Festival, who was able to confirm it with Laurent "Tippy I" Alfred from I Grade Records.

Official statement of Akae Beka's manager, Adrian Bluford: "It's with a heavy heart that I make this official announcement on the passing of Vaughn Benjamin. Mr. Benjamin was a son, brother, father, life partner and a friend and inspiration to many. We ask for prayers and privacy at this time. Vaughn has given us so much through his creative forces. Through his legacy we must continue to keep the fire burning. We love you Vaughn. Your contributions are accounted for! We know you are standing next to the King! Egzierbeir Queddus Germawe Kidamawe Haile Selassie I
Your manager and friend, Adrian" (source: Facebook page of Akae Beka)
We will inform you as soon as we have more details. What is clear is that the loss of Vaughn Benjamin is a terrible one, as his words of consciousness, upliftment, concern and hope were a pillar of truth and faith in the turmoils of our modern world.

Born and raised on the calm shores of St. Croix, Virgin Islands, this exceptionally gifted man and his brother Ron Benjamin founded in 1989 what was to become one of the most influential modern Roots Reggae bands: Midnite. Following the release of their debut album Unpolished in 1997, and especially Ras Mek Peace in 1999, the artist's clever use of words, deep insights into human and spiritual matters as well as the melodious flow of his fellow musicians soon cemented their reputation, and a growing fanbase followed their rise and celebrated their meditative live performances. 55+ releases gave people around the world a lot to think about: he treated every subject thoroughly, chanting about the oppressed, political, economic and social issues as well as love and the full-hearted dedication to Jah. This work was continued under the new name Akae Beka with 11 releases, the last one Mek A Menshun having just appeared in July this year (Zion High Productions).

Thank you for the teachings, Vaughn - continue to shine in Zion!

Voices of the international Reggae community:
JAH9: "I beloved of JAH!!! No words for my gratitude to have shared time, space, stage and paper with one of the most extraordinary cultural icons of my generation... a beacon of light, a truly beautiful man... my brother Vaughn Benjamin... now with the Ancestors..."
JESSE ROYAL: "Truly saddened to hear this news! Truly one of the Purest Genuine Souls that I've ever come across and the lessons and reasonings are truly indelible"
PROTOJE: "Very saddened today, this is One of the biggest influences I've had in music. I've never met a more intelligent and knowledgeable person in my life and also with the wisdom of a Sage. Forever grateful that u allowed me to make Music with you. Rest well Vaughn."
GROUNDATION: "No words can comfort the loss of a man who gave the world so much and has left us too soon. We are shocked and saddened to learn of the passing of our brother Vaughn Benjamin. (...) The influence that Midnite had on the whole reggae genre could not be overstated and it was the words of Vaughn Benjamin that catapulted each song. What is true; the man is a legend and he LIVES in the music."
JAHCOUSTIX: "I am too shocked right now!!!! Condolences to his loved ones!! He was such a big inspiration to so many people."

WATCH BELOW SOME RARE VIDEO FOOTAGE OF MIDNITE IN 1995
including a cover version of Jacob Miller's Mix Up Moods!