Polarities - I Grade Records Releases New Akae Beka Album
04/30/2021 by Press Release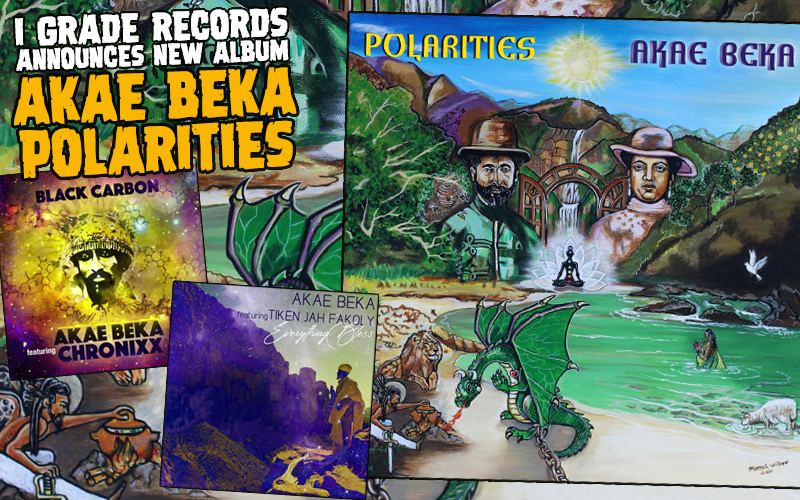 Vaughn Benjamin, the singer of Midnite and Akae Beka bands who passed away in November 2019, released 72 albums in his lifetime and several more posthumously.
One of the most anticipated new releases from his vast archive of recorded materials is the album entitled, Polarities – to be released on I Grade Records on Friday May 21, 2021.
Polarities is the 13th and final full album of new material from Vaughn Benjamin and I Grade Records, the culmination of a 20 year working relationship that began with 2001's Nemozian Rasta album, which was Midnite's 4th album released to date at that time.
Polarities was produced jointly by the Zion I Kings production team, with Tippy I of I Grade at the production helm, alongside Vaughn Benjamin himself. Zion I Kings is a family of producers and labels that include Jah David of Zion High Productions, Tippy of I Grade Records and Moon of Lustre Kings Productions. Tippy and Vaughn have been producing songs together since 2001, and this Polarities album was a return to their roots of sharing album production. The sound reflects this collaboration as it weaves deep roots basslines with intricate melodies and instrumentation.
The 13 songs on Polarities were mostly recorded between 2015 and 2018, many while on tour, when Tippy was manager and FOH engineer for Akae Beka. The songs Everything Bless and Viral Trend recorded in Kingston, Jamaica (Tuff Gong Studio). Others were recorded in Chile, Vermont, France and Florida. The musicians on the album include the above mentioned principals of Zion I Kings, long-time collaborator and keyboard and trombone maestro Drew Keys, Jamaican superproducer Teflon Zincfence, Lloyd Richards, Kirk Bennett and Aston Barrett Jr among many others.
The album also includes two notable guest features: Tiken Jah Fakoly of Ivory Coast on Everything Bless and Chronixx of Jamaica on Black Carbon, which were both released in 2020 as the first singles off of Polarities. The title track, Polarities is out now and another single "Charges" shortly before the album is launched on May 21.

ALBUM TRACKLIST
01. Don't Feel No Way
02. Charges
03. Raining Thugs

04. Black Carbon feat. Chronixx

05. Sow and the Reap

06. Royal Tribe

07. Everything Bless feat. Tiken Jah Fakoly

08. Viral Trend

09. Sing a New Song

10. Value Good Again

11. Polarities

12. Resonance
13. Imandment to Heart