Green Lion Crew presents new Akae Beka Single Be Still
11/08/2019 by Reggaeville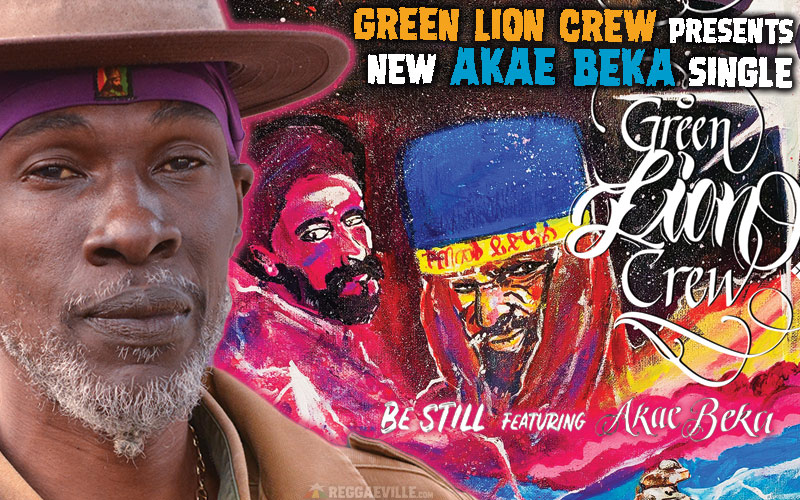 Zeke Stern (Green Lion Crew) about working with Vaughn Benjamin (Akae Beka):
"It was one of our lifelong dreams to work with Vaughn. He was one of the most prolific and influential reggae artists of all time without question. He had this presence that was comforting, like he had figured out life's mysteries and was just smiling at creation. Vaughn was the captain of our ship. Calmly navigating an ocean of greed and oppression while taking the time to appreciate the beauty of the earth. His body of work is incredible and the depth of his insight will continue to be discovered for years to come."

Be Still feat Akae Beka is the third single and title track of Green Lion Crew's new album. The release is a collaboration with three prominent vocalists from the US Virgin Islands: Akae Beka, Pressure Busspipe and Danny I. The full albu is available November 22, 2019. Other tracks with Akae Beka's vocals are "True Lineage, Class Warfare, and Yes It Is as well as the dub versions of each of those tracks.

Be Still is a heavy meditative track with thunderous bass and a calming yet complex lyrical onslaught worthy of being written on a hemp scroll. Akae Beka is capable of sounding timeless and ancient in the same moment. The song calls for finding peace of mind and the power within to have a spiritual revolution against the oppressors. Lyric phrases such as "Ganja Seed equivalent, a stone in a sling" connects the story of David and Goliath to the present day power of marijuana against the system.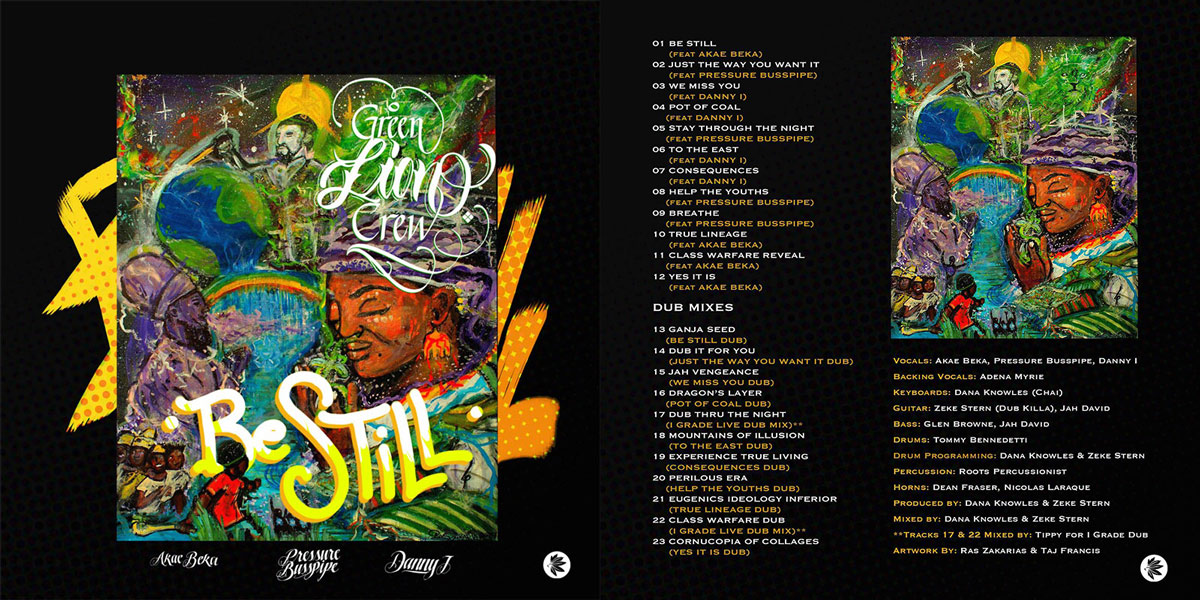 The track was produced and mixed by Green Lion Crew with Dana Knowles on Keyboards and Zeke Stern on Guitar. Reggae legend Glen Browne plays Bass, Nicholas Laraque plays Saxophone and flute, and Hector Lewis aka Roots Percussionist plays Percussion. Released by Ineffable Music. Artwork by Ras Zakarias & Taj Francis.

About Green Lion Crew: At the controls of a potent dancefloor experience that draws from reggae dancehall, hip hop and the synthy beats of urban electro, producer/DJ Green Lion is a sonic craftsman at home both on the decks and in the studio. Honed in the heated atmosphere of Jamaican sound system culture and a constant schedule of live club and concert dates in the United States, all Green Lion productions–on record, over the air or live and direct–are energetic affairs designed to set bodies in motion. Green Lion's movements are coming fast and furious now as charting success and critical acclaim for recent productions with reggae and crossover tastemakers such Chronixx, Kabaka Pyramid, Beenie Man, Mr Williamz and Collie Buddz lock in spots on international sales charts and heavy rotation on commercial radio around the world.



Green Lion's production, the Rough Road Riddim, is a perfect example. Rooted in reggae dancehall, the Rough Road invokes a creeping hip hop beat before opening the door to the wonky synths and spacious soundscapes typical of electronic movements. Featuring reggae dancehall's most sought after vocalists (Chronixx, Jahdan Blakkamoore, Kabaka Pyramid, Dre Island, Zamunda, Cron Syncro) the Rough Road reached #1 on Beatport, #4 on Juno while amassing humbling words of praise: "A groundbreaking riddim" (Forward Ever), "One of the best riddim tracks in a long time" (Blatantly Blunt).

Listen to GREEN LION CREW feat. AKAE BEKA - BE STILL here: