World Reggae Contest 2016 - Meet The Finalists... ADAHZEH
08/08/2016 by Gardy Stein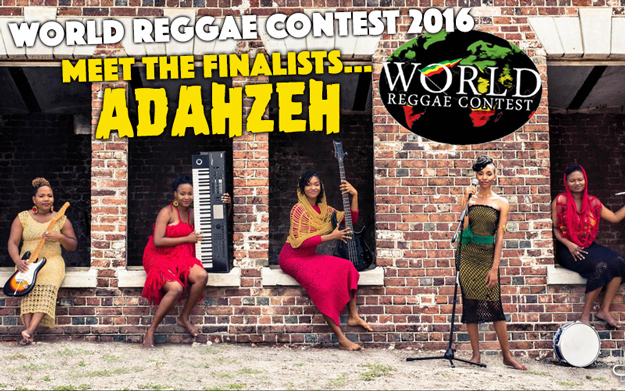 The final finalist of the World Reggae Contest comes from the "motherland" of Reggae. Adahzeh, which means "King's Daughters", is an all-female band from Kingston, Jamaica, consisting of Kadian Hamilton (vocals), Chevanese Palmer (bass guitar), Karissa Palmer (keyboard), Tashana Barnett (drums) and Tara-Dean Williamson (guitar). Formed in 2013, they have been continually on the rise ever since, stunning people with their passion, musical excellence and positive energy wherever they perform. Self-confidently they carry a message of female empowerment to a world that is still dominated by men in many areas, especially when it comes to Reggae music. Adahzeh, who are presently working on their debut EP Journey, swirl in like a fresh breeze and are indeed a joy to watch and hear – Ostroda get ready! This is what they want to let us know:
 
1. Your expectations of Poland:
We are really excited to travel together as a band, as this will be our first show outside of Jamaica. We are looking forward to experiencing the culture, the people and the Ostroda Reggae Festival.
 
2. What can people in Ostroda expect when you appear on stage? What does your live performance look, feel and sound like?
They can expect a fire blazing performance from Adahzeh! High energy from the beginning to the end! A wide variety of songs, from Ska to Rock Steady to Reggae original and covers. We aim to be different!
 
3. Why do you deserve to win the contest?
Firstly, we don't believe that music is a competition. We see it as a really big family of people that share one common goal; which is to share his/ her music to the world. However, having the title of being the best Reggae Band in the world will inspire other musicians and singers from Jamaica to work even harder and to achieve greatly, especially females in a male- dominated Reggae market.
 
4. If you are the lucky winner of the contest, you will have the chance to record at a studio in Jamaica. What does this mean to you? Do you have plans for that recording session already? Share your thoughts…
This would be huge for us because it is not everyday this opportunity is granted. We are sure we will learn from the experience as well as making an international hit.
 
5. If you could choose freely, who would join you in the studio to record a feature/ combination track and why?
We would choose Stephen Marley, Damian Marley, Gentleman, Marcia Griffiths and Queen Ifrica. They are all iconic to us and they represent well in the Music Industry. Picture us with all these greats remaking the legendary Bob Marley's One Love. Priceless!


WATCH ADAHZEH LIVE ON STAGE - August 14th!
LIVE STREAM INFORMATION HERE!