Interview: Uwe Banton
11/29/2012
Uwe Banton is a head cornerstone of Germany's reggae movement, and has his share of international exposure. The pleasantly calm and unpretentious Rasta has just released his third solo album, called Mental War. REGGAEVILLE sat down with Uwe Banton recently in Munich, were Banton passed by for a show.

Let's start with your approach to Mental War, your third studio album. Mental War was the first album you produced yourself, right?
Well, for the most part. Not every track on the album was produced by myself. Like No Control featuring Jahcoustix is a production of Dub Inc. from France, with Morry (aka Moritz von Korff; the editor) on the bass. And Thought I'd Let You Know on the Youth Riddim is a production of Forester and Ganjaman out of Berlin. The rest, mostly, was done by me. Work was done together with Matthias (Matthias the Dread, who played percussions for Gentleman's Far East Band a few years back; the editor). But most of the other things are my own production, with the help of some people. The singers and players of instruments, you know.

How come you did not just pick one producer this time to take care of the whole album?
Actually, I have never really done an album in that way, just working with one producer. I have mostly either produced stuff myself, or in cooperation with others. Like a band or other musicians. But overall, what the production of this album is concerned, someone has to do it and in this case it was just me who gave directions of where the thing was supposed to head to.

How much time did you take to produce Mental War?
Well, some of the first songs for it were recorded in 2009, just following the release of Rightful Place. And I went to Jamaica in September, October 2009 and met Mikey General and Luciano there. We laid the foundation for the two features, Work and Mental War. From there on, it went step by step. Back in Germany, we started to work on my layouts, and after they had taken certain shapes, then I went to Josie (Josie Coppola a.k.a. Big Finga, drummer of Gentleman's current band The Evolution; the editor) and asked him to play some drums for me. I went to Roughhouse (Keith Powell, Sammy Deluxe's bass player hailing from Jamaica; the editor), and he played the bass for me. Other people played piano and guitar. For three or four of the tracks, we did a recording session at Planet Earth Studio, which belongs to Josey, and Aldubb in Berlin, where we did From You A Walk With Jah and Love Sweet Love, and another one... Education. All of it came together to form one picture.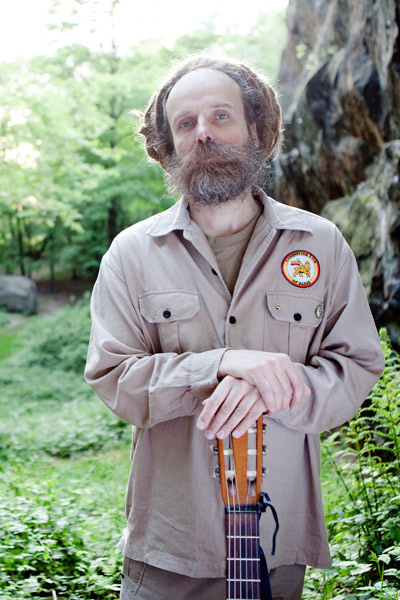 Since the album is called Mental War, what is that Mental War you talk about?
Specifically in the time that we live in, where a lot of things are published in print and in the media designed to captivate our minds. It is important to have some orientation, to find the balance for yourself to find your way through it. You have to learn to find out a way of how to differentiate between the things that are good and bad for you, and then make your decision of the direction you would like to turn to. That for me represents the Mental War in each and everybody's mind.

You do actually give some advice in some of the songs on how to find the right direction. Where do you take the strength and maturity from to do so?
I think experience teaches wisdom. I wouldn't go as far and call myself a wise person. I think we'll always be subject to learning processes. The learning and educating never stops, as long as we are trodding on earth. But after some time, every man should gain some experience. Then it's easier to address certain issues, because you have gone through experiences and came to certain conclusions or realizations. Then there are these moments when I feel that it's good to share this with someone who probably hasn't had that experience as of yet. Just in order to give a guideline, because we are not alone in this world. We all learn from our forefathers and from our teachers and mentors and people to whom we look up. I just hope that I can probably contribute in a way that someone who listens to my songs may think about what he heard and hopefully learns something.

Let's talk about the combinations on Mental War. You did them with Cornadoor, Luciano, Mikey General and Jahcoustix. How did you get in touch with Mikey and Luciano?
As I said, when I was in Jamaica, I linked up with BenGee, who is a very good friend of mine. He's a graphic designer. He has done the entire graphics of my album. He has been living in Kingston for some years. He has this link to Mikey General, they know each other well and are good friends. He introduced me to him. We met at Mikey Melodies Studio, and that is a place where many artists gather. Artists came to voice dubs or songs. I happened to meet Mark Wonder there, Elijah Prophet was there, and Mikey General. I met - hold on - Echo Minott there also. Whole heap of artists and celebrities. And Luciano also, he was there regularly. We made the connection there. Actually, Mikey's tune - he voiced his part in Jamaica at that time in Jamaica in Mikey Melodies Studio when I was there. With Luci, I kind of arranged it that we actually met two months later, when he came on tour in december and he was playing at the Yaam. We met there and recorded Mental War at Ganjaman's studio in Berlin.

Cornadoor is my bredren, he's also from Bielefeld, like me. I know his Dad very well. They're both very nice people. We had this idea of doing a song together for some time. He actually had this riddim produced for his own album, but he didn't have a song for it. We recorded it with Josie and the Feueralarm Band. He gave me the riddim, and we started to put the lyrics to it. This is the result. With Dominik, Jahcoustix, the riddim was from Dub Inc. as you know. No Doubt. Moritz sent it to me to voice it. The song is a very nice one, that's why I picked it for the album.

Are you something like a mentor to Cornadoor?
I don't really know, you would have to ask him. It's not really that we spend a lot of time. I know his father very well. His father is a very devoted collector of reggae music and a great reggae fan. I think he learned most of his music from his father. I know him from way back, when he was quite young. I like and respect what he's doing. We wanted to do a tune together.

Your main markets are Germany, Switzerland and Austria, I guess. Have you toured farther than that?
Well, I get a lot of feedback from... Since in this modern age, with platforms like YouTube, Facebook and all this stuff, people are able to link up and communicate through the networks much faster than before. Actually, I don't consider Germany like a special market. Before internet times, we were kind of restricted, when our music was only available on physical media. Your distributor could only deal within a certain range. But nowadays, through this internet, everybody from Hawaii to Australia, New Zealand, they have access to the internet. It's just a click away, so to speak. I'm getting so much feedback from people from all over the world. Argentina, Chile and Brazil, Mexico... I've been to Costa Rica, as you know. Last year I toured Costa Rica. I have a great following of people there who know my music. I think I can say that. Russia... I've played in Russia before. I've been to Moscow, St. Petersburg also. I'm in good contact with some breddren in Indonesia. Linking up is so easy nowadays. If we're just willing to support each other a little bit, all the possibilities are there. You just have to use them to our advantage. That's what they are there for. So it's not limited anymore to a certain market.

So when you toured Costa Rica, you met people who knew your lyrics already and sang along?
Ya, man! You always have people like that. And you would be surprised... Actually, the idea came through a lady who comes from Germany. She lives in a place in Costa Rica, a place way out in the wilderness, so to speak. We went there by boat, through the delta of a river and then out on the Pacific Ocean. Watch it in our documentary on REGGAEVILLE. She wrote to me, saying, look, Uwe, it looks as if I had to migrate to Costa Rica, into the wildest bush, before I could come across your music. That is to show you how far the thing spread.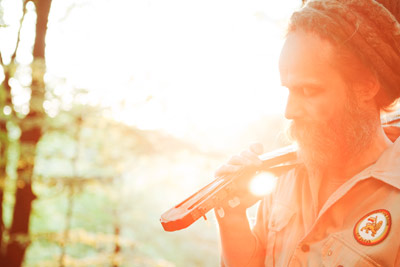 What about your shows in St. Petersburg and Moscow?
Yes, I played in St. Petersburg in 2005. Neil from King Shiloh Sound System from Amsterdam asked me to come along with them. They had some gigs in Moscow and one or two in St. Petersburg. That was the first time I went to Russia. I've been back another time, I think one year later, with Yah Meek, through connections that came from the first time I had been to Moscow. I played in Moscow in May this year, too.

If you compare the vibes you get when performing in such different places as Costa Rica, Russia and Germany, are they similar?
Yes. That is the mystics behind it. Whenever a reggae concert or dance is going on, you look around and think, this could just as well happen in Germany or elsewhere. The vibes and the people, what the music does with the people, what the people do with the music, that is universal. I-niversal, you know. Another proof that the music has no boundaries. It doesn't stop. It cares for the entire humanity. No matter your color or creed.

I'd like to go back to these messages in a minute. First I'd like you to introduce yourself to those readers who are not yet familiar with Uwe Banton.
I've always been a very musically interested youth. It comes from my father's side, he used to listen to a lot of different styles of modern music. From blues to jazz to rock. He listened to a lot of radio also, not just German stations. In our part of Germany, it was easy to listen to British radio stations, as we had so many British soldiers. That's how I started to listen to Rodigan. But that was when I was already a big reggae fan. The first time I got consciously aware of what reggae is, when this cool friend played me a Bob Marley album. During that time, some of my family members went to Jamaica and came back with some albums by Bob Marley and Peter Tosh. The exact same music that I had just started to listen to. I was about 14 or 15 years. It started to grow from there. I had the chance to go to Jamaica when I was 15 or 16, got to feel the vibes live and directly. After a while, I started to sing live in the dancehall. There was a very famous club at that time close to where I grew up, where people from all over Germany came to. We had a lot of soldiers there, many Jamaicans in the army. This club was our frequent meeting point where we started. From deh-so now, people start call me Uwe Banton. It's not like I said I wanted to be called Uwe Banton. People called me that, cause when me start to chant and the vibes got hot...

So you were already active as a solo artist before you joined the Movements project?
Well, it was more fun for me at that time. Try a ting in the dancehall and go up on the mic. We had our own sound system in '85, '86, it was called GT High Power. Later on, we called ourselves Reggae Ambassador in the late 80s. After a while, I started to play my instrument, the guitar. My instrument from my youth days. After a while, I said, let me check this guitar, I have to play this reggae myself. I wanted to know how the thing was played. From the early 90s, I started to play with the first bands. One Vibe, and the it was Movements until 2003, 2004. From there, I made it mainly solo.

The early 90s marked liked the beginning of a reggae scene in Germany, right?
You know, I cannot really say that, because even when I started to listen to reggae and started to go out, they were already bands which I saw that were based in Germany. Rhapsody, the band of Andrew Murphy, they were very active. They were based, I think, around Stuttgart. They toured the entire country. I used to see them in Bielefeld, at a local Stadtfest. That must have been in '82, '83. I saw them at the university in Paderborn. Jamaica Papa Curvin was already touring in that time. He his the original drummer of Boney M, you know. When Boney M used to do their live shows with a band, Jamaica Papa Curvin was their drummer... People haffi know dat, seen? Jamaica Papa Curvin was already touring as a solo act, doing his own show. In Bielefeld, there was an elder to me, Jamaican singer Len Brown. They had a band called Reggae Vibration. At that time, they were somehow endorsed by Bertelsmann, not far from Bielefeld. They signed them at that time and released a single. So when people call me a veteran, I know who my veterans are. If someone sees me as a veteran, I'm honored, but I know my place and know that my place is just a small part of this entire movement, because I grew up and already saw a scene here. Vitamin X, for example. They have been touring for decades in Germany!

What made you split from Movements?
I guess it was mainly that the band had developed different objectives. They wanted to do more work as a backing band, not just for me but for other artists. They played with Jamaica Papa Curvin for some time, for example. Although we still played as Movements, I played the main role when it came to songwriting. They started to see themselves more as just musicians. It kinda went into that direction, that we started to work more independently. We still continued to play live shows. Sometimes I still work with some of their members. We're still connected, but everyone is doing his own thing.

Would you have been able at the time of Jah Roots to work the way you did it for Mental War?
Of course I have learned a lot over the last six years. Jah Roots was the time when I started to link up with Ganjaman. I've learned a lot from him when it comes to production, using the computer as a tool for sound engineering and mixing. A lot of my knowledge comes from that connection. In 2006 it would have not been so easy for me to go to Josie and ask him to record some drums for me. Now I am confident enough to know that I get some decent mix when I put my fingers to it. Still, even on this album, I worked with Ganjaman. He put his final magic touch to it to turn it into something really, really nice. But I can say that I have learned a lot. Now I am pretty much able to cover a pretty good part of the entire production of a song.

I'd like to go back to the lyrical content of Mental War. What really impressed me is that you seem pretty close to what's going on in Jamaican modern roots, and yet you manage to keep your messages universal enough for people who grew up in totally different contexts to identify with.
I think this music is a universal language. The musical vibe and its message, not only speaking of my music, is something that can address many people. Many people feel touched and can pick up the vibe and love it. This is actually the way how I see myself. I want to speak to everyone. It's this universalness of the music, like Bob Marley used to say, if you hear reggae music, the people will rock to it, and Grandma and Grandpa also dance to it. It's something natural that everyone should be able to pick up. I speak probably in the language of the modern roots music, but the music can be received by more than those that are already into it.

I especially love the Work lyrics, your combination with Mikey General. From time to time, we need a kick in the ass to get workin'...
True. As a young and thriving musician or artist, you have to find ways to get your music around and connect with people. You cannot do everything by yourself, you have to seek the help and assistance of others also. I remember I went to a show with Morgan Heritage. At that time, their Daddy was on tour with them. I went to him and asked him for some kind of links. I was humbling myself and tried to explain to him that I felt like I lacked certain links and access to things that could help me move on. He replied to me with this wise phrase: "Well, you work with what you have, until you get what you want!" That became a leitmotif to me. It helps you to focus on the things that are necessary, rather than regretting what you don't have. Make something of what you have access to, even if it's just small, and take it step by step!

Waanty waanty no getty, getty getty no waanty...
Yes. I found that statement very helpful and motivating. I've never said that in an interview so far, but that's how I came up with the idea to Work's hook line. Denroy Morgan...

Education.
I very much look up to His Imperial Majesty as a teacher and giver of guidance. I study his speeches and that let me become aware that education is vital and essential for not just our own personal development and progress, but also for greater connection within our own communities and nations. The chorus in this song goes "Knowledge is power/pass it on". Knowledge is definitely power, and he who doesn't have access to knowledge is disabled in a certain way to progress. Also within a nation. If the knowledge is not there to build infrastructure... Some people keep their knowledge to themselves for the same reason: knowledge is power. He who knows things, has power. There is much work to be done in that field. Some people have access to knowledge, and some still don't. When we look at the history of colonialism, the former colonial powers neglected their responsibility they actually took up when they imposed their ruling systems onto other people and other nations, conquered them and colonized them. Why is it that in some countries, a child instead of attending school and learn like we know it, a child sells fruits on the streets, because his family cannot even afford to send it to school? Many people in Europe are not aware of it. They don't spend their thoughts on trying to imagine what it means if you as a parent can't send your kids to school? Just look at the amount of universities you can find in America and Europe, and look at the amount of universities you find in underdeveloped countries. The whole education system is only limitedly developed there. I think that education is the basic ingredient of prosperity, that's why I feel the need to promote that and try every effort to do so. Let everyone have the benefit of knowledge! Take advantage of it.

There was another line that struck me especially. It was in Love, Sweet Love: "If you're not willing to give/then please don't take/don't try to understand it all/who's real and who's fake/keep it clean inside your heart/for true love's sake."
You see, as a human being, as a Rastaman and Christian, you believe in God and you want to live your life in a way it pleases God. You try your best to live in love with the people around you, develop love on a higher level for humanity in general. In order to exercise love, you always have to live love, but you have to experience also that some people might not love you. Love should always be a give and take thing. It cannot be love if I love a person and that person doesn't love me. It can never be a one-sided thing. It is something that we have to work on every day, it is not a state of living on cloud nine. It requires your will to overcome difficulties and obstacles. When there's a bad vibe, you need to have the will to clear it in order to make love reign. Sometimes we don't know why we showed love to someone but didn't get it in return. Sometimes you cannot understand it all. When you spend too much time thinking why it is like that, it doesn't help you in dealing with it. That's the main thing: make sure your own heart is clean. Maybe someone else doesn't show you love because he's going through a rough time, it might not even have anything to do with you. It is a matter of give and take, but just make sure that what you give is clean, as you're not responsible for what is coming back to you.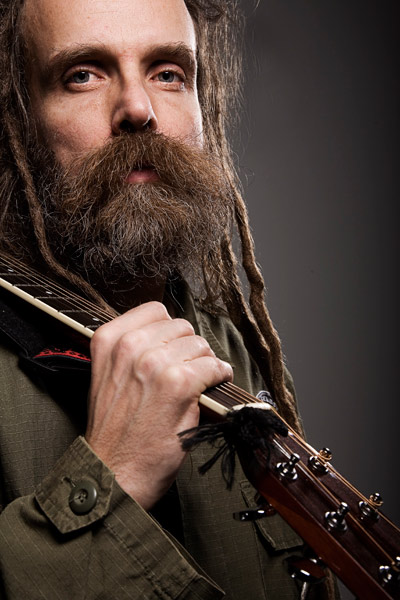 Ethiopian Ites is the last tune I'd like to talk about with you. What's your connection to Ethiopia, to Rastafari?
Well, as Ethiopia is a very important place for us as Rastafaris, we see Ethiopia as the cradle of humanity and not just that, but also the place where I&I father, His Imperial Majesty Haile I Selassie I reigned. The more you study and learn about what Rastafari and what Ethiopia is, the more you become aware of the fact that it is actually one of the most ancient places for Christianity and has preserved the Christian principles in a very special way since the first time it was brought there almost 2000 years ago. The entire history of King Salomon and the Queen of Sheba... Because of that, Ethiopia in my mediation is of course something seen as a special place. It is an ideal to me, has a very great meaning when it comes to defending freedom and freeing oneself from the boundaries and chains of colonial power. Through His Imperial Majesty's example to defend his country with rigor. Especially in Germany, we're very connected to Ethiopia and His Imperial Majesty, because His Imperial Majesty was the first head of state that visited Germany after the Second World War. That is to show you that although many of the history books here do not really give a positive picture of His Imperial Majesty, but the fact alone that Germany after the war decided to invite His Imperial Majesty to be the first head of state to visit it shows the enormous importance of His Imperial Majesty as a figure, as a symbolic figure who stood up and fought against the fascists in those days. He prophesized that if the world community doesn't come together to stop them, then what would happen? This is exactly what took place. A couple of years later, the Second World War broke out. Even America get involved. It is because the world stood and watched while injustices were going on and decided not to act because of political power plays. Later they reaped destruction. Anyway, this is how His Imperial Majesty became a figurehead of this movement of freeing the African nations from colonial oppression, as well as in the struggle against the fascists. Their thinking is an insult to the Almighty, who created mankind in his own image and likeness. If you insult someone on the basis of his looks, his color or creed, then you insult the Almighty who created us all.

Do you consider Ethiopia as a kind of home place you want to go to in the future, or is that more of a spiritual thing for you?
Well, we'll see what the future will bring. But Ethiopia will always be my home in a way because of the way I feel connected to it. I think Ethiopia is home to the entire humanity. Not just we as Rasta say so, but scientists tell you the same thing. Ethiopia is one of the first places mentioned in the bible. If you read through Genesis, you will stumble across Ethiopia. It has always been there. In that sense, we can see Ethiopia as our birth place, as our roots.

One more thing: you told me earlier this year that you've met quite a lot of people who live up to some of Rastafari's principles, without referring to themselves as such.
This probably has more to do with the way I see Rasta. I see Rasta as the original way of living. Realizing that the source of the positive energies in life is love. The love you have inside, shown to man by the creator. The earth is such a blessed place. Everything here is designed for us to live here. We should be more thankful and not see everything so negative. Seek the positive! Cooperate and help each other.


PHOTOS BY MAX STRASSER
RECENT NEWS
---