Interview: Richie Spice
11/20/2012
Richie Spice born Richard Bonner is the epitome of a cultural artist.  From his earth shaking breakout hit "Earth A Run Red" to his devotion to the African sisters in "Brown Skin" he has delivered songs that stay true to the Rastafarian ideals while keeping up with modern concerns.   With an endless string of hits, his live shows are breathtaking.  Now he developed acoustic versions of many of these hits as well as some new songs to make the album Soothing Sounds. We reached him in Jamaica after his recent U.S. tour.

I have seen the shows (on You Tube) from the BET acoustic live performance series,  Soundcheck.  You seemed very at home in those sessions and the production had a very natural feeling.  Was this part of the process that led you to this point, to doing an all acoustic album?
Yes and it was an idea from a long time ago. I always have it in mind to do something like that.  It take a time before it manifest but that was a part of it. 

This record is a labor of love, you explain that you focused on its completion solely for 9 months straight.  Where did you do most of the recording and and what was a typical day in the studio like? Did you work on all of the layers, over dubs or was it bits and pieces each
It take a period of time back and forth but this album it was a natural vibe. It was very enjoyable because everyone fulljoy themselves to the fullest. We work on it kindly and we went to the studio and we sing on it, a bredren plays guitar and he supplies it from there and we call in musicians in who play other instruments like flute and drums.  It comes together and just happen, most of the recording wasdone at Anchor Recording Studio in Jamaica.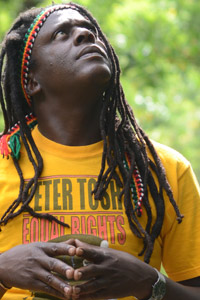 Why did you change the song titles, does it have to do with the copyright or publishing of the original songs?
Well the reason for that is giving the people what they want. 'Cause most of the album when we record them at the studio, producers might name them other names, and people in the street might give them other name out there on the street.  So this time around we just use them other names, the people's songs. 

You are from a musical family Do you enjoy informal singing, spending time with people and making music that is not for "recording" or "reproduction"?
Yes, I enjoy myself making music and sharing music with other people. 'Cause as we know, the music is not for one person alone but for all the people in the world who listen to reggae music or listen to Richie Spice.  You know, when we share the music we get different ideas.  You might have a lot of idea but sometimes two is better than one.  There might be somebody there who can catch you up on something also.  Its always a vibe working with people and sharing the music with other people. 

You lost your mother recently, our condolences for that,  she must have been a very supportive person in your career.  Would you say your upbringing played a major part in making you the type of artist and the achievements you have made today, in terms of supporting your vision and gift?
I would say yes, she wasn't the type of person that was in the music fraternity but she knows everything that takes place.  But it doesn't start from now, it starts from how my parents really raised me growing up.  So whatever way they raised me, it really fade out to who I am now.  I would say discipline, courtesy to people, manners and all these things, encouraged to be humble in whatever you doing and all these things

Were they supportive of your Rastafarian direction or are your parents Rasta?
My parents was Rasta you know, but they never really locks, but deep within themselves they know that they are Rasta people.  They never wear the locks like that. 

Did you perform any of these songs in an acoustic style on your recent tour?
Yes I have been performing songs from the acoustic album. I don't really go out and perform an acoustic set, but I have been performing songs.  The other day the album launch in Jamaica at Usain Bolt's Tracks and Records, we performed about seven of the songs from the album.  Otherwise the recent tour that I finished I performed about three of the songs before the album was released.  Songs like "Free", "Crying" and "With My Girl" or so you know?



You have an agent now that works with artists that are outside of the reggae arena, what made you work with this person, how did you link?
Every link it come through same music channels, through you know, meeting other people and links come through.  And the reason why is because, I mean, you are trying to get yourself out there to a wider scale and try to reach out there and let the music reach out to a broader scale of people.  Which means I can get more recognition.

What is next for you? What type of material are you recording, are you getting calls to work on rhythms, do you take these type of calls, do you make those studio moves?
Yes, I am supposed to do some studio work today also. I am getting ready to do that as of right now. Recording later and the main focus is on this CD Soothing Sounds.  I might do like a one and two recording, not that much because right now because the focus is on this CD here. 

And you are working with Tad's Record on this release, which is a change from your VP contract, is that contract finished now or are you planning to do more work with VP?
Well the music business right now, is not….we are not selfish with the music, so when the time is right we will work with VP when the time is right.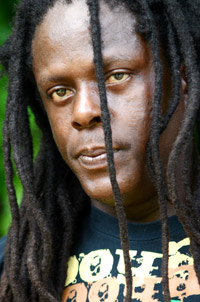 What do you see as your biggest challenge in your career at this time?
My biggest challenge?  Well the biggest challenge is to get the music out there, on a platform and get the music to the major radio stations and video stations and all these things. 

You are a brilliant songwriter with an endless string of hits and interesting poetry, what type of recording process do you go through to get to a song, or do they just come to you?
It's vice versa you know Empress, sometimes you might get songs sitting by yourself and meditating and get inspiration. You can get songs also by listening to a riddim, you get melody from that and you add words to that, you can get songs by yourself and you just write and you go to the studio and the musicians play around the songs. It comes in many forms….

You have a genuine concern for the poor and underprivileged and your music reflects that.  Would you say that things are getting better for them in Jamaica or getting worse.
Worse or better, right now, I don't see it getting worse, I don't see it getting better, its stagnant because when you check it out now, most of the youths them, they can't get no jobs, when the youths come out of university and all these things they don't really have a job. 

What do you say to the leaders to influence them or better yet what do you say to those in need when you encounter them?
To the people who are in need, well all you have to do is just pray for them and sing for them. Sing redemption songs and when they are going through them stuff, they can listen to a song and carry on and face another day. That is why we always sing for those people. 

You just completed an US tour, what is next for you this season?
Well right now we have things that are prospects, we have a lot of things formulating themselves out there also.  We have a lot of things in the making also.  As days go by we keep on doing what we are doing out here and see what things can connect. 

Any more inspiring words for the people?
I would like to say to the people, good over evil, life over death, be your brother's keeper, love your neighbor as yourself.  Love god and live.







RECENT NEWS
---