Interview with Freddie McGregor
01/29/2013
Freddie McGregor got his start in the 1960's at the young age of 7 years old as part of The Clarendonians group. He migrated to Kingston and under the tutelage of the great Sir Coxsonne Dodd and Studio One studios, he became one of Jamaica's greatest voices. Not only is he a recognized voice in classic reggae, but he has transitioned through the industry to be a pioneer in international distribution and state of the art studio techniques through his Big Ship studio and record label. His children have gone on to become great song writers, producers and vocalists in their own right making Freddie one of reggae's most highly-regarded artists and industry leaders. His current release on VP Records, Di Captain is his first in seven years. [READ THE ALBUM REVIEW HERE] With the highest of standards he developed this album over the course of three years between his Big Ship studio and Stingray in the United Kingdom. There are several cover songs here  which give a familiar feel to the album and employ a common practice in reggae, recognizing and remaking a great song. Here he goes deep into what motivates him at this stage of his career, his recording process while offering a critique of the current reggae industry.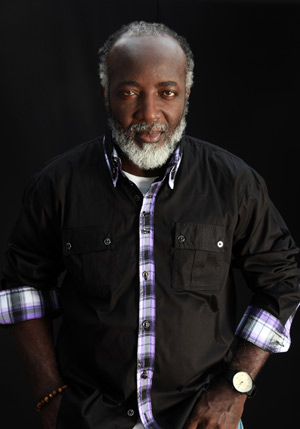 You are a classic vintage perfumer with your feet on the ground of this current marketplace, still recording and releasing and participating in the music industry as one of its leaders along with your Big Ship family. What do you see as the most significant challenge to your business pursuits whether live shows or recording at the present time in our industry?
Live shows we don't have a problem with, recording we certainly don't be cause we have our own recording studio, the problem we are having now is programming. I think we are not being programmed enough so the music is not being heard in the places that we want it to be heard. As such we are not seeing the same associated with that.

A cover of The Heptones song, Equal Rights is released as one of the singles. It has a wonderful vintage feel, its one of my favorite rhythms, and you approach it with rich deep production, percussion, and super harmonies, what inspired you to record this song?
That happens to be one of my favorite songs, I have loved that song for a long time and I really do think that where we are today, that song resonates very well. The message is perfect I think, cause everyone does have an equal right to live and be free, no matter what color, class or race we may be. And I think it is perfect, its correct, that's a strong message and I hope it does resonate with a lot of people out there.


The Di Captain album includes a Beatles cover song, "You Won't See Me", "Let It Be Me" made popular first by the Everly Brothers, and a few other remakes, how did UK and American pop, Jazz, or R&B shape your career as you began as a singer and throughout the early years up to now?
It certainly has, you know, we grew up listening to people like Marvin Gaye, Stevie Wonder, The O'Jays and the Spinners and all of these people so, those were really good for us growing up. It really served to shape my singing ability. I think that's a wonderful thing, what can I say, I am really grateful to have had been challenged by songs like those. They helped me with my breathing, my sense of hitting my notes, all the things I am doing now that I wasn't professionally trained for.

You have a very strong entrepreneurial spirit, can you talk a bit about what types of distribution that you established in places like Japan and in other exotic locales back in the days of reggae's emergence into the international marketplace?
I recognized from early that we were going to need that, and so I went about setting up the Big Ship Music Company, Limited, and we began producing tracks. You know why we set it up? Because we wanted to make sure that today, 2013 that we would be able to contribute to the industry, that we would be able to continue with our work as well. Which has worked out perfect for us so far.

Take us back to that day, as Jamaican MC Jenny Jenny says on the introduction to the Di Captain album,  as a seven year old when you arrived in Kingston with the Clarendonians and began recording, what type of emotions were brought forth that day?

I was probably too young at the time to understand all of the things that were happening around me. I know I was very excited to be around the greatest people in music that I was listening to every day. I was really excited about that and to be at Studio One where all the greats were. Mr. Dodd (Coxsone Dodd) himself, he saw my potential from an early age, and he made me live at his house with his family before he boarded me out and sent me to a school in Kingston. So he knew what was there, and I stuck with Mr. Dodd for a long time. I really love Mr. Dodd, he is a father, he is the greatest producer if you ask me. I was just so thankful that God had placed me with the likes of Mr. Dodd.

On the song "Bag A Hype", you point out the issues with the younger generation, how things have changed from the past, how do you think you  have influenced your kids, they are so successful and creative, do you think they have influenced their friends too?

Most certainly they have, Stephen my youngest son, (Stephen "The Genius" McGregor) he has a new single out right now, its called "Me Alone". That song is really talking about things today and the radio and especially those that are into Payola. If someone loves the music enough, then we would assume that they would seek to have a job on radio. We expect people that truly love music….we are seeing a movement in Jamaica where there are a lot of young kids on radio, these kids have what we call discotheques and play at night and people love that party. But to me radio is not the same as party, or nightclub and we have to differentiate radio. I think a lot of the young kids don't know how to differentiate clubs and dancehalls, hence the programming has become a problem, because the young generation, they are programming what they see and what they know today.

This goes way further than what they know today, and as a nation, you have to know where you are coming from, where you are, to determine where exactly you want to go. So we think that programming is really important, and that will make the difference. We see a lot of kids start to do more cultural music out of Jamaica now, which is a great sign. I think that will contribute to the shift back to the more cultural music. The song "Bag A Hype" is really one of my favorite songs on the CD. We have so many songs that we chose that I love. I love the song with Etana, the Gappy Ranks is just out of this world. I love love bad, "My Story" , I mean its my album so naturally. But we really took a lot of time to make these songs what they are, hoping that the public will love them. But the song "Bag A Hype" is a message being sent out to the unruly kids. In today's world, kids are different, they do things differently, but I still think that at the same time, we have to be mindful that they are a generation. They are going to be our future generation, so we have to speak to them when we get the chance. My chance and opportunity is through music. So I am saying to the kids, "Some a dem youths here dem naw live right, bright up themselves in a big man's sight. Dem no know daytime different from night, walk round every day with a big bag a hype." You know….that don't cut it, and we say, "Talk to dem there so, respect due, them no have nutting' for me and you. Dem hyping up the place cause its pure curfew, make the Babylon dem a pressure me and you."  It's a real life situation you know, so that song I am sure will resonate with the youths who consider themselves to be good youths, and they will use that song to throw words on their friends who are not performing as they should also. So I am looking for that song to resonate with the youths a lot and the parents too. They are going to use that song to remind the kids, that some a unnu youth too bright.


---
LISTEN TO FREDDIE McGREGOR's ANSWER:
---


Thank you for outlining the lyrics there, and I have to agree and realize that whatever happens in Yard on the radio, influences the entire reggae community worldwide and the young people that you point out are controlling radio, really are affecting the situation in a detrimental manner.

I love the cover you chose from the Mighty Diamonds, Africa.
You see, again, when I make an album with like 16 tracks, I am not looking to write all the songs, and to produce all the songs, cause to me, that is not how you end up with a great album. You end up with a great album when you incorporate people who are great, who have a great feel and different style, that's how you get variety, you get different styles incorporated in. That song, "Africa" is one of my all-time favorite Diamonds tracks. I told Tabby (lead singer of Mighty Diamonds) I said 'Tabby,You know me cover Africa,' and him say 'Yeah? how did it sound?' and I said, 'I am going to make you hear it.' Every time we see each other we talk about it and smile because I love Tabby, Tabby is one of the greatest singers out of Jamaica if you ask me. I am not sure that he has heard it yet, but the response that we are getting for that song, has been tremendous. Especially in Africa,  its like this song has just generated new life, and that's what music is about. Here's a great song by the Mighty Diamonds which we had during our time and our generation. Here is a new generation that probably do not even know that song, but here is Freddie today, revisiting that song, bringing it to the new generation, in a new fresh style. The message is just so perfect,  I certainly hope that the kids will listen to this song and get some kind of sense of joy, happiness and foundation from the song. It is a great song.

Related to the topic of Africa, have you performed there, if so which countries, and what were your personal impression of this experience?
I have performed in Johannesburg and in Durban, South Africa. I have also performed in Zimbabwe. I have visited Ghana, not to perform and visited Ethiopia, not to perform. I have a huge fan base in Africa, and I have been asked to play in Africa so many times and different things did happen to cause it not to happen. But this year, the requests for Africa have been tremendous, so I can say with certainty, that we are going to Africa this year, we are going to be going through a lot of African countries this year. The love that we are getting for the new CD and especially the track, "Africa" I am almost certain, that we are going to be taking this message to Africa in a big way this year.

Also The Wailers' the Rainbow Country cover, another crucial song during the independence celebrations.
You are going to the tunes, that I thought about doing, this is a great song, as a matter of fact, I have always loved that song as a Bob Marley song, little did I know, as musical as I consider myself that I am, I did not realize that the song was written by Luther Vandross and another writer. That is one of the most brilliant songs, you know we didn't want to change anything much in there, we wanted it to be fresh, and so if you notice we have changed it. I put myself into the song the way I feel, and that's another great track.

The combination with Gappy Ranks on the remake of Bobby Bobbylon is brilliant, what is your impression of Gappy, and how did this collaboration come together?
What do I think of Gappy? Well I think so highly of Gappy that I decided to do the track with Gappy. Gappy is one of the young generation coming up in England. I know his father, his father is a very musical person, and had a sound system. Gappy himself grew up that way, so I am not surprised that Gappy is such a musical genius as he's  turned out to be. But other than that, Gappy is just a wonderful soul, I love being around him, he is full of it and you know we get along really nicely and when the idea came up it was Dilly one of the producers from Stingray who thought Gappy would be the right person. Him call me once and say to me, 'Fadda, bwoy I listen the track and I am going to do my thing, and I hope when you get it you love it, hear?' When they sent back the track to me and I listened to it, I thought to myself, nobody, absolutely no one could have done this song quite the way Gappy approached it, excellent. That song is getting so much love right now, Gappy is going to be a big star soon.

How does production evolve with your children in the mix. Sessions with Stevie and Cleevie, Mafia & Fluxy, Dean and Bubblers, even Leroy Sibbles,  working at Stingray in London. One would also assume a lot of this album was done at Big Ship, can you take us through the process of recording, did you plan these songs and record them in a set period or over the course of time, when you had time and engineers, song ideas, what is your process like?
Well this album took us just over three years to complete, but like I say we were not rushing, cause we didn't want to rush and make an album that we weren't pleased with. So we would rather take the time. I haven't had an album out in about seven years, so my next album would have to be well-produced and conceptualized. So we took the time, there was no rush. One drawback though was, we recorded a lot of the tracks in England, and luckily for me, I do work in that country quite a bit, so we get to spend some time there. Also two of my daughters and my granddaughter live there too so we kind of have a family thing. And Stingray, some of them are blood family too, apart from being producers we are family, so we love working together, Stingray has a wonderful studio in England and Stingray's studio remind me of Big Ship studio in Jamaica, we have that kind of vibe. So when we are in London, we always hang at Stingray that is our place. Anybody wants to find us thats where we are.

So every chance we get we go into the studio and we experiment we try and we listen tracks and we say, 'yeah this track is one of them,'  and I pick up my pen and I pick up some paper and we write. We spend as much time as we need, we write. I go into the voice room, I lay the track down, sometimes we go back to it after a couple days and just perfect it accordingly. Then get Shema, Fiona (his daughters) these people would always be there with myself and Dalton (Browne) so I always like to put the backing vocals down, even when I feel the need to go over the lead vocals, I would always want to have the backing vocals because it gives you that flexibility to dabble around the track. So that's what we did and we took time and a year passed, we go back to England, back into the studio, we finish up those tracks, we lay new tracks, we put demo and we put backing vocals on, we go back in six months and we voice them. So all together it took us over three and a half years, the ones that we recorded at Big Ship we knew pretty much we had the time to do that, cause that's our studio. So there wasn't any rush. Once we got the Stingray part of it out of the way then when we got back to Jamaica, back into the studio with Stephen, I thought I needed a certain feel, a certain sound, and so I thought about who this could be, and Leroy Sibbles came right to my mind. I just called him up and say 'Pa, you need to come to the studio right now', and he was there in ten minutes. We ended up in the studio jamming and grooving and we got to the track and it was just magic. We laid about four tracks (bass parts) that evening and the rest of it Stephen took care of. So, you know we really spend some time doing it and we enjoy doing it and all the people the album, we had a great time working with them to get it done. All together I feel really pleased.

You have been quoted as saying, 'Bob Marley took this music to a real high level, and we should all try to keep it there.' What do you say to those that seem to work in the opposite direction, using low-quality instrumentation, or no live instruments, questionably offensive lyrical content, what we see as part of reggae today?
It's not a good thing for our music, its not a good thing for the industry and we should be mindful that we are selling a product to the world, and we have some people like Bob Marley, Jimmy Cliff among other people who over the years have established Jamaica as a quality culture when it comes to our music. So we shouldn't drop back off, we should continue and I am just trying to continue in a way that I can as one of the people who understands that responsibility.

What is on the horizon for you? Any shows you would like to mention or appearances in relation to the album release?
On Tuesday (29th) the album comes out, and on February 1st, we are having a get together at a place here in South Florida, its called Good Friday, and so it is a mature crowd of about 800 people. I am hosting that as part of the promotion and on the 9th of February we have an outdoor broadcast at VP Records here in Florida, myself and Marcia Griffiths will be there signing autographs, CD's, taking pictures, liming with the fans and that's going to be great too. Then our tours are being planned right now, we are doing Europe, the U.S., Canada, the Caribbean, Japan. We are taking on the entire world this time and Hawaii of course, Big Ship will be docking up there some time. Information will be out there so the fans can look out and see what's happening.
RECENT NEWS
---