Interview: Courtney John - In His Own Words
07/18/2012
On 17th July, the artist formerly known as Yogie, Courtney John, dropped his fourth album From Letters To Words. Featuring contributions from Sly & Robbie, Joe Fraser Records and his producer cousin (and Beres Hammond's daughter) The Wizard - plus lashings of his hallmark falsetto - it's his most mature slice of vintage-rocksteady-meets-modern-lovers-rock yet. Reggaeville caught up with the newly trimmed singer for a deep chat about his new record, his Jamaican heritage, his formative years in Canada and why people and dogs just aren't the same...
New album, new haircut. Your locks have gone. A tough decision?
It's been a while now and time for a change. It wasn't as tough a decision as when I was growing it - it was much easier to cut it! (laughs) My core principles and philosophies are still the same. I'm governed by the Rastafarian principles. It makes me who I am in terms of my humility, importance of self and family. If a man sheds his locks, first of all, he can grow it back. It doesn't mean anything. We have to question actions. Robbie Shakespeare, Gregory Isaacs and so many people have done it. My family were never too happy when I said I was going to cut my locks but then the same family never wanted me to grow it! (laughs) You still have to be the leader of your pack. My locks were really more of a political statement of where I am in this society wherever I go. I just thought that political statement is not as relevant as 20 years ago. What people care about is what you are doing and what you are doing to impact others - not just what you have on your head.
Natural Black has caused a bit of controversy by cutting his hair with lots of other artists wading in to comment.
I'm not a controversial artist. I don't try to exploit controversy for any kind of financial gain. Natural Black came out and said he wanted to go dancehall and I think that was a slap in the face to the Rastafarian community. I think it's even worse that he's not even Jamaican which makes it seem like an opportunistic move. My thing is not based on that. I've not done anything to dishonour the Rastafarian faith. I think what's going on now with Sizzla and Khago now is disgraceful. Personally I think if any artist was really living under the principles of a Rastafarian it doesn't allow you or bring you to any place to be that controversial.

Your last album Made In Jamaica showcased the many sides to Courtney John. This new album is much more unified. The new rhythms have an old feel and the old rhythms have a modern sheen.
Yeah. Because I was coming off the whole Yogi experience and finetuning. You have artists who put out 20 or 50 albums and I'm only on my fourth so it's a work in progress. But for this one I think I'm closer to where I feel comfortable in what I feel will resonate. With Made In Jamaica I got kind of reintroduced in terms of a creative place with the rocksteady era. And for me to reiterate the rocksteady period on this album was just a way of reminding people that it was a great era which didn't have enough attention paid to it. We have to give real credit to Alton Ellis, the Paragons, Slim Smith these were our soul singers. Because of those people babies were conceived and that pretty much builds the next period. There's a lot of people who probably think the rocksteady thing was just a fluffy thing "because man dem don't talk about bun down this and bun down that" but it's because of that period that they were born! (laughs)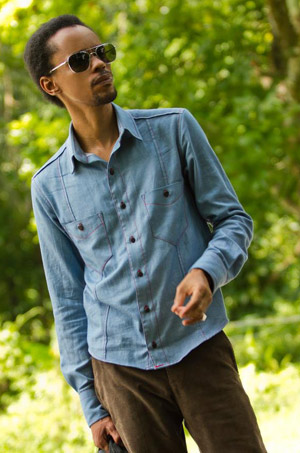 It's also a great era of songwriting with the likes of Bob Andy and BB Seaton plying their trade. As a songwriter it must be a good fit for you.
Yeah man! Can you imagine if you were to take out artists like Curtis Mayfield and Marvin Gaye and the Philly soul music there would be no black music in America. The rocksteady music is really the foundation of all other music like roots rock - which is more of a social commentary kind of vibe and has its place. But oftentime I meet people and when I tell them I am a lovers rock artist they make me feel like my thing is not important. But it is because of lovers rock and rocksteady that love, that empathy, that creates everything else we can balance to do other things. The reason I continue to do it is to remind people that these were some great musicians. You can't discredit the Supersonics. When you listen back to those records and hear what those musicians used to do with limited facilities - it's nothing but greatness. I am fortunate to have a mixture of old and young listeners - who have picked up this rocksteady thing and think it is a new thing! They just think it is me experimenting in a studio trying to make an old flavour thing. If a penny can go to those great artists' families as a result of what I'm doing I am very grateful.

I mentioned BB Seaton because he wrote the rhythm that inspired I Know Myself which Sly & Robbie contribute to your new album on the song Run To You - which kind of proves your point about the earlier artists helping found the roots rock that came later. You've worked with them in the past on the track Ready To Go featured on Made In Jamaica. How far does the link with Sly & Robbie and you go back?
Sly is a brethren. He's like a mentor. Outside of the music we talk about life in general. We're just brethren and whenever they have something that represents what I am about they will call me. But we're still looking forward to doing that different kind of project - I'm looking forward to doing it probably next year. I have mentioned to Sly that we need to do something that will be a departure from the rhythms kind of vibe and just create. My next album will be more that kind of stuff. With album I am starting to introduce the listeners to the singer-songwriter kind of vibe. So you have  songs like Like Magic, It's Gonna Be Alright and Cleopatra which are not really rhythm type of vibes - more of a song, me and my guitar kind of thing. I think the next record is going to be more of that.

Another producer on your album is of course your cousin The Wizard. Is working with a relative different from working with a friend or a colleague?
Working with The Wizard period is a calming experience. It's very calm because her personality is one that disarms anyone. I have never seen her upset. She's very quiet. Sometimes when you do something it takes a few seconds for her to react because she processes stuff. I never worked with a female producer before so I never had anything to compare it to but I think the fact that she's a woman makes it much easier in terms of communication - given the whole nurturing aspect of being a woman. There's no ego involved and it's much easier because for me. Often when you work with producers it becomes a tug of war with egos and crying and people being precious with certain things. But it's not like that with her and that's a good thing. Because artists need to be in a state where they can be free and can let go of certain inhibitions and producers have to create that state where artists can be vulnerable and capture that moment. That's what makes great producers - at least the ones I know! (laughs)


The final track on the album is Hey Jamaica, where you take the vibe upbeat and dancehall but somehow still old school with Mr Lexx - who is known for his very deep voice as you are for your high voice!
(big laugh) Yeah the lower octaves and then the high! For me Hey Jamaica was a song where we wanted to celebrate being Jamaican. And we just thought that given our culture, that vibe wouldn't resonate as well on something that is slow. You want something that can play in the stadium and when you're marching on the road. A festive vibe. I think the ska will always be important to the whole culture because of the moment and vibes they captured with the major chords, just happy kind of vibes. It's also important to have that. We put it at the end because we didn't want to break the momentum of the others slow kind of vibes then go back slow. So if someone doesn't feel it there's nothing else to go to! They just finish listening!

What do you think of the controversy over the Jamaica 50 song On A Mission?
Personally I don't feel that song. I think the song process for the 50th should have gone through the same process that gave us all the other great Jamaican songs - the Eric Donaldsons, the Toots. When you listen back to those festival songs you would think they were produced for mainstream pop radio. That formula worked and they should have used it for Jamaica's 50th. When you think of these songs you think of Jamaica. The controversy is irrelevant because the song doesn't resonate in that sense. It shouldn't be anything that's locked away and decided in a board meeting. I don't even think it's the songs as much as the people feeling they were left out of it whereas for all the other great Jamaican songs they were included. I remember when as a youth I used to go to the stadium and hear Stanley [Beckford] and the Astronauts [Dem A Polute 1994] it was just something that lives with you. That's what I think but it's just a personal opinion.
You've also done a special 50th song of your own. You reworked Hey Jamaica as Jump For Jamaica featuring artists from both Jamaica and Canada. Now Canada is a bit like the UK, a real base for Jamaican artists over the years such as yourself, Jackie Mittoo, Leroy Sibbles, and many others.
Well what happened was - and obviously I can tell you are familiar with our culture -  in the 70s we had a mass exodus of people migrating. In the 30s and 40s a lot of people went to the UK but in the 70s a lot of people went to Canada and the USA because of this fear of communism. (laughs) It was the most ridiculous thing but my parents got caught up in that fear and migrating north for a better life. It was much easier to go to Canada than the US so hence you have the whole movement between Jamaica and Canada. I give thanks because when I was in Jamaica I was a very troublesome youth! But when I went to Canada I remember holding on to my last reggae tape - just holding on to the culture! But then eventually you just got introduced to so many things which I now think made my eyes open to other people's cultures and made me who I am.

Give me an example...
I remember the first time I went to school and we read the Lord's Prayer and a Muslim youth he just sat down. I just thought "Wait! You'd never get that in Jamaica!" It made me respect people, their culture, their beliefs and principles. So you have a lot of artists who run down the Canada thing but I really embraced it because it taught me so much and kept me calm during that whole teenage period where you can go left or go right. I always try to mention Canada and make sure they get credit too for what I am.

Last time we spoke you were planning to come to London for the Olympics. Is that still on?
We tried so hard to make that happen but the person who was supposed to put it together at the last minute just went MIA! (laughs) All that planning planning planning and then they went MIA just a month or two before! So now everything for Europe has now been pushed back until October because I go to the States in September to do a promo tour and then Europe after. I would have loved to go there but right now I am just here [in Jamaica] focussed on getting the album out for the present and being a part of the celebrations here. I will be doing things here like the Grand Gala at the stadium and some of the other concerts leading up to the big moment. My thing is just, everything is for a reason and I keep moving.

You're a singer, songwriter, remixer, musical director, label owner - what aspects of yourself do the people not know?
If I wasn't involved in music the one other passion I have and still want to explore is food. I'm really a big lover of food. Right now in Jamaica it is mango season so I try to collect as much mango as I can so the freezer is full of mango! I like to experiment with food. I treat food like music! I eat a lot of Indian food because they like to cook vegan food. You have a lot of Indian restaurants around the world but now you are starting to see other cultures emerge as it pertains to food.

Do you think Jamaican food can conquer the world like its music?
I think Jamaican food  has a few aspects we can keep for ourselves. Like I and I know not many people can eat a piece of tough yam and two green bananas and still have a good function every day! (laughs) But in Jamaica a man can eat dinner for breakfast and still go through! A man can eat fried chicken and boiled dumpling for  breakfast! In other cultures they're not doing that! But I think a piece of roast breadfruit with some ackee might be a little more palatable for someone in a European culture because they normally go light on the breakfast.  But it has some things to offer. I mean the jerk seasoning - those things sell. Jerk seasoning right now is probably selling more than reggae albums! You know how much your guy in England Levi Roots made last year? I might package my album in jerk seasoning and send it out! (laughs)

You mentioned being "the leader of your pack" earlier. Do you like animals and do you have pets at home?
I have two dogs. I'm a big dog person. I just don't like it when people call me "Dawg"! (laughs) I mean I look at my dogs and see how much they look to me and see me as the leader of their pack. There is no way I can compare myself to a dog. A dog is just at a different headspace!  I don't get it when people are out there calling each other "Dawg". It diminishes everything about you that is human. Which means the ability to think straight. I mean my dog will be focussed on something very serious with intent and then you throw a ball and he's gone! (laughs)


RECENT NEWS
---