04/09/2012
Review: World Clash R.E.S.E.T. in Jamaica 4/9/2012
04/11/2012 by Munchy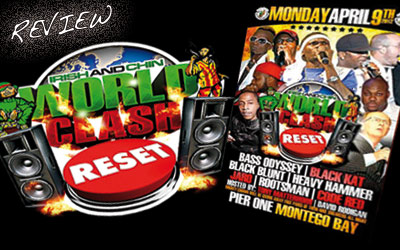 World Clash 2012 in Montego Bay, Jamaica @ Pier One 4/9/2012
★★★ PHOTOS GALLERIES HERE ★★★
Pier One was traditionally packed on Easter Monday with clash fans and dubplate lovers from all over the world. Irish and Chin invited to World Clash Jamaica R.E.S.E.T. to continue their legendary event series after a one year break in 2011. Four hours straight and strictly dubplates flinging kicked of at 12:12 am with the picking of the numbers from host Tony Matterhorn's hat. Fate decided that the tallest mountain Killamanjaro was the first one to press play on the CD players in Montego Bay.

Represented by Freddie Krueger the sound created a vibe from the very beginning with their beloved Far East Selection presenting Beres Hammond, Freddie McGregor, Junior Reid and Bounty Killer amongst others. After an enjoyable Man Fi Dead riddim segment and various more Bountys and Mavados, the first custom for the night sounded off the bone shacking speaker boxes being Konshens' recent hit song Do Sumn before another very special version of Beenie Man's Let's Go called all the other sounds' names to close Jaro's set. Charismatic Black Blunt MC Avatar was the next one to take over the microphone kicking it off on the Taxi Riddim with Bounty Killer, Johnny Osbourne and Mr Vegas. Calling Bass Odyssey's name the customized version of Potential Kid's popular A Yah Suh Nice gained the biggest forward for the ambitious sound from Negril who found a solid end for its set with four Vybz Kartel dubplates in a row before Heavy Hammer entered the stage.
The sound system from Salento, Italy made quite an impression coming in straight with a custom made version of Popcaan's Gangsta City before pumping Jr. Gong's Promise Land through the speaker boxes. Despite being one of the just two foreign participants in the competition, MC Raffa presented his selection confident and received forwards with a Tarrus Riley and Ninjaman combination and an entertaining Kip Rich custom. While the previous three competitors succeeded in turning their ten minutes into a well-appreciated introduction, Canadian Rootsman had a hard time creating even a little buzz among the patrons. The rather inappropriate mixture of ganja and God praising specials was aggravated by the laptop problems that even forced a time reset for the round. Dubplates of contemporary artists such as Lutan Fyah, Jah Vinci and Chris Martin were heard but could not manage to tikkle a forward just like Laza Morgan's customized version of 2011 top hit One By One. Kingstonian Code Red turned the heat back on with a cover version of Adele's Someone Like You before dropping Sizzla's Rise To The Occasion for the massive. Matching his sound's name Chris Dymond dressed in a red jacket presented a cheerful Wipe Out selection as well as a Demarco custom addressed to opponent Black Kat. Before latter entered the stage it was still time for the infamous sound from Alexandria.
Without a doubt seven times World Clash champion Bass Odyssey received the biggest and longest forward for their complete segment, which was introduced by a customized Mitch followed by another Romain Virgo. Love Punany Bad and Mud Up were packed with popular hits by artists such as Buju Banton, Bounty Killer and Vybz Kartel and kept the patrons blowing their vuvuzelas for the entire set straight. Even harder the vibe crashed with the last performance of the first round carried out by Black Kat. Without the presence of Six Star General Panther the sound system from Christiana failed to connect with the massive. Laptop problems and uninspired regular dubplates by Vybz Kartel or Popcaan could not gain any forwards just like Fire Agent's presentation on the microphone. Only Ninjaman on the Foundation riddim highlighted the slightly disappointing segment by the defending champion.

With the first round being an introduction no sound had to leave the competition. Still another chance to represent for 5 minutes each. Two times champion Killamanjaro kicked off with a Ninjaman custom made which received a huge forward among patrons. Freddie Krueger and his selector succeeded to keep up the good vibe with another Ninjaman and Capleton combination and a speech on Jaro being a foundation sound that has toured the world. The forwards continued even through the next 5 minutes as energetic Avatar took over the stage with Popcaan's Head Bad on the Punany riddim, that could easily be entitled the riddim of the night. The enthusiastic atmosphere even rose with a Major Mackerel custom before dubplates by Vybz Kartel, I-Octane and Bounty Killer were dropped by the man with the Khaki suit and blonde mohawk. Italian Heavy Hammer stressed Popcaan's statement of the trophy being the only thing they want by spinning two more customized specials with Konshens singing Suck Sumn as others' could Kill Nottn. In the same way Raffa and Gecky played Party Shot and again A Yah Suh Nice to make solid second statement for the night.
Following Rootsman again failed to connect with the patrons and even the better than in the first round presented specials by Mavado, Ninjaman or Buju Banton could not save them in the second set. Similar to that, Code Red started strongly with two Konshens customs, one of them being Gal Ah Bubble but could not keep up the vibe with various Bountys and Kartels but received even a buh by the end of their 5 minutes. It was Bass Odyssey's great combination of tunes and speeches that made fans finally cheer again as they dropped a Dwayno Custom, Konshens' Badman Settings or I-Octane's Burn Dem Bridge that earned forwards through the entire round. Black Kat tried hard to make up for the first presentation with Richie Stephen's Live Your Life customized for the clash being followed by a veteran segment including specials by Garnett Silk, Dennis Brown and Beres Hammond's "What Can You Do To Stop Your Sound From Dying" – a question that two sounds should have asked themselves before the second round, as the first elimination was about to take place. Two votings made the decision rather clear for the host of the night Tony Matterhorn as he said goodbye to Rootsman and Code Red before making space again for Freddie Krueger on the mic.

A unique Jaro segment opened by Garnett Silk's Evacuate, followed by Cocoa Tea's Young Lover, Junior Murvin's Cool Out Son topped by two Supercat dubplates secured a presentation consistently celebrated with forwards by the Pier One massive. On the contrary, Black Blunt didn't do itself a favour by playing a skit faking a message by the late great Bass Odyssey member Squingy. Neither the customs by Mikeylous and Nitty Kutchie nor Shabba Rank's Shoot To Kill could save them after this questionable intro that Heavy Hammer's Raffa picked on straight as he took over the microphone. The Italians started up again with a customized version of Zagga's Change, followed by Damian Marley's Welcome To Jamrock and a combination of the latter with the sounds favourite artist Warlord Bounty Killer, that were well appreciated by the crowd. With a speech on splice allegations Raffa introduced another combination that possibly created the biggest buzz of the night, as former arch enemies Bounty Killer and Beenie Man sounded in unity off the speaker boxes. Still the fans had enough energy to celebrate Busy Signal's Jamaica Love for Bass Odyssey as well as the following dubplate by Cocoa Tea and the Bounty and Damian Marley combination of Khaki Suit played by the sound from St Ann. On the other hand Black Kat earned no significant forward but confirmed Luciano's statement that it "Doesn't Matter What You're Playing Soundboy" once you cannot connect. Not quite surprising, was the decision made by the patrons pointing towards the exit, as they chose to get rid of the latter and Black Blunt.

Despite the drizzle Killamanjaro turned up the temperature once more with another both classical and unique set including Tenor Saw, Supercat, Garnett Silk, Culture's Joseph Hill and the sound system's anthem Rock It Tonight by Johnny Osbourne. Rather young Heavy Hammer took on the challenge boldly with Ain't Gonna See Us Fall by Sizzla, Anthony Red Rose' Tempo and several well-juggled Mad Cobra and Bounty Killer dubplates on the Superstar and Sick riddim. Although Bass Odyssey made a strong opening flinging Buju Banton's exclusive anthem before poking fun at Shebada favouring Avatar by playing Wayne Wonder's Love And Affection, it was the relatively weakest round for Father Keith's sound system. Focusing on contemporary and new tunes such as Mavado's Do Road and Lost Dem the concept of the set seemed slightly dispersed yet the first two impressive rounds had paid off for Bass Odyssey as the clash fans sent home Heavy Hammer after the fourth round.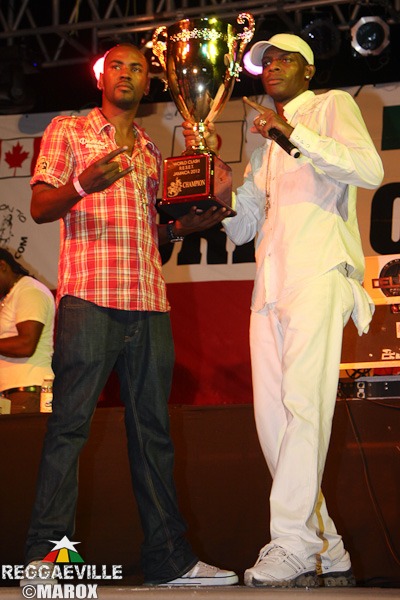 Minutes to 4 am it was Papa Jaro vs. Father Keith respectively Freddie Krueger vs. Worm to fight this World Clash. The popular Richie Stephens and Garnett Silk combination followed by another Garnett Silk and Dennis Brown's Revolution secured three wins for the tallest mountain straight over a Garnett Silk, Toots' 54-46 and a combination by Beres Hammond and Marcia Griffiths, before the fourth round caused some confusion. While Killamanjaro entered with its Garnett Silk and Dennis Brown combination, Bass Odyssey draw the at times questioned The Harder They Come by Jimmy Cliff and received that point finally after a second vote. Also their version of Junior Reid's One Blood granted them a point over Jaro's Tenor Saw. Bass Odyssey managed to come to a 3:3 tie, when host Tony Matterhorn announced the very last round as time was running out. It was Jimmy Cliff again singing Many Rivers To Cross on behalf of Bass Odyssey that the fans rated over Derrick Morgan's Blazing Fire played by Freddie Krueger. Finally New York's runner up received another trophy in 2012.
★★★ PHOTOS GALLERIES HERE ★★★