08/06 - 08/09 2015
World Reggae Contest 2015 - Meet The Finalists... NOVA RAÌZ
08/04/2015 by Gardy Stein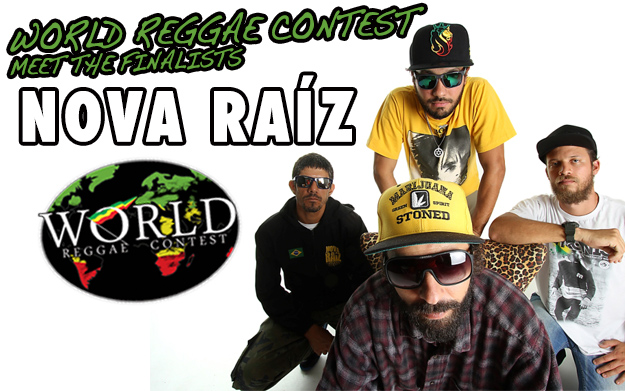 Nova Raìz (Portuguese for 'New Root') is the only band from out of Europe who made it into the finals of the World Reggae Contest. The Brazilians Bruno Xavier (bass & vocal), Marcelo Pahl (drums), Rodney Silveira (guitar) and Herik Marcos (keys) decided to focus their previously occasional musical encounters in 2011 and stabilized into a band project that quickly bore fruit. In 2013, their debut album Desapego appeared, followed one year later by a live-recording of their performance at Spain's Minho Reggae Splash. With a minimal line-up, their conscious and critical lyrics are brought across, and I'm really curious to see a band in which the bass player is the lead singer at the same time – a first for me!

Let's hear what they themselves have to say about the following topics:


Your expectations of/ connection to Poland:
Reggae is a music style that became universal. Actually, it's much more than that. Reggae songs bring us words of love, peace and, among other things, messages against any kind of injustice. Reggae's philosophy is an important way of life for many people around the world. We can see this by looking on this big festival which takes place in Poland since 2000. With this great opportunity, we want to bring more visibility to Brazilian Reggae music and also share with Polish people our songs and thoughts of freedom, love and unity. We know that's our mission as Reggae musicians.

What can people in Ostroda expect when you appear on stage? What does your live performance look, feel and sound like?
Our presentation always has conscious lyrics and a strong rhythm originating from our African roots. Like in Jamaica, Brazilian people have roots in Africa, but we also have Brazilian Indian and European roots. Thus, we play Reggae music a little bit different. We intend to play songs which combine music with elements of the Brazilian culture, sharing a piece of our country with the festival. We are confident that this will be our great surprise on stage!


Why do you deserve to win the contest and in which way will Reggae fans benefit from you as a champion?
We are playing together for such a long time! Reggae teaches us every day of our lives, since we were kids. And because of our music, we are still together, going in the same direction, having the same goals and purposes in life. Unfortunately, here in Brazil musicians don't usually have conditions of living from their music, especially when they play Reggae music. There are few opportunities here for a Reggae band. Therefore, being in Poland presenting our songs in such a big festival is a dream come true. To win the contest means that our dream is alive. It will be a greatest achievement not just for us, but for all Brazilian Reggae players!


If you are the lucky winner of the contest, you will have the chance to record at Harry J Studios. What does this mean to you? Do you have plans for that recording session already? Share your thoughts…
To win this contest means for us that we have reached the top of our dreams. It is the best chance to open the doors for our music. We already have so many things planned for this moment! We intend to record new songs never recorded before and also re-record some older songs with better quality, as well as other things that we can't tell. It will be a surprise!


If you could choose freely, who would join you in the studio to record a feature/ combination track and why?
One of our greatest influences is Winston Rodney. It would be fantastic to record with him! Also a combination with Jah Cure or Donald Shaw from The Mighty Diamonds would be super cool!


THE FINAL WILL BE STREAMED LIVE ON REGGAEVILLE.com - AUGUST 8th 2015
CLICK HERE FOR ALL DETAILS!