07/28/2012
Review: International Dancehall Queen Competition in Jamaica 7/28/2012 2012
09/11/2012 by Munchy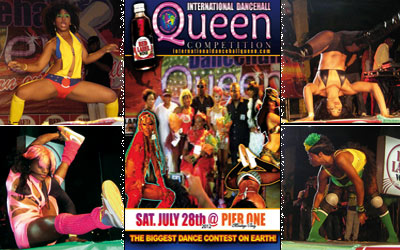 International Dancehall Queen Competition in Montego Bay, Jamaica @ PierOne 7/28/ 2012

Even though it was their own Sweet 16, this year's International Dancehall Queen contest celebrated another jubilee being (of course) themed Jamaica 50. Around midnight the 33 competing dancers entered the stage dressed all black, gold and green representing the Independence Anniversary of the host country. The traditional opening ceremony carried out by all contestants in unity took the patrons on a musical time travel from Ska and Rocksteady on to Reggae until today's Dancehall and finally the highly anticipated competition. Featuring females from three continents and countries such as Sweden, Japan or even Venezuela it was again a truly international affair and had Pier One packed as usual to the very end of the venue with more than 6000 dance fans.

The patrons surely enjoyed the event from the very first round as most contestants showed a lot of creativity not only with their choreography but the outfit, their personal musical mix and of course props. Japanese Lisa Fat entered the stage in an orange prisoner dress and smashed her handcuffs to Vybz Kartel's 'Back To Life' while Jamaican Baby Star was just too cute as a baby with pacifier and bib riding in on a tricycle. Italian Night Nurse Noemi had her stethoscope ready before Shelly Selloff from the States followed her on stage as a virgin in a white bridal dress. While French contestant Axxia represented for her home country in a sexy tricolor outfit, competitor Pinky Diamond showed her love for Canada with some flags. At the same time others earned points with the massive by throwing presents into the crowd, such as local Sasi who gave away phone cards and banana chips to Specialist's summer hit or Afro from Poland, who threw a bag of what of course just appeared to be weed.

Dance-wise the queens showed a lot of energy and courage with stunts such as the head-top on literally nothing but the head (with no hands at the side), which was a popular move to gain much applause from the enthusiastic patrons. To mix it up some girls choose the propeller head-top with their legs circulating while others couldn't resist to go upside down on tables or chairs. Boom Boom from Japan impressed with stripping down her pants in that very position before Jamaican Bubbla took it to another level as she entered the stage on her head and pushed herself across before sitting down and putting her legs behind her head. Jumps up to five feet usually resulted in the classic split or in landing sitting upright on the bottom. While some contestants focused more on acrobatics and sexy wining others such as Swedish Melpo mixed their choreography with classic dance routines and featured moves such as 'Now you see me, now you don't' or 'Rubba Bounce'.

RDX were the lucky ones who undoubtedly provided the song of the night. 'Jump Up' was featured by almost every girl within her individually chosen music mix, while many also decided to 'Bruck It Down' or represented to Konshens and Vybz Kartel songs. The biggest forward was yet neither musically nor within the competition. When Canadian patron Dagga Ras was invited to enter the stage for a little intermission shake down, she was the one, who all of a sudden lifted up host Brian Brown to dagger him across the place and have the surprised fans laughing and cheering.

After a long night of dancing, jumping up and breaking it down, it was beautiful Jamaican contestant Sherine Scarlett aka Sher Rumba from Portmore, who could take the crown even though many of the patrons were not quite happy with the decision made by the five judges, as the fans preferred Keja 'Tall Up' Christie from Montego Bay. French dancer and former European Dancehall Queen Shisha placed second, right before Japanese Boom Boom as second runner-up.