07/24 - 07/27 2013
Festival Report: Garance Reggae Festival 2013
07/26/2013 by Valentin Zill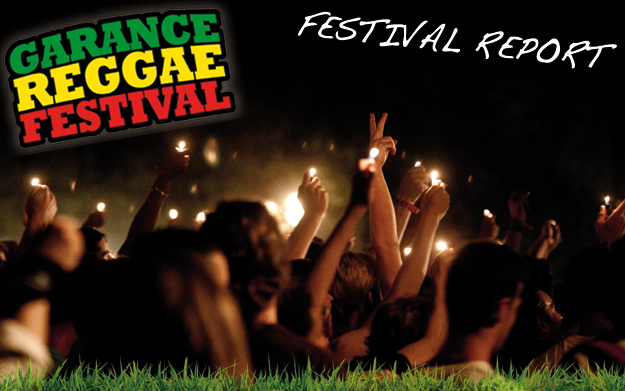 Reggaeville is on spot and reports from Garance Reggae Festival 2013!
Follow Reggaeville on INSTAGRAM [CLICK HERE] for some fresh vibes straight from the festival.
PHOTOS: Ky-Mani Marley # Steel Pulse # Dub Station Corner and MORE HERE

DAY FOUR - SATURDAY JULY 27th 2013
French dancehall sensation Naâman is the first artist I see perform on this last day of this ever-exciting festival. Inner Rose had opened the main stage today. The band from Lyon, France won the Tremplin Young Lions contest organized in the city center of Bagnols-sur-Cèze during the festival against such strong competition as Datune and The Banyans. Considering the time of the day he's playing, it is obvious that Naâman already has a loyal following here. Thanks to him singing in English on his debut album Deep Rockers Back Ah Yard, he should be able to soon make an impact beyond France.

The real sensation today is John Holt, backed by the once more brilliant We The People Band. It's hit after hit now. Holt, who appears to be in a great mood, threatens to close with Police In Helicopter, for which he gets today's biggest forward - despite the welcome absence of police helicopters at Garance festival. John Holt comes back for Wear You To The Ball, luckily. He would have made for an adequate headliner of this festival. Why he has to go on stage so early leaves not only me wondering for the rest of the day.

Jah Mason is next, with a solid show skillfully run by Dub Akom again. It's hard to imagine Jah Mason playing in front of such big a crowd on other European festivals. He is big in France. After Mason, Omar Perry sings a few tunes before passing the mic to his father Scratch.

In fact, most everyone seems to be waiting for the man some people had doubts that he would show up at all: Sizzla Kalonji. He's there, and he's on time for his only show in France this summer. Garance is roaring. While the Firehouse Crew shines as bright as always, Sizzla's flat singing only proved that he's way beyond the zenith of his career - although, admittedly, he did better than on most of his more recent studio albums.

Michael Rose and Sly & Robbie's Taxi Gang show how to grow old gracefully as an artist. Khalifa sings a quick tune for starters, then the Taxi Gang calls on stage the surprise guest: Bitty McLean. As elegantly dressed as ever and in visibly good mood, the British gentleman sings Never Let Me Go, Walk Away From Love, and Lately. Why in the world doesn't he get a full slot of his own? He is easily the most gifted singer to emerge in Europe in recent times, and he never disappoints live on stage. Never. Michael Rose does, sometimes, but tonight he's in great shape and delivers. Similar to Don Carlos two days ago, he focuses on Black Uhuru classics, but brings more of his solo material than Don Carlos did. Too bad that the Dub Station Corner closes at the same time as the main stage. I would have loved to see Jah Shaka before post-festival depression really kicked in.

2013's edition underlined that Garance Reggae Festival is mandatory. It features one of the most impressive line ups all over Europe, the most beautiful of all festival sites, and the nicest people to attend it. Despite the sanitary problems on the campgrounds and the dangerous overcrowdedness of Parc Arthur Rimbaud, Garance is a no-brainer. No where else can you literally feel the music as good as you can here.


DAY THREE - FRIDAY JULY 26th 2013
If Day Two was packed already with big names, it's nothing compared to Day Three. The heat is as unbearable as ever when Tiwony enters the main stage. His energetic and captivating performance suggests that he hasn't reached his limit yet. Dife Lyrical is the name of his latest, freshly released album.

While Tiwony caters more to a younger, dancehall-oriented audience, The Tamlins change down a gear and add classic grandeur to Garance Reggae Festival 2013. Stranger Cole takes it back to the days before reggae. He's wearing an elegant grey suit with a red tie today and is in great shape, considering his age. It's the fourth time I see him perform this year, and it's not only thanks to his form on the day that I'm stunned. Lloyd Parks' We The People Band provides a wonderful, relaxed backdrop for the senior legend.

Busy Signal takes the Garance massive back to some serious partying. He was scheduled to appear at last year's edition, but had to serve six months in prison at the time. It's Reggae Music Again, and Busy delivers as if he wanted to apologize for not showing up last year. His mix of roots songs and earlier dancehall tunes provides welcome moments of rest before those huge eruptions that turn his show into one of the strongest moments of the festival.

The real highlight today, however, turned out to be Dub Inc. Despite their tremendous success in France and their heavy international touring, it is the first time the band from St. Étienne, France - just a three-hour drive by car from Bagnols - performs at the Garance festival. They are welcomed frenetically by the largest crowd that has ever gathered in front of the festival's main stage. From the first to the last tune of their set, the people know every word of their lyrics. Except for those of Dub Inc's new album Paradise, scheduled to be released in October this year. Their music is honest and apparently reflects the reality of many people in France and beyond. Their Hors Controle-Tour has led them to 27 countries already, including the US, Colombia, Senegal, and India. Just the night before their show at Garance, Santana invited the group's two singers Bouchkour and Komlan to sing a feature with him on stage. Dub Inc owns its audience, not just at Garance Reggae Festival.

Not even Steel Pulse can keep up with Dub Inc today - and the members of France's most prolific reggae band are fans of the UK legends themselves. Birmingham's best play their standard set and please the crowd. Everton Blender on the other hand turns out to be the biggest disappointment of the festival. He hasn't toured Europe for years, and his fans are eager to see him again. It's just that his voice has become too fragile and thin to meet the huge expectations. It doesn't help much either that he hasn't really rehearsed with Lloyd Parks' We The People Band, who stay below the standards they have set on the very same stage lately.

With just one main stage, Garance Reggae Festival doesn't force you to make those tough decisions between seeing one artist or the other too often. Tonight it does, however. The line up at the Dub Station Corner is interesting enough to strongly suggest a trip to Bagnols. King Jammy headlines tonight with a live set that features Johnny Osbourne and Lone Ranger.


DAY TWO - THURSDAY JULY 25th 2013
Today is packed, and the heat just as difficult to adjust to as yesterday. Enjoying a cool bath in the Cèze river that flows between the festival site and camp sites is the only adequate way to start the day. Cape Verdian singer Mo'Kalamity is the first one to grace the airy main stage of Garance Reggae Festival 2013 with her appearance. She has got her following in France, her country of residence, but the number of people gathered in front of the stage is limited. It is simply too hot still for most people here to triple the sweat flow already.

While Mo'Kalamity represents the young generation of France's vast reggae movement, it is foundation time now at Garance. The delicious selection of those who paved the way in the 1960s and 70s is what really sets Garance apart from other festivals. The respect for the elders can be felt during their shows. Cornell Campbell greets an audience considerably bigger than Mo'Kalamity's. The We The People Band, founded in 1974 by Lloyd Parks, provided luxurious musical entertainment to spend a relaxed afternoon in the dusty Parc Arthur Rimbaud. Go easy on it and grab some food, seems to be the motto. Cornell Campbell made sure it was an afternoon to remember. Chatting up people who are enjoying the shows at Garance reveals that the festivalgoers are mostly aware of how exclusive and historical their treats are. If Cornell Campbell wasn't, the quality of his performance alone would justify a better slot. Johnny Osbourne's show - he jumped in on short notice for Ini Kamoze, who, much to the regret of many festivalgoers, cancelled his show - was solid. It is good to see him perform on the main stage with a live band, rather than "just" with King Jammy's at the Dub Station Corner tomorrow.

More and more people return from their afternoon excursion to the picturesque old town city center of Bagnols-sur-Cèze to celebrate the live shows. While the sound-system-focused first night already saw an unexpectedly high turnout, a few thousand people more seem to have found their way to Bagnols by now. Don Carlos is the first artist tonight to draw such a big crowd that moving around the festival site becomes an actual challenge. Backed by Sly & Robbie, Don Carlos delivers a show that does what it can to conceal his real age. He's in good shape and clearly enjoys his appearance on stage as much as the audience. His last album Changes suggests strongly that he understands to fuse late developments in Jamaican music with his trademark style.

Inner Circle weren't as succesfull at keeping their career consistant as Don Carlos was, but that doesn't matter now. Too rarely are their performances in Europe anyway. Their show had been announced as a "Special Jacob Miller Tribute Show" featuring Addis Pablo, Augustus Pablo's son. He only turned out for one tune. Inner Circle worked their way through a dense set of Killer's classics, each tune being received frenetically. They got the biggest forwards, however, for Bad Boys and Sweat. Inner Circle's show was one of the most memorable ones at this year's Garance festival.

Despite the Garance's focus on roots reggae veterans, the organizers make sure that contemporary musical developments get reflected as well. Konshens shows Inner Circle that it doesn't necessarily take the experience of decades on stage to completely own the massive. As usually at this festival, it is suprising how familiar the Garance massive seems to be with almost anything they get to listen to here. Konshens obviously has his large following in France, and the Garance visitors are absolutely willing to party as soon as the sun's down. Dub Akom are, too. The band from nearby Marseille has evolved into Europe's top choice for dancehall backings more recently. The attention to detail they pay, the skills they bring, and the energy they have on stage are highly convincing. It's up to Ky-Mani Marley to change the flavor completely and close the second day of this huge festival.



DAY ONE - WEDNESDAY JULY 24th 2013
You have to travel to the end of the world to get away from it all, and sometimes you have to travel to the end of the world to get it all. The picturesque festival site, the alluring line-up, and the dedicated, ready-to-party visitors that grace it with their presence turn Garance Reggae Festival 2013 into one of the biggest and best reggae events happening in Europe this year. It also ranks high among those hard to reach.

Bagnols-sur-Cèze is a wonderful little village with about 19,000 inhabitants, located in the deep South of France. Unfortunately, it doesn't feature a train station. Travelling by car means the least planning effort, but the streets of Bagnols are pretty much blocked up in one eternal traffic jam. It takes a lot of patience to stay calm in the sweltering heat. The closest airports - Avignon, Nîmes, Montpellier, and Marseille - are still quite distant from Bagnols. Travelling by train means having to rely on the bus shuttle that connects Avignon with Bagnols.

The long trip to Bagnols is tiring, but it's always worth it. It is 18h now, and the sweltering heat slowly starts to ease a bit. My extreme fatigue still has the upper hand, but the relaxed vibes in Parc Arthur Rimbaud capture me and lull me in. The first day of Garance has been totally dedicated to sound system culture. Unlike previous editions, there aren't any concerts on the main stage. Instead, the area right in front of the main stage has been turned into the Lion's Arena. It is entirely controlled by UK sound systems. King Earthquake together with Iration Steppas, and Brother Culture run this dance to honor His Imperial Majesty's birthday. More and more people gather to groove themselves in for the festival.

A certain smell in the air indicates the biggest issue here: there are way to few showers available to campers, and sometimes no more than five toilettes on a campsite for 6,000 people. These conditions really are no fun.

Another thing that surprises me is how international Garance Reggae Festival has become. As on most of the big festivals in Europe, you hear people speaking English, German, Dutch, Spanish, and other languages everywhere. It has become easier to get by here without a good knowledge of French, although it still helps much.

The real party of the night goes on at the Dub Station Corner. Other than the Lion's Arena, it's largely in French hands tonight. Chinese Man Sound System from Marseille celebrate their only festival appearance in France this year. No less exciting are Blackboard Jungle from Rouen, France. Founded in 1994, they had a long time to build up a loyal fan base. It shows. There couldn't be more people at the Dub Station Corner tonight. The significance of France's sound system culture rarely gets the recognition it deserves outside of the country. Today's highlight indicates otherwise: Killamanjaro clashes with Soul Stereo, France's heavyweight from Paris.