Ziggy Marley @ Opening of Bob Marley, Messenger Exhibit in Los Angeles, CA 5/11/2011
05/12/2011 by Jan Salzman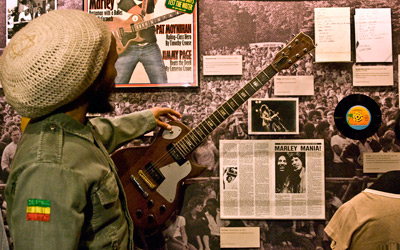 Bob Marley Exhibit at Grammy Museum - May 11, 2011 in Los Angeles, CA
May 11 1981. This date has special significance in reggae history. It is the date when reggae legend, Bob Marley, made his transition to Zion thirty years ago. The exhibit contained many photos by famed photographers Adrian Boot, Dennis Morris, Neville Garrick and David Corio. There were many displays containing Bob Marley's memorabilia like his renowned Les Paul guitar, some of his denim shirts, replicas of outfits worn by the I-Threes and copies of all of Bob's album covers.

Bob's eldest son, five time Grammy winner, Ziggy Marley and daughter Karen Marley attended this opening for the press. Ziggy did a number of interviews and Ziggy and Karen posed for photos with the curator and staff from the Grammy Museum. Ziggy made a comment that the family was very honored by this presentation and that his father never imagined this kind of honor. To Bob Marley, he thought of his music as his work. Ziggy slowly strolled the wall of photos of his dad, taking in all of the memories that the photos invoked. The museum had a big interactive music box at the entrance to the exhibit that played Bob Marley music and there were interactive videos of various celebrities and Marley family members being interviewed about Bob Marley.

Occasionally I saw Ziggy dancing a little to the music coming over the speaker system. This was a very easy going atmosphere, which lasted about two hours before Ziggy and Karen took their leave.

This exhibit will run through October 2, 2011, so if you are in the Los Angeles area anytime during its run, it is a very worthwhile destination.

Thanks to Tuff Gong Worldwide and The Grammy Museum for making this day a memorable one.