Review: Ziggy Marley @ HempCon in LA 4/2/2011
04/08/2011 by Jan Salzman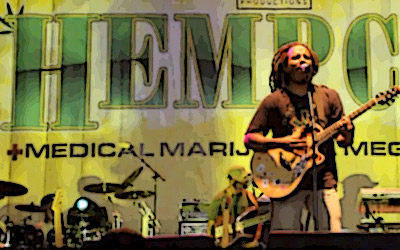 Ziggy Marley @ HempCon / Los Angeles Convention Center in Los Angeles, CA 4/2/2011
It was a concert with Ziggy Marley that brought me to the L.A. Convention Center on this day, but there was much more happening than just the concert. The five time Grammy winner is a long known supporter of all the uses of marijuana and hemp products and these uses were well represented at this convention. Most of the booths were focused on the smoking use, but there were a number of publications dedicated to all kinds of uses for hemp.

I recently broke my right wrist so I could not bring to you the usual stage photos of Ziggy Marley, but I did take some photos of the convention with my little point and shoot camera.

Ziggy started off the nights show with "Wild and Free", an acoustic version of the new song, which he has given away for free on his website ziggymarley.com. I usually grab a set list after the show…and Ziggy never sticks to the list, but usually the first three songs are correct… not this time! I feel this performance held a special spot close to Ziggy's heart. The next song, Melancholy Mood, he did with a slower rolling reggae beat, which is different from the albums jazzy version, in fact I like the reggae version better. An appropriate song for this event as it starts out "A little collie weed to ease I grief". Ziggy received lots of acclaim from world renowned expert in reggae, Native Wayne Jobson, who was sitting next to me, and loved this version of Melancholy Mood! The next song, Be Free, also seemed to be a message for the audience. Ziggy was very open and laid back during his performance this day. Most of the show he performed without his guitar on. He was moving and dancing throughout the show.

I was lucky enough to be seated in a chair to the side of the stage. I could see and hear the performance but the sound echoed due to the large cement floor. I couldn't resist getting up and dancing to one of my favorite tunes, Justice. Some of the Bob Marley tunes that Ziggy did were: Roots, Rock, Reggae, Get Up Stand Up, Is This Love, and Jammin'. To all appearances the band performed flawlessly as they followed Ziggy's every move. He has such a great band! Big up to all the members: Mikey (keyboards), Santa (drums), Angel (percussion), Takeshi (lead guitar), Beezy (guitar and vocals), Pablo (bass guitar) and Tracy (backing vocals). Ziggy performed many songs from his vast repertoire going back in his history with The Melody Makers, as well as his solo CD's. He came back onstage to do a three or four song encore, which thrilled the crowd as they sang to every tune.

After the show I waited patiently for my moment to say hi to Ziggy, who I'm sure was eager to get home to his lovely wife and new baby son, Abraham. We briefly discussed my broken wrist and I sent my best to the family, then we all were off to our respective homes…my car playing the Dragonfly CD. Thanks for the fun day and great performance, Ziggy!
Watch some clips from the show: