Review & Photos: Ziggy Marley Record Release Party in Los Angeles 6/14/2011
06/16/2011 by Jan Salzman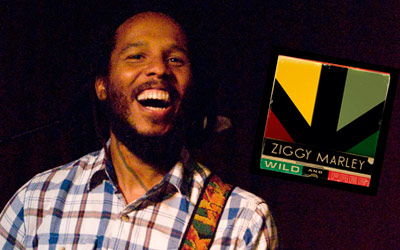 Ziggy Marley - Wild and Free Record Release Party
@ Hotel Café, Los Angeles, CA 6/14/2011
PHOTOS: ZIGGY MARLEY RECORD RELEASE PARTY

Five time Grammy winner, Ziggy Marley, threw an intimate, invitation only party to celebrate the release of his latest solo album, "Wild and Free", which also included a performance by Ziggy with his whole band. There was a small stage set up to one end of the room where the band performed…a little bit crowded for Ziggy's standards but the performance to come was spectacular!

Ziggy announced to the audience of about 150 people, that they were still in rehearsals for the new material so this night's performance was similar to a rehearsal without the starts and stops. To all appearances he performed the set of new songs flawlessly. I just love the new songs…among my favorites were, "Forward to Love", "Personal Revolution" and "Mmmm Mmmm". Ziggy's lyrics are so enlightened and sincere…he really gives us a glimpse into his personal life and philosophy through these new songs.

The CD has very clever packaging that opens like a book of matches that has his graphic marijuana leaf on the cover, continuing his support of all the industrial uses of the plant. All of the attendees were given a goodie bag containing the CD, a tank top, stickers, posters, bath product, a wish bracelet, a couple of containers of the "Marley's Mellow Mood" drinks and a sample of delicious Marley Coffee. I felt so privileged to be invited to this special event. Ziggy also announced to the crowd that "Wild and Free" was the number one downloaded reggae album. You deserve it, Ziggy, for all your years of hard work and fantastic performances!

Once in my car, I opened the CD and played it all the way home to keep the groove going from a fabulous evening.