Review & Photos: Ziggy Marley in Ridgefield, CT 10/28/2011
11/01/2011 by Marc Forman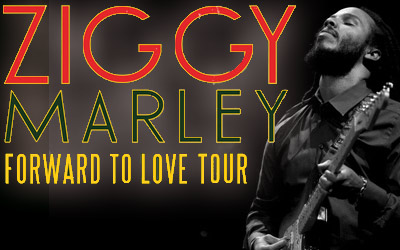 Ziggy Marley @ Ridgfield Playhouse in Ridgefield, CT 10/28/2011
► VIEW THE CONCERT PHOTOS HERE
The first cold night of the season needed something to warm it up. A storm was brewing. Lucky for concert goers in Connecticut, we had the kind of heat we needed to make it through the cold night before the first winter storm of the season. Ziggy Marley and his tight knit band had everyone warm, out of their jacket, and quickly out of their seat. Ridgefield Playhouse is quite a fancy setting for a reggae show. Certainly, this didn't keep anyone away. People of all walks of life attended the show. Young and old, black & white, everyone was there to see and hear Ziggy do what he does best, spread love, good vibes and great music. For some it was their first time seeing Ziggy, with a large amount of youth scattered throughout the crowd. Over the years Ziggy Marley's band has become very tight and confident. You can really hear it in the music. Extended jams and improvised solos make for a unique experience. Ziggy offers a different experience than what he does on his recorded albums. The concert felt like a show for the people, rather than a concert to promote his most recent album "Wild and Free." He plays a wide variety of songs from many of his albums and he covers a few of his father's songs. Ziggy appeared to be in great spirits. He was very energetic and was truly enjoying himself.

The Playhouse lights dim and the crowd cheers. Blue light fills the stage and Ziggy walks out. He and his band get right into it with, Welcome To The World, complete with the sound of a crying infant. Ziggy points his face towards the sky, and appears to be singing to his own son and uses the expression "my baby boy." You could feel the personal connection Ziggy had to this song.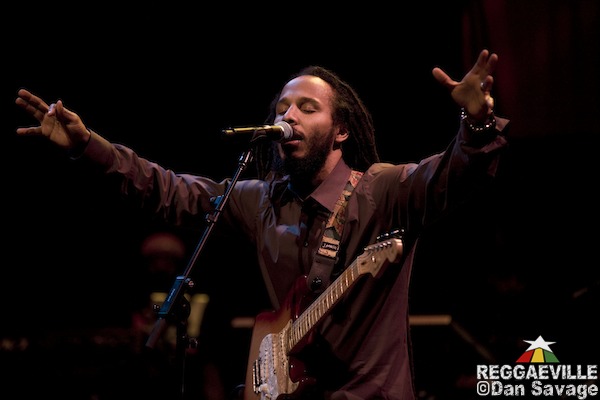 "Freedom is good for ya!" Ziggy shouts at us as the bands goes into a fast paced version of Be Free. He gets the crowd into it very quickly, and we chant back "Be Free!" as if rehearsed. You can really feel a unity in the crowd at Ziggy's shows. This night was a perfect example. Ziggy welcomed our energy with his wide open arms. He spread his arm several times which expressed an epic gesture of love for the fans, and in turn, their love for his music.

Personal Revolution really stood out. The drums were heavy, and the bass hit you in the chest. The song took on a feeling of an urgent march for personal change. It was played with a much faster pace than the studio recording. This song seemed to be the theme of the night, faster paced and high energy. Lyrics like: "Heart break is so hard to take," were said with such raw emotion that everyone could feel it. We were then led by Ziggy in an extended chant, repeating "I will find a way," until the song faded out.

It was refreshing to hear some of the less played songs from Ziggy's previous album: Love Is My Religion. Beach In Hawaii was a pleasant surprise. Ziggy slowly swayed to the music, and the majority of the crowd was now out of their seats. Takeshi had a long and beautiful guitar solo. Black Cat was also a great unexpected surprise. The songs high energy and fast pace certainly get the crowd moving.

"You got some reggae in your head?" Ziggy asks us as we roar back with approval. "So do I," he replied, as his band begins Reggae In My Head. All the songs from Wild And Free came across extremely well. They are a most welcomed addition to the Ziggy Marley songbook, and I hope to hear more of them at future shows.
What would a Ziggy Marley show be without a tribute to Bob himself? A quick paced rendition of Stir It Up really got the crowd comfortable and singing. You could see Ziggy and Beezy feeding off of and reading each others energy. Beezy gave an excellent guitar solo which sent chills through the audience.

It was a pleasure hearing songs like Tomorrow People which is a classic for all the long time fans, and undoubtedly catchy enough for new ears. There was no lack of crowd pleasing songs, such as: True To Myself, Love Is My Religion and Is This Love which are great to see children and new fans react to. The fans were helping Tracy sing her backing vocals. As usual, she did an amazing job interpreting their set into dance, and backing Ziggy up vocally. Tracy was the only back up vocalist, but she filled the shoes of three without any struggle.

Forward to Love had an interesting introduction and build up. I was unsure of what I was hearing at first, and even after I recognized the tune I was intrigued by its funkier sound and pace. The audience chanted back and forth with Ziggy over a dozen times. "Forward to love!" Which was repeated until he walked off stage. The crowd hoped and buzzed for an encore.

Tracy then entered the stage and sang passionately. "Justice, oh, justice." She built up the energy for Ziggy who entered the stage to applause. He raised his fist in the sky and began a powerful version of Justice. Ziggy shines during this song and definitely saved it for the encore for a reason. His expressive singing and emotion really backed up his lyrical message. Lyrical changes like "Why do they do the wrong? They make me sing this song." were personal and potent. The songs energy continued right into Get Up, Stand Up which was primarily lead by the crowd, especially with their chants back and forth with Ziggy.

The night wouldn't be complete without hearing Wild And Free which featured a fantastic bass solo. Ziggy ended the night with a gem: 3Look Who's Dancing and had all of us doing just that, dancing our feet off. Ziggy was dancing, the crowd was dancing, even Beezy was doing a dance with Tracy. The positive vibes during this song are just outrageous. Beezy takes us out with his guitar, while dancing with Tracy. Ridgefield Playhouse was dancing and buzzing this evening.

Ziggy and his tight knit band kept the energy high and warmed our souls with positive reggae vibes. This night was a night we would all remember and an energy we would walk away with renewed. Nothing solves a cold, and dark October evening in the northeast US, like the positive energy Ziggy brings with him every show.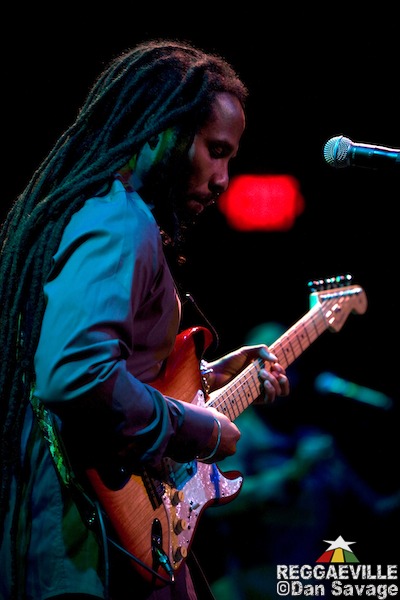 SETLIST
01. Welcome to the World
02. Be Free
03. Personal Revolution
04. Beach In Hawaii
05. Reggae In My Head
06. Stir It Up
07. Tomorrow People
08. True To Myself
09. Black Cat
10. Love Is My Religion
11. Is This Love
12. Forward To Love
ENCORE
13. Justice
14. Get Up Stand Up
15. Wild and Free
16. Look Who's Dancing