Review & Photos: Ziggy Marley in Chicago, IL 10/14/2011
10/23/2011 by Nick Krkles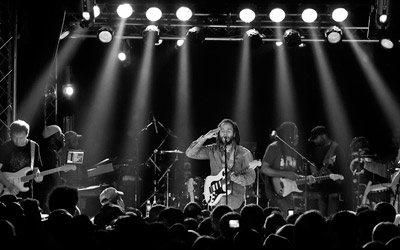 Ziggy Marley in Chicago, IL @ Cubby Bear 10/14/2011
Wild and Free - Forward To Love Tour
Ziggy Marley was back in Chicago visiting the Cubby Bear, a venue that has been Reggae friendly for quite some time. A line that snaked around Clark street made the passers by on Addison wonder what was happening, as they looked up at the scroll that read "Ziggy Marley". It was Ziggy's second time at the Cubby Bear in nearly five years, with the "Forward To Love Tour" in promotion for his new album "Wild & Free". Starting the show off with Welcome To The World and Be Free the crowd was just mellowing into the vibe that Ziggy was bringing. It was packed to the gills from the start.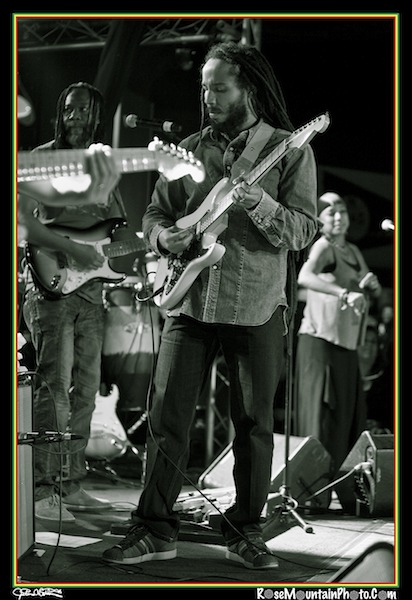 Make Some Music, a signature track from Love Is My Religion, paved way for a smooth groove that nicely prepared the crowd for Them Belly Full, a tune that would always rock an audience at his father's concerts. The color scheme was mainly yellow, blue, purple, red, green, if you can imagine the vibration that color can bring to music; so the crowd went from nice and easy to jump up and dance so gradually that it was seamless.

Personal Revolution, from the new record is a one drop, rootsy cut that echoes a more traditional sound. Beach In Hawaii, was a deep, R&B style jam, that carried a nice build up that took it's time. Reggae In My Head, is a new one that's a mellow sunshine track that had the audience chanting the title; melding into Stir It Up which added a nice little rub-a-dub twist. Forward To Love, a highlight from the Wild and Free album, was a straight ahead, positive one. Moving forward nicely into Tomorrow People, a staple from Conscious Party. True To Myself, followed by Love Is My Religion, had the Cubby Bear dancing hard, so well that it got hot in there! This didn't hinder the people at all, everyone was having a great time. The well selected set list then progressed to Is This Love, backed by the ska influenced Black Cat, which got the crowd jumping. Look Who's Dancing, just kept the party enthralled, as we called loudly for an encore. Justice, was the encore cry that roots rocked! We were treated to another new song Changes. Let Jah Will Be Done took us on a nice psychedelic dub trip, as the evening was wrapped up with the album title track and pro herb anthem Wild and Free.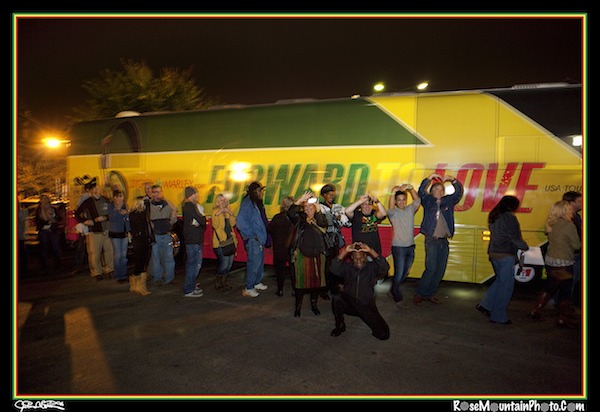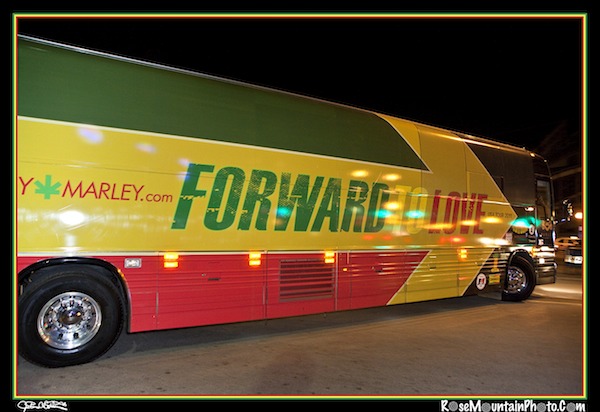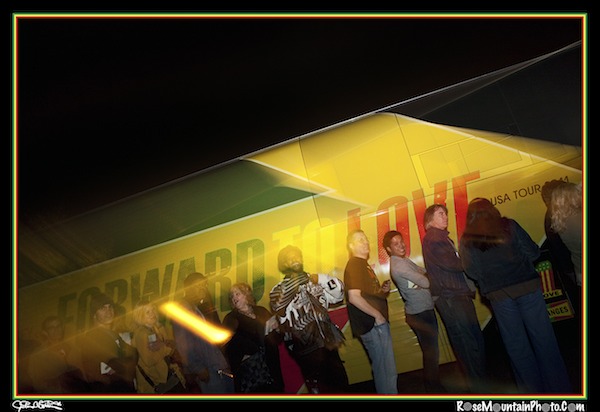 The tour bus was brilliantly designed! Partnering up with the Jamaica tourist board, it's painted the colors of the Jamaican flag with a photo of Dunn's River Falls, a most beautiful location in Jamaica. There are really nice symbols representing each song on the "Wild and Free" album and the symbol for Ziggy's comic book creation "Marijuanaman", which is available at comic shops. As well as, "The House of Marley", with images of their new products, which happens to be based here in Chicago, IL.

It was a great night to get warmed up with some loving vibes on a cold Chicago night. The "Forward To Love" tour keeps on moving. Until next time Ziggy...