Photos & Review: Reggae Night X - Ziggy Marley Salute Legends of Reggae 7/31/2011
08/04/2011 by Jan Salzman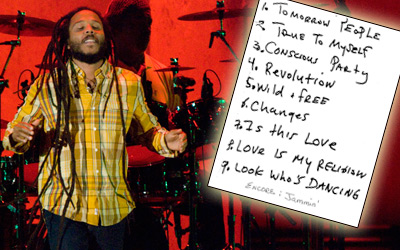 Reggae Night X
Tuff Gong Worldwide & Ziggy Marley Salute Legends of Reggae
@ The Hollywood Bowl in Hollywood, CA - USA 7/31/2011
► PHOTOS: ZIGGY MARLEY / I-THREES / WAILING SOULS /
MIGHTY DIAMONS / RAS MICHAEL & THE SONS OF NEGUS

This much anticipated night was well advertised and was surely a sell-out, with the best reggae line-up that the Hollywood Bowl has ever offered. The beautiful environment of the Hollywood Bowl, which is nestled in the Hollywood Hills, is a natural amphitheatre and the sound is extraordinary. It really is a treat to the ears and eyes. The lighting technicians added to the impact of the performances with impeccable timing as well. This year's line-up included five magnificent reggae artist: Ziggy Marley, The I-Threes, The Mighty Diamonds, The Wailing Souls and Ras Michael and the Sons and Daughters of Negus.


I started out my day meeting up with The Mighty Diamonds at their hotel. I ran into Ras Michael and Marcia Griffiths (The I-Threes) while entering the lobby…what an irie vibe to begin such a special day! I was lucky enough to travel with The Mighty Diamonds to the Hollywood Bowl and manager, Robert Oyugi took great care of me the whole day.

A surprise for the day was that these artists are all favorites of Ziggy Marley and HE introduced each act with a little story pertaining to their influence on him as a youth.

Ras Michael and the Sons and Daughters of Negus were the first performers on the day's roster. Known as "The Nyabinghi Specialist" (which is a style of drumming with roots that go back to Africa) he pounded the "heartbeat" rhythm that aligned our spirits for the day. He had many drummers that had interesting backgrounds. Ras Michael's son Saint sat to his right side, long time member Ras Trevor pounded the large bass drum, brother to Ras Michael, Rocky Bailey, Big Dread, I-locks, and former cook to Peter Tosh, Jah Mike. Jah Mike and Santa Davis were reminiscing backstage about the dreadful day that they both were shot during the course of Peter Tosh's murder. How lucky we are to have these two survivors on the planet! Ziggy Marley's fabulous band backed all of the performers this day, which saved much time in between set changes. Ras Michael's rich vocals rang out to many of his own songs and also some Bob Marley tunes. Ras Michael's set list was:


Intro/New Name
Nunna Jah Jah Children No Cry
Selassie Is the Chapel
Lion of Judah
Rastaman Give Thanks and Praise
Redemption Song/Get Up Stand Up


The first three artists of the day only had 25 minute sets, so there wasn't time for encores. Every performer deserved one but timing constraints wouldn't allow it.

The Wailing Souls have their roots in Trench Town, Jamaica. The three Grammy nominated duo learned their vocal harmonies at a young age from the likes of Bob Marley and Joe Higgs. Having many hits to their credit, their styles are mixed with roots reggae, R & B and rock. They magnificently performed nine songs from their repertoire. Their set included:


She Pleases Me
No Big Thing
Jah Jah Give Us Life to Live
Things and Time/Back Out Wid It
Diamonds and Pearls
Picky, Picky Head
Old Broom/Informer
Firehouse Rock
Shark Attack

The Wailing Souls got everyone in the maxxed out venue on their feet and dancing.

Jamaican national treasures, The Mighty Diamonds were next up wowing the audience with their superb vocal harmonies. Formed in 1969 in Trench Town, Jamaica they are Jamaica's premier harmony trio and have been honored all over the world with lifetime achievement awards. They consist of Fitzroy "Bunny" Simpson, Donald "Tabby" Shaw and Lloyd "Judge" Ferguson. Tabby's long locks were piled high on his head as he crooned his tunes:
Party Time
Natural Natty
Heads of Government
Right Time
Africa
Wise Son
I Need a Roof
Poor Marcus
Pass the Kutchie
The Mighty Diamonds kept us on our feet dancing throughout their set.
After a brief intermission, the crowd was on their feet and ready for Jamaica's three acclaimed female vocalists; Rita Marley, Marcia Griffiths and Judy Mowatt, The I-Threes! Originally known for being backing singers for reggae legend, Bob Marley, they have all had successful individual singing careers as well as their performances together as the I-Threes. The beautifully dressed and quaffed songbirds took to the stage with rousing applause from the audience. Their songs included:
Put It On
Unconditional Love
Nice Time/Mellow Mood
I Just Can't Give Up Now
Many Are Called
He's A Legend

(written by Marcia Griffiths in remembrance of Bob Marley)

No Woman, No Cry
Three Little Birds
Iron, Lion, Zion
Could You Be Loved

Just before singing Three Little Birds, Marcia announced to the audience that THEY were the three little birds that their brother, Bob Marley, wrote the song about. Those ladies can dance, too. Check the photos to see them grooving to the music! The I-Threes set ran 45 minutes and The Hollywood Bowl runs a tight ship. If you can catch them sometime at a different venue you might get a longer set with encores, I'm sure. Big up ladies! All of you did a great job! I didn't mention before, but Rita Marley is Ziggy's mom and the wife of Bob Marley.

Closing the nights show was five time Grammy winner and a reggae legend of his own, Ziggy Marley! Ziggy just release his fourth solo album, "Wild and Free", and we were treated to several songs from his new album. Everyone could tell that he was very enthusiastic about this show and his performance was the epitome of the night! Ziggy started out the set without his guitar off and skanked and jumped about the stage. The way he twisted and bended back made me wonder how he maintained his balance so well. Ziggy did a couple of songs from his days with his brother and sisters, The Melody Makers, along with a few choice hits from his solo albums Dragonfly and Love Is My Religion. Forty-five minutes is a short set for Ziggy, who usually wows the audience with at least an hour set. His smiling face portrayed his upful mood for the night. Ziggy's set included:
Tomorrow People
True To Myself
Conscious Party
Personal Revolution
Wild and Free
Changes
Is This Love
Love Is My Religion
Look Who's Dancing

There was a little time left after Ziggy left the stage so he was brought back for a rousing encore. He decided to perform his father's classic tune Jammin', to the audiences delight.
After checking my camera bag (we were not allowed to take photos backstage) I went backstage to catch up with The Mighty Diamonds and go to the meet and greet. The I-Threes, The Mighty Diamonds, The Wailing Souls and Ras Michael all attended. I was able to capture a couple candid shots with my little point and shoot camera as everyone was snapping photos. Then, we had a bit of a wait for the van to take us back to the hotel. Once back, I picked up my car and drove home listening to Ziggy's new album "Wild and Free". This was a fantastic day filled with the best reggae music!