UB40 Go On The Road Again - Dublin, Ireland 3/28/2014
04/03/2014 by Gerry McMahon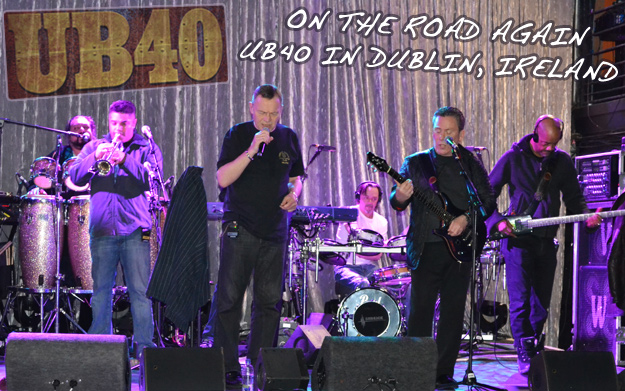 It's hard to argue with success. And UB40 have that in abundance. Though they may have been an 'overnight success', this success has now persisted for over 35 years, amidst multiple chart topping releases, sell-out world tours, bankruptcy, in-fighting and much more besides.

Opening their 2014 world tour in Ireland, proving that all good performances are largely attributable to rigorous preparation, the band invested a solid 2 hours in rehearsal – despite having played the same venue (to another full house) just the night before. Add to that a classy 2 hour show, spanning a 24 song set list and the only word that can apply is: Respect!

The 9 man band (minus original members Ali Campbell, Astro and Michael Virtue – READ THE INTERVIEW HERE) delivered a high grade musical fusion with consummate professionalism, sending their fans into a rhapsody of delight for the full duration. The show opened to rapturous applause amidst a smoke filled stage backdrop. The audience were further delighted when Robin Campbell announced that: "we've got a lot of old tunes for you tonight". And so they had. Though his brother Duncan (replacing his other brother Ali) may not engage with the audience in the standard style of a "front man", none can deny the uncanny similarity in vocals between him and his predecessor. This was especially evident in his top treatment of Midnight Rider – which was particularly well received by the audience. An early highlight of the show was Brian Travers replacement of his sax with the clarinet, which he blew to good especially effect on You Could Meet Somebody. The band's musical versatility was also well reflected in Norman Hassan's switches from congas\percussion and vocals to the mini-moog synthesiser.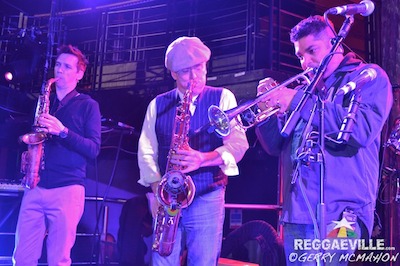 Further reflecting the band's impressive versatility was their competent cover version of the 1929 song How Can Poor Men Stand Such Times And Live?. This was only one of a series taken from the band's new country-influenced album, aptly titled Getting Over The Storm. Notably this track was followed shortly thereafter by the band's classy take on the well received Jim Reeves' hit He'll Have To Go. At the midpoint stage - when many shows dip into a passive reverie - UB40's popularity was underlined by the reception extended to Don't Let It Pass (from 1981) and Homely Girl (from 1989). Earl Falconer subsequently traded in his bass guitar to take the lead vocal's role on Oh America, as he aimed his impressive 'rap' style delivery at America's military aggression around the globe.

When it seemed that the mood could get no higher, the band launched into 1 In 10, raising the show's intensity via a musical and emotional crescendo. This was soon followed by yet another package of well known tunes, that aptly served to keep a transfixed audience on their feet. And yet the mood was moved to an even higher notch when Here I Am was launched – and that was even before the band left the stage to a tumultuous applause for their old Red Red Wine favourite.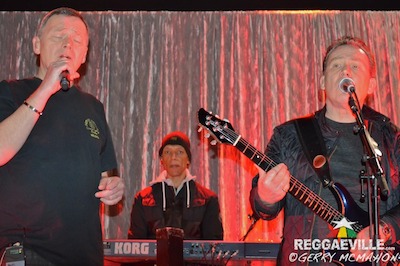 After a short break – loudly dominated by persistent "we want more" chants - the band returned to the stage, choosing to "cool down the pace" and ease the tempo, aided and abetted by straining horns on Love Is Alright. Of course UB40 were now teasing their audience, knowing full well that the dance floor would explode yet again, as Brian Traver's clarinet lit the fuse paper for good old Kingston Town. This was an appropriate number to bring the show to a close.

Whatever your view of UB40, none can deny that they are a longstanding and successful "class act". It is a rare thing to find a top notch reggae band with a history of hit after hit, that can afford to tour the world with the all-important 3-piece brass section – and much more besides. Long may they prevail.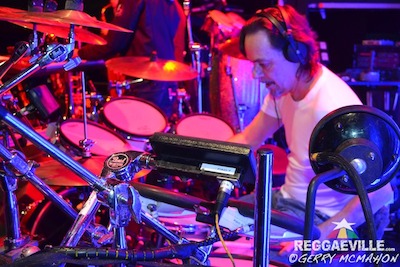 Current Line-Up
Duncan Campbell – Vocals
Earl Falconer – Bass
Robin Campbell – Guitar and Vocals
James Brown – Drums
Norman Hassan – Percussion, Trombone and Vocals
Brian Travers – Sax and Clarinet
Lawrence Parry – Trumpet
Martin Meredith – Sax
Tony Mullins – Keyboard




PHOTOS BY GERRY MCMAHON - TAKEN DURING SOUNDCHECK