Review & Photos: U-Roy in Paris, France 10/16/2012
10/18/2012 by David Katz / Photos by Michael Bunel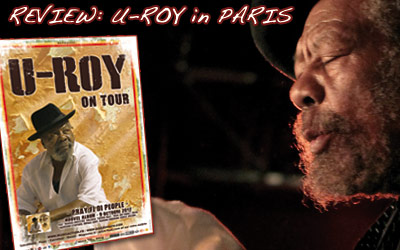 U Roy in Paris, France @ La Bellevilloise 10/16/2012
Every performing artist that has endured life on the road knows they must expect the unexpected. Things so often do not go according to plan (in fact, if anything can be guaranteed, it is that things won't go as planned), and the unsettling experience usually calls for bad food taken at unsociable hours, in and out of anonymous hotels, and very little sleep as the miles clock up. All kinds of other elements come into the mix that may or may not lead to spoilage.

As a veteran of performance in many different capacities, Mr U Roy knows what the road can do. He is a consummate professional when it comes to music matters, and knows he will need to face whatever the fates have in store for him. And this mid-week gig made perfectly clear that U Roy is greatly loved in Paris. For several decades, the veritable deejay daddy has played here far more frequently than he does in London; in fact, due to the 'skanky promoter' element so prevalent in the UK, he has avoided British stage shows for many years, appearing only occasionally with his Sturgav sound system. Across the channel, things are entirely different, and with a dynamite new album to promote, Pray Fi Di People, released by the Bordeaux-based SoulBeats, there was a real buzz of anticipation building about the Paris gig, the first date of an extensive tour of France.

The multi-story edifice that is La Bellevilloise, on the outskirts of Paris' Belleville district, is a building with a lot of history attached to it. Once the site of a political cooperative, it now houses spaces for various cultural activities and a trendy restaurant. Unfortunately, the live concert venue is relegated to the basement—a dank, airless space with a ceiling that could be a bit higher, and only one entry and exit point. However, the sound quality is thoroughly excellent, which is definitely a plus, and the volume was not overpoweringly loud either, as is often the case at UK venues.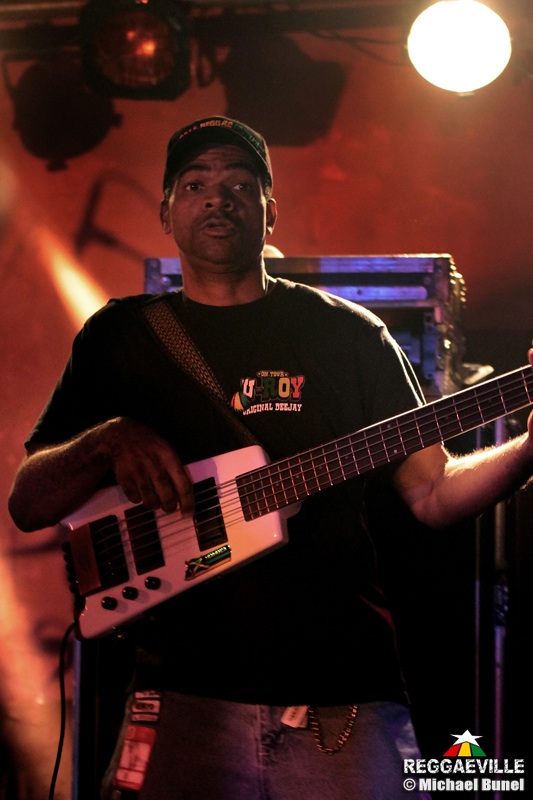 By the time I reached the club, around 9:30pm, it was totally packed. I missed the young French ragga opening act, Papa Style and Baldas, and as some anonymous Groundation album played in the background, the anticipation for our main man was clearly building. The crowd was a good mix of people—mostly young white French kids with a vaguely trendy air, but also longstanding roots reggae heads, and a handful of dreads with Francophone African and Caribbean backgrounds. Finding a decent place to watch the concert was already a problem; stand at the back and you are too near the bar, which remained very busy (despite a limited choice of beers), stay by the front and you are constantly jostled by the fools that are streaming out and back for cigarettes breaks. And in the middle of the place, an impossible crush, with people sneezing into your beer, jostling your ribs, and not even realising (or caring) that your personal space had been invaded. One got the sense that the venue could have been a bit larger, since U Roy has a very loyal fan base in this town.

Around 10pm, out came the band, with some of Jamaica's more reliable players: on keyboards, the wizard Obeah Denton, to keep things melodious throughout; the veteran guitarist Bo-Pee, cranking out choppy rhythms with a slight blues twist; for the crucial bass anchorage, the great Danny Axeman, and on rock-solid drums, Derrick Stewart. And for that added dimension of sound excellence, live dubwise mixing from the one Gaylord Bravo, who ran Kingston's Leggo studio for many years, and who now runs his own Small World studio. On stage, the first man to appear at the mike was baldhead vocalist Richard Robinson, who started things off with a singing section with sequined-clad vocalist Winsome Benjamin. The opening number was a nonsense scat, Hi De Ho, which Robinson used to draw the audience into a sing-along. Then Winsome took the lead for a romance ballad about True Love, before the two tackled a back-and-forth duet. The audience appreciated their contribution, with the skanking pretty much taking place from the first note.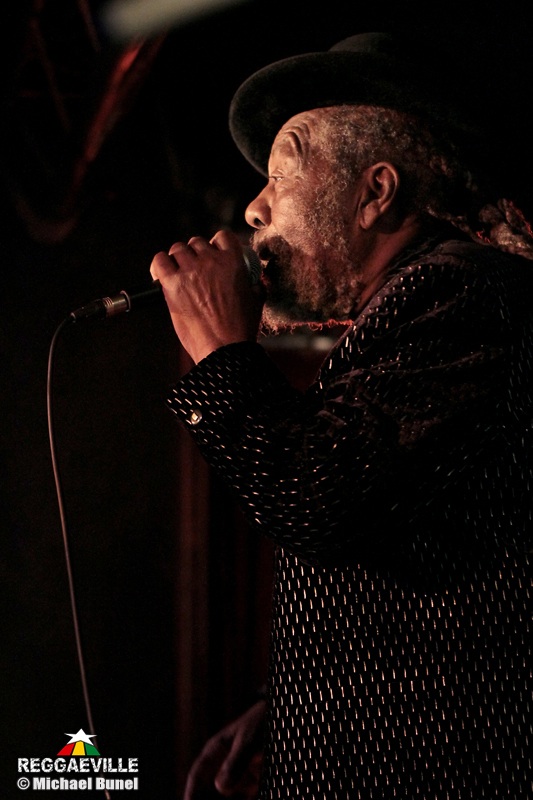 At long last our man stepped into the limelight in a nicely tailored suit, his long, grey dreadlocks spilling out of a hat, to 'wake the town and tell the people', via a new take of Alton Ellis' Got A Date, this time with Winsome delivering the vocal and U Roy chatting back in a scat toasting style, with Obeah boosting things with a sprightly keyboard line. Before cranking into Flashing My Whip, over the Paragons Only A Smile, U Roy warned the audience that he was fighting the flu, but still, the 'show must go on'; since all of Paris was coughing, wheezing and spluttering, as the weather took a turn for the worse, it was really no wonder if our man was under the weather, though his performance seemed on target so far. Next came a powerfully propulsive True Born African, with percolating tom-tom beats from the drummer, and then, a real unexpected surprise: Money, U Roy's take of Horace Andy's 'Money Money', which he'd cut on the Serious Matter album, but this time, the band morphed it into a dancehall style delight, which garnered serious praise from the crowd. New track Border Line from the Pray Fi Di People album sounded fresh, with a great live dub mix keeping things interesting, while Love Question was also a winner, but by the time he drew for Runaway Child, it was clear that the flu was wreaking havoc with U Roy's voice. Winsome took the lead for Ebony Eyes, allowing U Roy to rest his chords momentarily, but when the band launched into OK Fred, which U Roy tackled for the Now album, he sounded mighty hoarse, and that hoarseness continued on Pray Fi Di People—a real shame, as it is highly impressive on the new album—but here the rhythm section was able to liven things up via an extended dubwise portion, as U Roy momentarily caught his breath. Power Of Love held plenty of tension, and U Roy managed to sneak in a bit of the Lord's Prayer in the middle, while Ungrateful Girl made good use of Richard Robinson's lead. The classic mid-1970s scorcher Natty Kung Fu on the 'Freedom Blues' rhythm still sounded fresh, and U Roy kept things more up to date by interjecting some lines from Admiral Tibet's 'Serious Times' in the middle, but once again apologised to the audience for the flu making his performance somewhat under-par. And it has to be said that the audience did not seem to notice that anything was particularly amiss; they just kept skanking away, thoroughly enjoying themselves. Closing number Natty Rebel on the 'Soul Rebel' rhythm had the entire place singing along and rocking with reckless abandon—the crowd was in 7th heaven, even if U Roy declined to come back for an encore.

On my way to the metro, I heard plenty of fans still singing 'Soul Rebel' all the way down the block…so even if the flu was messing with U Roy, it seems he got the better of it in the end. No doubt the man will be nursing some serious lemon and ginger for the rest of the tour…