Update & Free Tickets: Reggaeville Weekender 2011
08/05/2011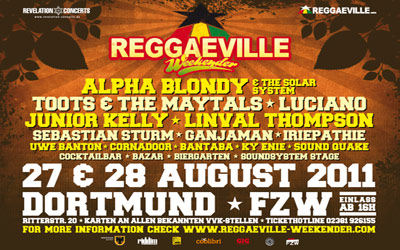 On august 27th and 28th the first Reggaeville Weekender takes place in Dortmund, Germany.

We have to announce one change in the line-up. Mr.Vegas is off, but with Junior Kelly we can provide a great artist as replacement! Sara Lugo is no longer on tour with Luciano, so she will not appear as well.

Her
e i
s your chance to win FREE TICKETS for the Weekender.

You just need to do two things to get the chance to win a free ticket:
Join the Facebook event RIGHT HERE and confirm that you are attending.
Then grab the event poster (steal it here) and use it as your profile photo on Facebook.
Every monday in august we will choose two winners from all attending users, who have the Weekender poster as profile photo!

And please make sure to invite all your friends to the Facebook-Event.
If we reach 500 attending users on monday 22nd, we will give away additional 10 FREE TICKETS! good luck!


Regular tickets are available at all official ticket stores and also online. We offer also E-Tickets. Check all details on the TICKET PAGE!

Guess what? We found somebody who will not attend the Reggaeville Weekender... watch it: