Review/Setlist: Marley Brothers @ 9Mile Music Festival 3/12/2011
03/15/2011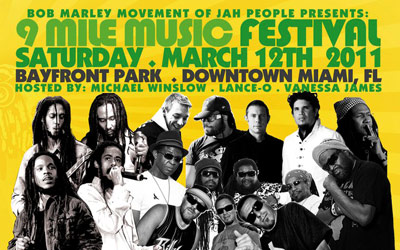 The 9Mile Music Festival (formerly known as Carribean Festival) took place on saturday, March 12th for the 18th time.
Ky-Mani Marley performed his own set in the late afternoon and was joined by Protoje for Rasta Love!
"Immensely talented, he and his band gave a heart-felt acoustic performance of his dad's "Redemption Song." And it gave goose bumps to the entire 7,000-plus audience." [Miami NewTimes]
The Marley Brothers closed the show and were joined by many special guests.
Esther Park reported for the Miami NewTimes:
Now the moment we've all been waiting for: Julian, Damian, and Stephen Marley all took the stage as the crowd lit up with screams and cheers. They didn't waste time, singing some of Bob's biggest tunes such as "Three Little Birds," "War," "Jamming," and "Get Up, Stand Up" featuring reggae icon Gramps Morgan from Morgan Heritage. And then Gramps stayed and played his classic tune "Wash the Tears."

This, I guess, was the "Special Guests" section of the show as Gramps leaves and Stephen introduces Christopher Ellis, son of reggae legend, Alton Ellis. After Chris came another old-school reggae band, Third World, playing their hit "96 Degrees in the Shade." Then after that bit, the three brothers came did an epic version of "Traffic Jam" featuring two of Stephen Marley's sons and one of Ziggy's. It was the young Marleys first major onstage debut.

Finally, Stephen and Damian went into their songs "Jah Army" and "The Mission" and capping up the entire night with the sing-along, "Could You Be Loved".
01. Punky Reggae Party / Love & Inity - Stephen, Julian & Damian Marley
02. Kinky Reggae - Stephen Marley feat. Damian Marley
03. Violence in the Streets - Julian Marley feat. Damian Marley
04. Three Little Birds - Stephen Marley
05. War / No More Trouble - Damian Marley
06. She's a Heartbreaker - Julian Marley feat. Stephen Marley
07. Land of Promise Land/ Jamming - Damian Marley
08. Jammin Stephen Marley
09. Get Up Stand Up - Damian Marley feat. Julian Marley with Gramps Morgan
10. Wash The Tears - Gramps Morgan
11. Willow Tree - Christopher Ellis
12. 96 Degrees - Third World feat. Stephen & Damian Marley
13. Love and Affection - Pressure
14. The Traffic Jam - Stephen Marley feat. Damian Marley
≈ Cheesebottom Clarks - Jo Mersa, Daniel Bambaata & Jessie Royal
≈ Ras Up and Come - Black-Am-I
≈ Freestyle - Illustr8
15. Jah Army - Stephen Marley & Damian Marley
16. The Mission / Shoot Out / Liqour Store Blues - Damian Marley feat. Stephen Marley
17. Could You Be Loved - Stephen, Julian & Damian Marley
Listen to a audio recording of the entire Marley set here: