Review & Photos: Third World in Los Angeles, CA 11/16/2011
11/19/2011 by Jan Salzman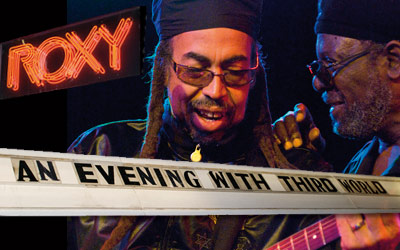 An Evening With Third World @ The Roxy in West Hollywood, CA 11/16/2011
► PHOTO GALLERY HERE

This was a highly anticipated evening at the world renowned Roxy Theatre, situated on the Sunset Strip in West Hollywood, California. The intimate setting with great sound and lights has hosted reggae's finest musicians and this night, ten times Grammy nominated artists, Third World graced the stage for an international live stream on the internet. The opening artist for the evening brought quite a bit of excitement too. Leon and the Peoples is fronted by well known actor, Leon, who has starred in many movies including, Cool Runnings, Waiting to Exhale, and The Temptations, plus many more too numerous to mention. This was a night of fabulous entertainers and exceptional musicians. It was announced before Third Worlds set that this evening's performance was dedicated to the memory of David Coore, Cat Coores father, who very recently passed on.

Leon and the Peoples came onstage to a cheering crowd. The large band with horn section, two backing singers, and great guitars and drums really drove their reggae-soul sound. They performed a number of selections from their debut album, The Road Less Traveled, fronted by tall and fit Leon who crooned through the songs with a great stage presence. Some of the album songs that they performed were, Brothers and Sisters, What You Gonna Do, Lovely Day and Let Me Live My Life. One of Leon's directors, Robert Townsend, was in attendance to catch Leon's set. Leon was brought back for an encore and he chose to cover Peter Tosh's song Legalize It. I want to mention also that Leon and the Peoples CD was nominated for an International Reggae & World Music Award and won Best International Artist at the Joe Higgs Reggae Awards.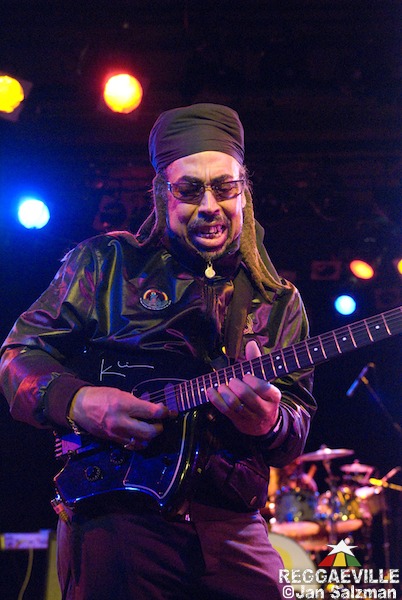 After a brief intermission, the seated people in the audience started to spill out onto the dance floor. They knew that they would be dancing plenty during the next set…the legendary Third World. Gradually the band members trickled on stage. The first 34 year veteran of the band to appear was bassist, vocalist, Richie Daley, who took center stage driving the reggae riddim to Satta Amassagana. Next to appear…the incredibly talented and versatile musician and vocalist Stephen "Cat" Coore, who stood right in front of me wailing on the lead guitar. All of the musicians continued to play on doing an instrumental while the crowd sang the lyrics. Cat has been with the band for 38 years. Then came a slow skanking riddim…heavy on the bass…it was their massive hit, The Spirit Lives. William "Bunny Rugs" Clarke strolled onto the stage blasting his clear, smooth voice with power and ease…"the spirit lives…it's living in the people…and it will never die". Now the band was complete and all of us were about to take an exciting journey. I'm not going to take this song by song as I stole Richie's setlist at the end of the night so you may see all of your favorite songs that were performed.

So many of their songs are massive hits that the audience knew all of the words (including me). It was hard for me to stand still to take my photos as I just wanted to sing along and dance. I was very impressed with a new Third World song that they performed called Revolutionary People. It is from Third World's latest album Patriots. Other than the familiar songs that Third World performed together the audience was also treated to fabulous solos by each musician. Cat mashed up the guitar and performed Redemption Song on the electric cello. Drummer, Tony, came out front and pounded an African drum and Richie had an incredible bass solo, too. All of the solos took place in an extended encore. Third World closed the main portion of their set with 96 Degrees In the Shade…of course that left the crowd energized and wanting more! They gave us much, much more! I enjoyed the show so much that my feet didn't hurt for standing and dancing over an hour. Third World closed the show with Now That We Found Love and Love Train. After reading this I recommend that all of you fans get out your Third World albums and blast them. Go out and get their wonderful new album Patriots. And don't miss them when they come to your town! You will go home happy, satisfied and inspired as I did.