Review, Videos & Photos: Anthony B, Tarrus Riley, Duane Stephenson & Dean Fraser in Dortmund 7/16/2011
07/18/2011 by Lea Jerczynski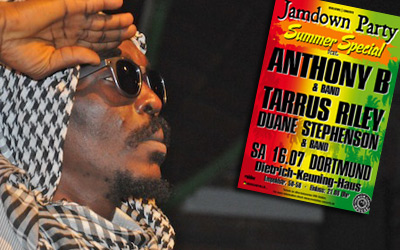 Review: Jamdown Party - Summer Edition 7/16/2011
with Anthony B, Tarrus Riley, Duane Stephenson,
Dean Fraser, Richie Campbell & Ky-Enie
VIDEOS
ANTHONY B # TARRUS RILEY # DUANE STEPHENSON # DEAN FRASER # KY-ENIE
PHOTOS
ANTHONY B # TARRUS RILEY # DUANE STEPHENSON # KY-ENIE
The Dietrich-Keuning-Haus in Dortmund was like visiting a tiny little reggae festival: souvenir booths in each corner, selling T-Shirts and all kinds of other reggae items, a lovely decorated location, and last but not least a bar offering famous Jamaican rum punch, brought some Caribbean flair to Dortmund. The crowd (average age in the mid-twenties) consisted not only of the usual variety of different kinds of people, but also of some reggae prominence, for example the currently rising Jamaican band No-Maddz.

More remarkable was how the first performing artist, Ky-Enie, was able to activate a part of the audience to get closer to the stage. Backed by his acoustic guitar or sound system only, he used his charm to address mainly to the females within the audience. After proving his skills when it comes to energetic tracks as well, the crowd in front of the stage kept growing. Bearing in mind that Ky-Enie is still an uprising newcomer, his power and great connection to the audience was absolutely striking.

Next was Dean Fraser & The Blak Soil Band, who performed an intro as masterly as an intro can be played - the message of the instrumental music was so clear, it didn't even need a voice to speak out. [WATCH THE INTRO HERE]

Watching Fraser's facial expressions while playing the saxophone or singing harmonies later on during the show, was pure pleasure. He still looks as enthusiastic as if this was his first time performing on stage. Taking a look in his eyes told everyone that every single note he played came right from the bottom of his heart, which automatically brought the audience into high spirits.

In this moment - the first of a few following highlights of the show - the host entered the stage and introduced a "good looking prince out of Jamaica" to the crowd: Duane Stephenson! He stepped right into the vibe and kept it steady. His sound is a great example to prove, that against all rumors, roots and culture music still is very able to electrify the german massive. His songs discuss from ghetto pressure up to jah love the typical consciousness reggae topics which seemed to be well received by the massive, which was grooving serenely during Stephenson's complete performance. During the whole performance, Dean Fraser was constantly one of the biggest eyecatchers; whether he was singing, playing the saxophone or even just dancing.

When Tarrus Riley took over the stage (right after Duane Stephenson left the place), the first word that came into my mind was "styler", not meant at all in a negative way - he was simply using his outward appearance to impress. Dressed completely in black and with cool and in some way crazy braids, his look reflected the key feature of his voice: The fact that it is (like Mavado would say) "so special, so special, so special".
Tarrus Riley is one of the rare examples of an artists that sounds live just as good as on record, in some party even better - his very unique voice seems to be made for live shows. Also his show can be called first-rate quality. With the first tune he plays, the crowd starts to jump and the ambience seemed to explode. Riley played both older classics as well as almost all later ones, from Roots-Rock to Nyabinghi-Rhythms up to Dancehall. The host did not promise too much by calling Tarrus Riley as "magnificant mighty".
Still constantly shining was astonishing physically fit Dean Fraser who really impressed the massive by batteling with his saxophone against the voice of Tarrus Riley. Result of the battle: Nobody lost, eyerybody won the fight, especially the crowd who was able to enjoy art of playing reggae music at its best. Following Riley's show, there was a 20 min break, which was really needed by the audience to recharge some energy.

After the break, there was Richie Campbell, reggae artist from Portugal, showing that portugueses can chat. Very surprised by his entrance, the audience adopted him and his music quickly and warmed up a second time for the grand finale.

The beginning of the Anthony B "happening" (the first half of his show really deserves to be called like that) directly made the people jump and scream. The tiredness that could have been seen in the faces of the people during the break seemed to be far, far away again. His dynamic, energetic way to move and shake his arms and legs motivated the audience to imitate. Anthony B's self-proclaimed aim that night was to "exercise!". His completely white suite came along just perfect with his white turban. The white look almost seemed to be complementry to Tarrus Riley's black theme.

Anthony B also showed the variety of his music. In addition to the styles we all know from him like Rubadub, Rocksteady, Roots and Culture and Dancehall he also tried some new, faster beats that sounded almost close to modern mainstream charts music, and was very well received by the crowd.

Anthony B's performance included not just all of his own hits, he paid also tribute to legends of reggae and rocksteady music like Peter Tosh and many others. Anthony B is a man of big poses, and also one with a huge amount of energy. After around 30 minutes of encore, it was visible that the massive was getting more and more tired, but Anthony B looked like he could party on until 6am. Just like a professional should.

Summed up, you could call it a night of the preaching masters, who preached Jah, Love and Music. A very felicitous night!