Review & Photos: Tarrus Riley & Blak Soil Band in Hamburg, Germany 6/18/2013
06/20/2013 by Gardy Stein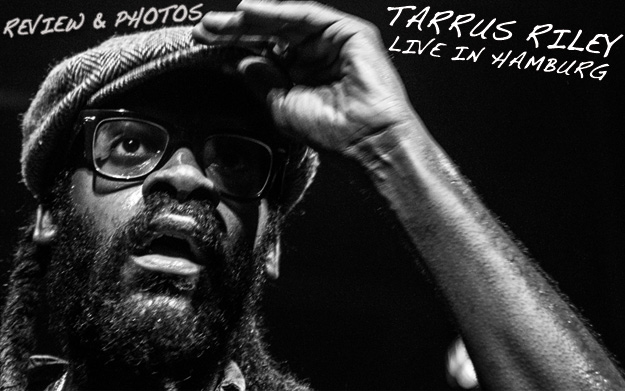 Tarrus Riley feat. Dean Fraser & BLAK SOIL Band
@ Fabrik in Hamburg, Germany 6/18/2013

Actually, I shouldn't be writing this review. Reporting requires a certain amount of objectiveness, something I'm too far removed from by the subjective emotional bliss this concert has left me in. However, since I figure that you know how I feel and thus might forgive my exuberance, I'll try anyway to put in words what is hardly describable.

Tarrus Riley, who is currently on a world tour with Dean Fraser and the BLAK SOIL Band, visited Hamburg on his way from Kenya to Amsterdam to deliver one of the highlights of this town's Reggae Summer. Having reached a position that – without limitation – can be labeled "Reggae Superstar", it was no surprise to see at least 350 people assemble in Fabrik, even though the event took place on a mid-week Tuesday.

A very danceable warm-up played by Crucial B (Crucial Vibes Sound) welcomed the arrivers for about an hour, and while daylight slowly faded, supporting act Chris Toppa opened the night with a 20 minute acoustic show. After some last adjustments had been made on stage, the musicians unhurriedly took their place on their instruments at 9:50 pm. The venue was almost full by then, a festive and relaxed mood prevailed (to which the nice weather outside had certainly made a substantial contribution), and smiling faces were turned expectantly to the band. BLAK SOIL, by the way, is an acronym for Brethren Living According to King Selassie Overstanding and Iritical Livity, a movement that has no political or religious agenda but "helps wherever need arises", as Tarrus explained later on.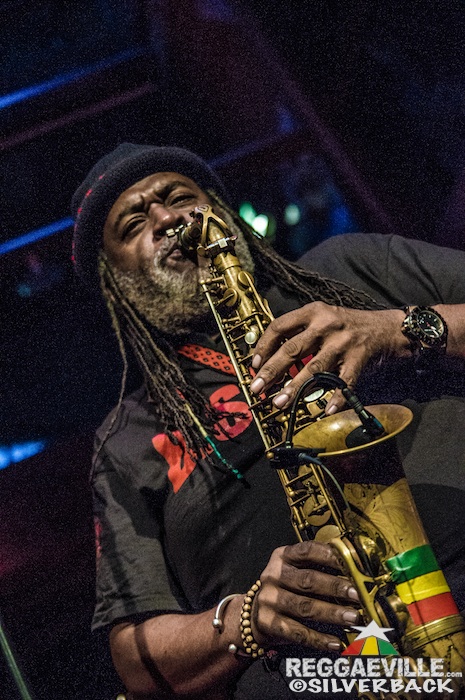 When the first tones of Dean Fraser's saxophone floated through the air, the audience virtually held their breath. It was as if he, along with the band, had captured the spirit of this warm summer evening and transformed it into music! This first gentle intro was rewarded with shouts & claps of applause, while the next one adopted a more jazzy hue.

Now that darkness had fallen outside, the atmosphere of the night intensified and was saturated by the sounds of a most beautiful improvisation of Redemption Song, dominated once more by Fraser's sax. As people sang the chorus line, the pace of the music quickened and Dean announced "our brother from St. Thomas", whose voice could then be heard with the traditional intro of Shaka Zulu. When Tarrus Riley finally appeared on stage, he was hailed by the raised hands of those who came to see and hear him, hands he touched right away in an intimate gesture of approval and welcome.

With Contagious, he proceeded to infect each and everyone present with the positive vibes so deeply engrained in his music, so that after the next three songs (Getty Getty No Wantee, Cut It Off and Human Nature) none of the spectators was left groove-less. Tribute to incarcerated Buju Banton, the cover-version of Untold Stories obtained a big part of its beauty once more through the omnipresent sax, while drummer Oral Brown pushed the tension high, so that at the end of the song, hands were up once again - perfect setting for Rebel, a tune that saw bassist Glen Browne playing (and dancing) a formidable solo.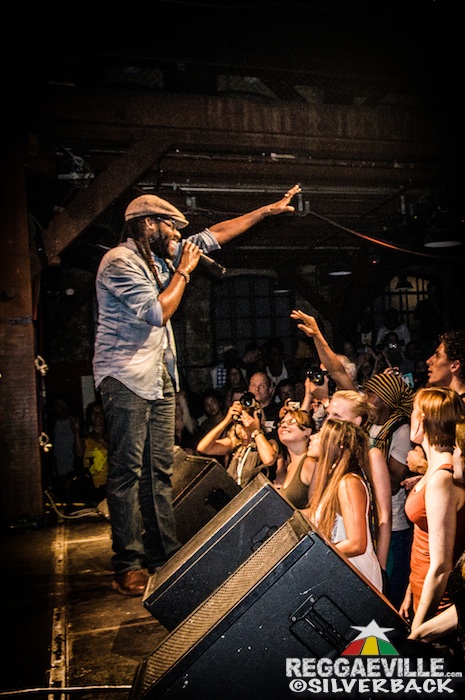 After Tarrus made the audience sing along in La La Warrior, the bass-line of the Full-Up-Riddim filled the hall as he started Beware, to which he added short excursions into Backbiters and Far Away. No way could he dare to make the next one short, though. The mood shifted to a real "under-your-skin"-experience when the singer's caressing voice intoned Superman, again shaking outstretched hands and telling every single lady in the place how beautiful she was.

Giving the spectators a break to dispose of their applause, Riley carried on, from Never Leave I straight to Wildfire (better known as Protect the people), and although it took them a while to wake up, his leading example on stage had most people jumping again.

Virtually riding on the magic carpet his musicians provided, the artist delivered Bless me, Sorry Is A Sorry Word and Dream Woman, pausing in between these pieces to talk to the people or interact with the band. A preliminary release from the positive pressure thus built up, Gimme Likkle One Drop saw the massive go wild, especially when Mitchum Khan Chin stepped forward to play a great guitar solo, soon joined by Glen (on bass) and the man Tarrus himself, all three of them dancing a little choreo and making heart-signs with their hands.

As if to cool down a bit, he asked everyone to "Just listen!" to the next tune Eyesight, a masterpiece developed with the help of the man who made a surprise appearance later on. Next, he invited the listeners to sing along in Stay With You. Not satisfied by the first response he got, Mr. Mecoustic said "No, no, no. What's wrong with you? You tired? Stretch… breathe… let's sing again!", and this time voices boomed from every corner. Before the song was over, he once more addressed the crowd, explaining that "tonight is a very special night" (true dat!), and brought Andrew Marsh aka Stringy to the front, who celebrated his 29th earthstrong that day. A heartfelt Happy Birthday to you! was sung to him, followed by a keyboard solo on his part.

Having thus opened the round of introducing the band members, Oral (Drums) and Glen (Bass) were presented next, followed by Courick Clarke (Keys) and Mitchum (Guitar). He then handed over his instrument to a man introduced as Rudy Valentino, a gifted musician that has worked with Riley on many tracks so far. When it came to keyboard number 3 & background-singer Christopher Smith, a jocular battle unfolded, using the Buju-cover I Wanna Be Loved as a vehicle. Last but not least, Dean Fraser, the man for whom, according to Tarrus, the attribute "great would be an understatement", played his saxophone once more, taking the audience by storm.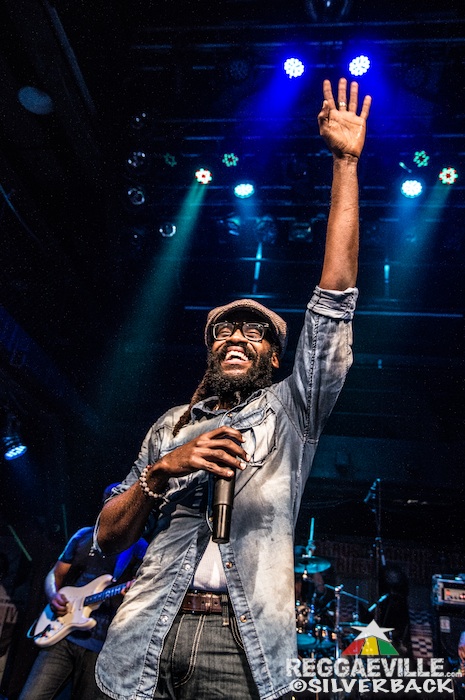 Dropping She's Royal into this joyful ambience, people willingly played along the call and answer game, and the evening peaked in Good Girl Gone Bad which left everyone in a frenzy. No way was the artist's leaving stage accepted, and thunderous applause as well as shouts of Tarrus Riley brought him back quickly.

With bonuses like We run it and One Two Order, the performance seemed complete. It was the last tune, however, that summarized the extraordinary intimacy of this night. "Show the world how powerful this music is! Put your hand on your heart, put your hand in the air…" the singer pleaded and sang Africa await, creating one of these golden moments you'll never forget.

This time, his disappearance from stage at almost midnight was final. Dean Fraser took over the mic to thank sound engineer Romel Marshall and even driver Hans as well as everyone "to come and listen and dance and shout".

Asked what he wants to tell the readers and listeners, Tarrus Riley simply said "Thank you. I want to say THANK YOU because these words are not said enough nowadays.". Gratitude indeed is a noble and elating feeling, and to elate others, it should be expressed. So, I guess I speak for every visitor if I say THANK YOU TARRUS RILEY, THANK YOU DEAN FRASER, THANK YOU BLAK SOIL BAND for this unique experience!!!

► PHOTO-GALLERY HERE