Report: Gentleman with Richie Stephens in New York, NY 3/13/2012
03/16/2012 by Meg Majors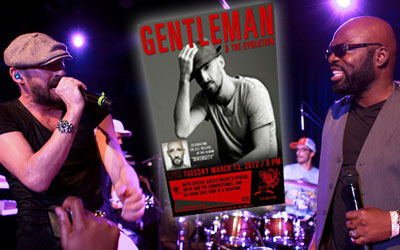 Review: Gentleman & The Evolution with special guest Richie Stephens
with opener Meta and the Cornerstones @ Le Poisson Rouge, NYC 3/13/2012
PHOTO-GALLERY @ Gentleman & The Evolution with Richie Stephens http://www.reggaeville.com/nc/artist-details/artist/meta-the-cornerstones/galleries/-f6b3bde521/ac/artistPhotos.html
The unseasonably warm New York City weather set the perfect atmosphere for fans to endure the 3 block line waiting to get in to the Bleecker Street venue, Le Poisson Rouge on Tuesday night. This evening was extra special - it was Gentleman's first concert in New York City. From the long line of fans, the anticipation could be felt throughout the notably diverse crowd. The doors opened around 9:00pm and the DJ's warmed up the crowd with lots of Peter Tosh and Dennis Brown tunes.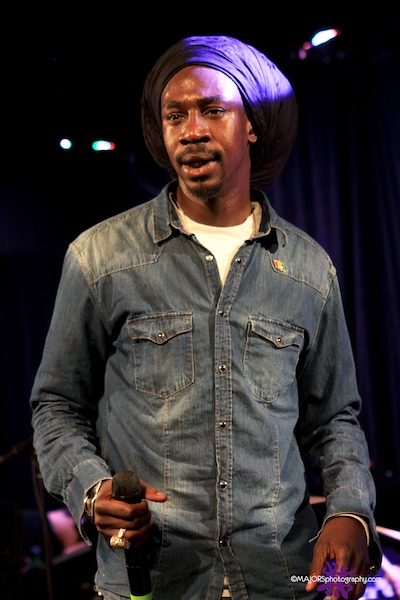 Meta and the Cornerstones took the stage as the opening act for a solid hour-long set. The club was suddenly packed and fans were loving it. I was extremely impressed with singer Meta Dia, especially his stage presence and voice. I've only ever seen him riding the subway in Brooklyn, far from the dazzling stage lights and velvet curtains, so it was nice to finally see him singing praises. The band members represented Senegal (vocals), Japan (keyboards), Texas (guitar), New Jersey (drums), Jamaica (percussion), Israel (guitar), America (horns), and they had an international sound to match. Sidney Mills of Steel Pulse was one of two keyboard players. Their songs are a unique infusion of Reggae/Afro/Soul/Hip-Hop and complete with intense rock-god guitar style solos. The full band - two guitarists, horns and drums/percussion - played many songs that got the whole crowd singing and dancing. Meta Dia kept the audience in participation throughout the set with songs like, Somewhere in Africa, Bob Marley's Concrete Jungle, Cornerstone, amongst others. They have a new album coming out in September of 2012, which should be great, judging from the musical diversity of their live show.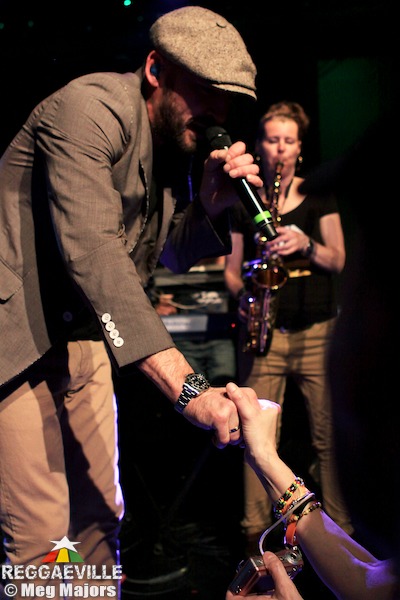 After an ample intermission and more roots and culture songs from the DJ, the lights dimmed again and Gentleman's band, The Evolution, took the stage by storm. They played a medley of tracks instrumentally that hinted of what was to come. Gentleman's two lovely backing singers, Mamadee and Tamika were the pulse of the band, dancing with a graceful and spiritual flow throughout the show. As the highly anticipated main event, Gentleman (Germany's most world renown reggae star) did not disappoint. Much like Meta Dia, Gentleman was very interactive with the crowd, even stopping to sit and pose, telling a fan in the front row to take a photo. His energy - dancing - jumping - singing with his entire heart and soul was so high and infectious. He stated that even after just four songs, he was sweating too much and continually thanked New York for it's warm welcome as the crowd jumped in glee.
Together with his band, they played hit after hit, welcoming Richie Stephens to the stage midway through the set for more big tunes. According to Gentleman, Stephens was the "only person" who gave him a chance in Jamaica 20 years ago, and for that Gentleman is clearly still thankful.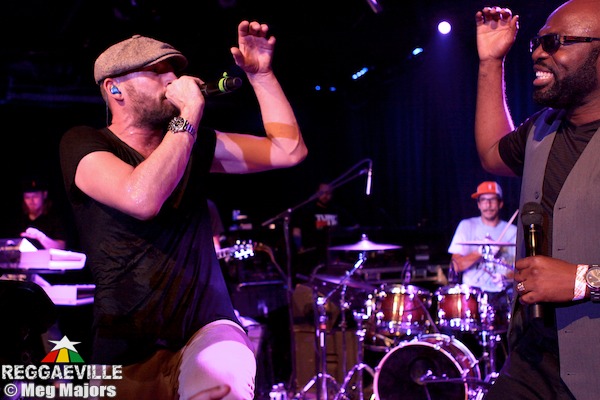 While he played many new tracks from his newest album, Diversity, he didn't forget favorite crowd-pleasers like Superior and Intoxication. Stephens was called on stage once again, along with representatives from Irie Jam Radio, who named the duo's song Live Your Life Song of the Year 2011 and presented them with an award. The legendary Jack Scorpio was also on stage to show support. Of course, Gentleman and Stephens played and extra-long and extra-passionate Live Your Life [watch the video below!] as the crowd hung on every note until the very end. A stellar performance by all and definitely one of the warmest welcomes an artist could wish for, especially to a big bad city like New York.