Concert Review: Gentleman & The Evolution in Hamburg, Germany 10/15/2013
10/18/2013 by Gardy Stein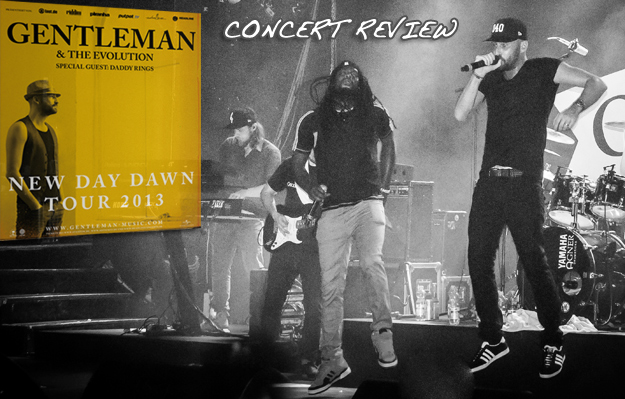 "Einer geht noch!" is a German expression hard to translate. One more is possible? or There is space for one more? doesn't quite fit… It's one of those phrases you can only fully embrace in your mother language. And it's one that Gentleman kept repeating last Tuesday, delivering hit after hit after hit to a hungry audience.

The second show of his New Day Dawn - Fall Tour brought him to the Docks in Hamburg, the city where, as he told us, "it all began with Sillywalks!". Rather untypical for a Reggae Event, doors opened at 7pm, and while a gleeful mix of people quickly filled the location, others tried desperately to find a ticket for the sold-out concert.

Inside, around 1,500 lucky ones didn't have to wait long. The stage became alive with members of The Evolution, a few minutes past eight. Opening acoustically with his guitar, Florian aka Stahl welcomed everyone while Frank aka Pollensi joined him on keys. "You know, we have a gentleman here tonight," he announced "and for a gentleman, it's ladies first!". At that, the other instruments chimed in as Tamika and Treesha boldly stepped up front to deliver a fiery intro of five songs, among them Break My Heart, Lion and Anybody Out There.

Interaction with the audience worked out fine from these first moments as everyone played along willingly, waving their hands in time with the music. After the ladies had thus lifted the spirits, a hush fell over the place when music stopped and spherical sounds spread. A wild drum stretch by Giuseppe aka BigFinga then announced the hero of the night, who started singing from off. To the impellent beats of I Keep Going, Gentleman finally appeared on stage and literally whisked people into movement. Dressed in refreshingly simple black pants, T-shirt and cap, he passed his greetings to Hamburg and proceeded seamlessly with The Journey, pausing only to introduce Fabian Odi on bass. Taking us back a few years, Different Places proved the audience lyrically firm and (despite the spatial limitations) put everyone in a dancing mood.



Fire A Go Bun Dem called for lighters, of course, and thus illuminated, the artist paid homage to deceased Sugar Minott with Good Old Days and Road Of Life. Lyrics! Introducing the only female band member Johanna (sax), Gentleman kept up the good vibes with Lonely Days and added some loving spice by fondly embracing his sweet wife Tamika during Intoxication. Who the hell said you have to avoid mingling business and private? Good things should always be shown to inspire people…

By now, Gentleman was visibly drenched in sweat, a fact he commented with a humorous "The older you get, the more you sweat. Back in the days I didn't sweat so much, but we're not 20 anymore!". It's natural exchanges like these that brought this exceptional performer at eye level with his fans, which moved to the sounds of Ina Different Time and cheered fervently when he called his special guest Daddy Rings on stage. He in turn was hitting a nerve when he called "No more police brutality!", what with the ongoing demonstrations against the treatment of Lampedusa-Refugees in Hamburg right now.

Together the two singers ripped it off, sharing songs like Jungle Out There, Ganja Pipe, Caan Hold Us Down or Rumours, which had everybody dancing (except those in seats on the first floor). For Active and African Glory, Gentleman even left the stage completely to Daddy Rings, who took the chance to impress the crowd on his own. The real firework started when Gentleman came back, however, and both of them stirred it up with To The Top, Jah Love, Call Me On The Telephone and Runaway, each of which was celebrated by thunderous clapping.

As Daddy Rings left, the stage fell into darkness, leaving only the keyboarder and Tobi (guitar/ 2nd keyboard) barely visible. Gentleman introduced both of them, then sat down and sang Memories in his incomparably beautiful vocal style. He is as much a man of the soft notes as he is a dancehall entertainer, as the next track It No Pretty demonstrated again. In this hall of fame, earlier hits like Dem Gone and Superior couldn't be left out. During the first one, he made security nervous by climbing down from stage and taking a seat on the balustrade right among his fans, while the second saw the re-appearance of Daddy Rings.

After a final bow, they left to a deafening roar of applause and cheers and whistles – no way people would let them go! Screaming became louder still when the band came back and Gentleman insisted that people should "revolt against the deportation policy in Hamburg!". Then, finally, it was time for my personal favourite of the new album, Heart Of Rub-A-Dub – according to the crowd's reaction I obviously wasn't alone! Having thus mobilized the last energy reserves, Gentleman said "Einer geht noch!" and dived into the rolling drums of Walk Away, Push Comes To Shove and Leave Us Alone (once more supported by Daddy Rings). After these, the concert seemed to be over – or was it?

No, he did come back again ("Einer geht noch!") to sing You Remember, another new song that talks about the good old days and how education of the young shouldn't be left to Cyber Space. As on the new album, Homesick really closed the spectacle. With lights low again, Gentleman expressed his gratitude once more to the people present, taking his final leave after the words "See you soon!".

And hopefully, this is what will happen. We want to see YOU on Reggae Events all over Hamburg (and Germany, and Europe… actually, worldwide!) during the months ahead, celebrating in unity this wonderful music that makes winter bearable. If everyone is as respectful, as open and enthusiastic as the people who came out to witness the concert tonight, these parties are something to really look forward to. And don't forget: Einer geht noch!