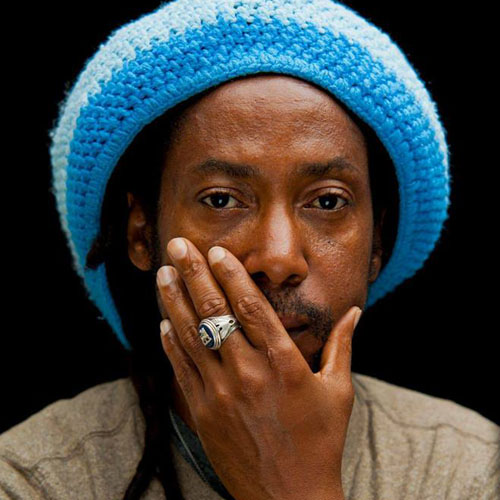 MUSIC
Taj Weekes' music is more than just entertainment. The roots reggae artist's music stirs thought, provokes discussion and inspires people to think for themselves, free from the constraints of the corporate media. On his beautiful new album DEIDEM, released on his independent label, Jatta Records, Weekes sings assuredly and soulfully for the voiceless and the oppressed, taking his music to a new level of commitment and universal appeal.

ST. LUCIA
Born and raised on the island of St. Lucia, Weekes grew up the youngest of ten children in a family where music was always present. The radio was a source of untold treasures, playing everything from rock, country, R&B, soul, jazz and more, and Weekes grew up blissfully unaware of category or genre - to him, great music was (and is) great music no matter what the style. By age five, Taj was singing in church and by eleven he was composing his own calypso music. His older brother's immersion in Rastafari provided Taj with a spiritual awakening and a context for his burgeoning worldview.
HOPE & DOUBTIn his late teens, Taj left home for North America to fulfill his musical ambitions. After a stint in Toronto, Weekes came to New York and formed Taj Weekes & Adowa. In 2005, they released their first album, Hope & Doubt, winning extensive radio play, rave reviews in the press and provided Taj with a platform to begin touring, through which he began building an extensive following in New England and on the West Coast.

After completing touring behind Hope & Doubt, Weekes began to write for his next album. During that time, within the span of a year, both of his parents died and the new songs were reflecting the sorrow of the time. "I was wallowing in my grief," Weekes explains, "and I wrote a song called Clay Dust To Dust, which was incredibly depressing. But it was then that I realized that it's not about me. Sure, I lost two people, but there are millions of people dying every day. Soright then I scrapped all the songs I had and wrote 12 new ones. I wrote about the world instead of myself."
DEIDEM
Working quickly and with the confidence that came from his recording and performing experience, Weekes has now emerged with DEIDEM (meaning "All Of Us"), a meditation on confronting the fragmentation of the world and the search to give everyone a voice in it. Weekes explains, "Whether it's Darfur, the Middle East, global warming…there's something going on in every part of the world and we're trying to bring it all together on one album. No one is talking to each other; the album is designed to create conversation where people can come together."


Tracks like Orphans Cry, with its lilting and classic reggae feel, depicts the suffering and isolation of lost children, making it vivid and real, no longer an abstraction on the television set or newspaper. Since Cain, with its Biblical reference to the first act of violence, laments the endless cycle of brutality while asking what it will take for it to end ("Is there anyone with sense to put an end to this violence/I kill you, you kill me, we got an empty country/and so the cycle goes around/it goes up and comes down/and soon your smile becomes a frown/when karma visits your town"). Dark Clouds warns with an almost Biblical sense of foreboding of the cost of the degradation of the environment ("Spring comes early/autumn's late/unwelcome winter procrastinates/see the seas have taken over the land/there's a fleet of ships resting on the sand/dark clouds don't always bring rain/but smoke is a sign of fire.") The music matches the lyrics in intensity, painting an aural portrait of a world that is burning.

DISTRIBUTION
DEIDEM was released on August 8, 2008 through Weekes' independent label, Jatta Records, with national distribution through the Independent Distributors Collective and Homegrown Music Network and local distribution in St. Lucia. Through a licensing deal with Spectra Records, DEIDEM was released to major distribution chains throughout the U.S., Canada and Asia. In conjunction with Afrikool/Culture Taxi Records, Jatta secured distribution for DEIDEM in the United Kingdom, Germany, Austria and Switzerland. DEIDEM is available online through iTunes, eMusic, Amazon and other online music distributors.

FOR THE PEOPLEFrom every corner of the planet, people are responding to the authenticity of Taj Weekes' spirit, heart and commitment to a world where people can communicate with one another to solve issues non-violently. Taj's commitment to such a world is backed up by his non-profit organization, They Often Cry Outreach, dedicated to improving the lives of disadvantaged children around the world via music, soccer programs and more. In conjunction with LIFEbeat, TOCO is helping to raise awareness of HIV/AIDS in Caribbean communities.

For those that have been disadvantaged, abandoned or just alienated by a power structure that values profit over people and fear over hope, Taj Weekes and his new album DEIDEM speaks for them in its refusal to forget those left out of the new "global economy" and in his continued belief in what is possible through authentic music and real communication.