Review & Photos: Stephen Marley in Ventura, CA 6/8/2011
06/10/2011 by Jan Salzman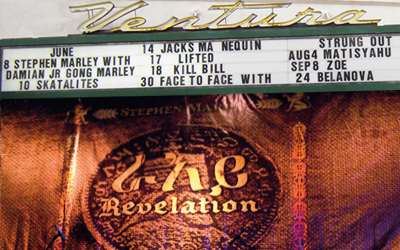 Stephen Marley & Ghetto Youths Crew in Ventura, CA, USA @ Ventura Theater 6/8/2011
PHOTOS: STEPHEN MARLEY # CHRISTOPHER ELLIS
My day started out early so that I could be in Ventura by sound check. I got lucky and found metered street parking right across the street from the custom painted tour bus. I caught up with sound engineer, Keith, who brought me in for sound check…it was wonderful. The musicians started showing up a little after 5 p.m. The drums seemed to take the longest as each drum is like its own individual instrument… and Squidly Cole has many drums. I met the lighting director, Tony, who filled me in that Stephen doesn't like a lot of light on his face…hence the moody photos. The back lights were amazing, though. I would still have preferred to see Stephen's cute face a little better.

Opening the show was Christopher Ellis, son of reggae rock-steady crooner, the late, Alton Ellis. He performed with Stephen Marley's band and singers and knocked out three songs with a strong and captivating voice. He does do his father proud.

Long associated with the Marley family, Sky High introduced both Chris Ellis and Stephen Marley with true reggae style. Seven time Grammy winner Stephen Marley commenced his set with his father, Bob Marley's, song, Punky Reggae Party, transitioning to Chase Dem, from Stephen's Grammy winning CD, Mind Control. The next of the songs to come was Break Us Apart, from the recently released CD, "The Revelation Pt. 1: The Root of Life".

All in all, Stephen performed thirteen of the fourteen tracks from this new CD to the delight of the crowd. He also chose to include seven of dad's tracks including: Selassie in the Chapel, Buffalo Soldier, Jamming, Could You Be Loved, Three Little Birds and he closed the nights encore with One Love. Damian "Jr. Gong" Marley joined Stephen onstage during the mega hit Traffic Jam and Damian stayed onstage for the rest of the duration of the set. The powerful energy on the stage kept the crowd jumping and dancing throughout the whole set! I could only photograph the first three songs so I couldn't get any pix of Damian, but I sure enjoyed his performance too. Stephen and Damian are such close brothers that they intuitively complement each other as they spar between chanting and singing on such songs as Traffic Jam, Jah Army, Tight Ship and The Mission.

After the nights exhausting performance Stephen and Damian still greeted fans on their bus until the crowd had dispersed. Their livication to their fans is unbelievable.

After saying my goodbyes I headed home listening to Stephen's new CD to keep the memory of a spectacular show going for my hour drive back home.