Review & Photos: Stephen Marley in New York, NYC 7/16/2011
07/22/2011 by Marc Forman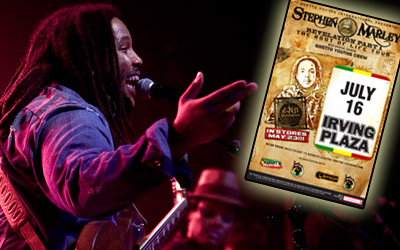 Review: Stephen Marley & Ghetto Youths Crew
in New York City, NY @ Irving Plaza 7/16/2011
► PHOTOS: STEPHEN MARLEY
Another steamy evening in New York City lead to a wonderful night of reggae music and positive vibes, for everyone at Irving Plaza on Saturday July 16, 2011. That night we were all truly blessed to have experienced all that Stephen Marley, his band, and The Ghetto Youths Crew had to offer us. The place was packed, and the atmosphere was hot and hazy. The entire venue was ready with their dancing shoes. The perfect setting for a night of reggae music. Stephen took the stage following a DJ set. A giant tapestry of Revelation Part 1: The Root of Life decorated the back of the stage. Quite a few surprises would be in store for all who attended.


The excitement began with a DJ lead chant for Stephen to appear. He entered the stage to cheers and quickly went into an energetic rendition of Punky Reggae Party, which was the perfect song to start this particular reggae party. Stephen was full of energy this night, nothing but smiles. He was very expressive with his lyrics and took to New York City like he knew us personally. When every song ended, Stephen often went back into reprises. With him just on a guitar, singing to us, getting the crowd involved. It made for a very intimate evening. A few moments really stood out.

Break Us Apart was particularly touching and impressive. Stephen was singing to us alone. Outreaching his hand, singing the line "we're more than blood." No Cigarette Smoking was very beautiful and soulful. Background singer Erica Newell did an amazing job singing the female vocal and the blue lighting really set the mood for the song. Stephen used improvisation a lot, scatting quite a bit, often speaking of herb. The horn player in the band was impressive and he really shined during Can't Keep I Down and Jammin with his saxophone and playing Now I Know and Selassie Is The Chapel with his flute. For a few songs Stephen was on hand drum, songs like Old Slaves, Selassie Is The Chapel and Made In Africa, which really gave them a personal touch. Iron Bars was packed full of energy. Amazingly enough, Mr. Cheeks made an appearance, did his verse and finished the song with Stephen. Which was quite and intense moment. Stephen's back up singers were dancing and singing way beyond expectation. You could tell they felt the music just as much as Stephen.

During Traffic Jam the Ghetto Youths Crew made an energy packed appearance. Classic Bob songs like Buffalo Soldier, Jammin, Could You Be Loved and Three Little Birds really got the crowd moving. The crowd sang the choruses for Stephen or along with him, which made the whole venue buzz with energy. We got another wonderful surprise when Cedella Marley came out for Could You Be Loved and sang her heart out. The Marley grandchildren filled the stage for Could You Be Loved, which indeed was a magical moment for everyone to see. The end of the show was followed by an encore in which Stephen and crew came out to perform five more songs for New York City. The night ended up with a heartfelt version of One Love. The crowd sang the whole chorus louder than Stephen could have ever done. Two of Bob's granddaughters finished off One Love for everyone, which made a very family orientated experience. You could feel the love in the room. Stephen ended the evening by saying he loved New York and New York definitely loved him back.


SETLIST
Punky Reggae Party
Chase Dem
Break Us Apart
Can't Keep I Down
No Cigarette Smoke
Freedom Time
Old Slaves
Pale Moonlight
Selassie Is The Chapel
Buffalo Soldier
Mind Control
Hey Baby
Jammin
Iron Bars
Jah Army
Could You Be Loved
ENCORE
Three Little Birds
Made In Africa
Tight Ship
Now I Know
One Love