Review: Catch A Fire Tour in Redmond, WA 9/19/2015
09/21/2015 by Justine Amadori Ketola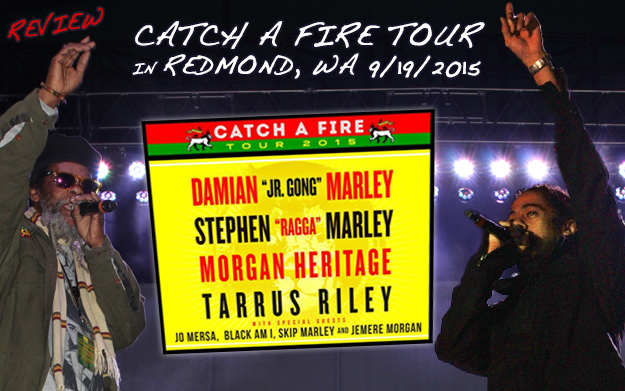 The Marley magic is on full display for the Catch A Fire Tour moving through the U.S. this month. Four headline artists Morgan Heritage, Tarrus Riley, Stephen and Damian Marley are joined for a song each from Black Am I, Jo Mersa Marley, Jemere Morgan and Skip Marley to present an extravaganza of sound and sight.

I arrived to the outdoor Marymoor Amphitheater as the 30 minute set by Tarrus Riley was completing, I could hear the chorus to "She's Royal" as I parked and the ode to reggae, Gimme Likkle One Drop to close out his set. Each night the running order of artists changes to allow both Tarrus and Morgan Heritage take turns to start off the proceedings. Depending on the venue, the sets are longer based on the curfew allowances. This night they were a bit shorter to make 10pm curfew so up next was Morgan Heritage for another half hour segment. Towards the end of their powerful set, the young lion Jo Mersa (son of Stephen) came out to sing a combination he's recorded with them Light It Up that appears on their latest album Strictly Roots. Gramps' son Jemere came out to perform a "Neighborhood Girl" with lyrics influenced by the Jacob Miller tune Tenement Yard. Gramps Morgan told Reggaeville that Jo Mersa and Jemere are actually best friends in their regular lives.

This tour has the feel of a true family affair as the bus camp nestled amongst the pine trees backstage, one could see Damian Marley deep in conversation with Dean "Uncle Dean" Fraser at a picnic table. In the front of the house Shane Brown, son of the great Errol Brown was engineer to both Tarrus Riley and Morgan Heritage. The lighting and digital display backdrop images were handled by Nesta Garrick, son of Neville Garrick the original lighting and album concept designer for Bob Marley & The Wailers.

Morgan Heritage had the crowd moving and singing during Reggae Bring Back Love as they moved from there to a call and response using the Bam Bam riddim, Gramps chided the subdued Washington crowd telling them they "sound like Oregon". As their set closed, Gramps stated, "It's cool to be conscious" the name of the new Morgan Heritage record label, CTBC that aims to bring positive lyrics to the forefront of the reggae conversation.

GRAMPS MORGAN: "We see seven tour buses and we say, 'these are all Rastaman on these tour buses'."

Gramps Morgan gave us his impression of the Catch A Fire Tour after the sets by stating: "This experience has been twenty years in the making. We've been talking about doing this since 1994, it's not just today. After "Don't Haffi Dread" blew up for us and "Welcome to Jamrock" for Damian and then Stephen started doing his solo stuff. We just kept going and we finally got a chance to say 'Hey let's do this' we finally came together and it took a lot of sacrifice to make this tour happen. Everybody had to put the music first and not our own careers because by ourselves we do fine, but I do believe that our elders and our ancestors of this music are pleased of this movement and lovers of reggae to see a family, three families like this touring together. The Riley family is royalty, son of Jimmy Riley the children of Bob Marley and the grandchildren, the children of Denroy Morgan and grandchildren which is my son Jemere. It's just a joy, sometime we're on stage and we tear up because we've been talking about this for a long time. It's like we have one more week left and we don't want to stop. It's like a heavyweight boxing match and it was good and you want to see it again, every night its something new and we watch each other's set cause we're fans of each other. Stephen, he loves to hear Peetah's voice and hear me sing and listen to the songs, I'm a fan of him as a producer, him as an artist and just as a person, his militancy and his seriousness about the music. Pale Moonlight is one of the biggest records for me in the past twenty years. It's a sweet, loving record that everyone can relate to. Damian, hits 'pon top of hits. I remember when he was just a little kid in 1994, and we was talking with Mama Booker and she was like, 'You keep the family togedda' To see this now sometimes we look at backstage and we see seven tour buses and we say, 'these are all Rastaman on these tour buses.' I don't think this has happened before. It's truly history and we're thankful, to prepare the next generation, Skip Marley, amazing tone, Jo Mersa Marley, he's like a little Damian Marley even though he's the son of Stephen, my son Jemere. Our mission through our family and my family, Morgan family is to show that families can stay together and do positive things and that is the mission to spread love and ultimately and let everybody just feel like 'hey its all right, everything is going to be all right.' We all have our problems but music changes everything."

With rapid set changes in effect, Stephen Marley's band started out the next set with the Full Up"/"Pass The Kutchie riddim. Black Am I came out to sing his mighty In The Ghetto single as the sound of live saxophone layered the riddim, a welcome addition to the band lineup in the form of hornsman Nicholas Laraque. His sound also permeated the great Rock and Swing when Jo Mersa followed Black Am I to take his turn on the mic. When it was Stephen's turn to perform, he chose Lively Up Yourself to warm up the mic. The lighting design made a significant impact during Stephen's set, as he alone was bathed in light during some of the transitions where he took his opportunity to address the audience asking "Did you say you love reggae music?". This call to the audience became abbreviated as his set progressed as he simply asked the audience to "Say love" which they obliged.

The songs of Stephen Marley felt reworked and amped up for this tour, Stephen played guitar the entire time adding to the mood shift for "Pale Moonlight that had a sweet Country Western vintage feeling. Pale Moonlight echoed from the Marley past as Nesta Garrick bathed the stage in blue light and the background image shifted to a crescent moon. Skip Marley came out to sing his catchy Cry To Me giving thanks to Haile Selassie and carrying him self with 'nuff confidence and a coolness in his delivery that the audience, many of whom were hearing him for the first time, roared as an airhorn blared when he finished his cameo.

For the next segment, Stephen summoned the love chant and went into a Bob Marley tribute with Is This Love then a great freestyle during the intro to Buffalo Soldier as Bob's image danced on screen. It was Iron Lion Zion that got the crowd loudly singing the chorus. Rockstone allowed the band to free up with a rock guitar driven groove that transitioned back into a Bob tune, "Three Little Birds where the brass man Nicholas Laroque played flute. Stephen is called "Raggamuffin" for a reason and here he went into a Super Cat style chant on his theme with "Let love go, let love stay". To close this set Revelation Party was the natural choice. Jo Mersa returned to stage to deliver his lines and Stephen introduced him as "My son, my seed, my child as I would say, responsibility goes a long way, from generation to generation."

SKIP MARLEY: "Honestly the whole stage thing is new to me. It's my first time touring and performing"

Nineteen year-old Skip Marley spoke to Reggaeville between his uncle's sets as the newest member of the Marley family to launch his career in music. When asked how he maintains his cool confidence on stage he explained, "Honestly the whole stage thing is new to me. It's my first time touring and performing. Confidence I guess, just be cool and easy, it's the family business, it's a learning experience for me you know, school. Everyday they teach me something new because I'm young. It's great just being able to be around these greats, Morgan Heritage, Tarrus Riley, cousin Jo, Black Am I. Just a great experience, I can't wait to tour, I want to tour many more places, many more years, tour for life." When asked about his recording process as his second single Life released the same week he said, "The first one we released "Cry To Me was produced by myself, and Life was the first song I ever wrote. I show my uncles my songs and they have a big hand in my music. It's a great thing just to have around, just to be able to say 'Hey uncle what do you think about this?' We'll have an EP hopefully by December, probably have five or six songs." The style is cool and laid back, as Skip explained he is "not one of those materialistic people, just a real authentic person with real authentic music for the people."

For Damian's set he brought out all the artillery opening with Justice moving into Beautiful with Dean Fraser coming to the stage to perform the soprano sax solo he recorded on the track there live which added a great dynamic. By the time Love and Unity started, one of the drummer's sticks splintered and a portion of it went flying. Damian chose War to cover from the Bob Marley & The Wailers catalog as a light misty rain started, a blessing. There was a nice breakdown during the "We don't need no more trouble" phrase, it was looped and repeated. Damian's version of Exodus in the form of Move freed the bonds as Patience from Distant Relatives slowed the tempo down briefly. It was then time for Stephen to return to the family affair for a raucous Traffic Jam followed by The Mission. Damian performed Shoot Out then it was time for all of the performers to come out for Could You Be Loved and take turns singing the verses. Once this completed it was clear that the end was near, Damian thanked the audience "for having us" and went into "Road to Zion" and ultimately the Welcome to Jamrock mega hit which the crowd was well-ready with help to sing.