Report: Stephen Marley & Jo Mersa in Munich, Germany 6/2/2012
06/03/2012 by Björn Fehrensen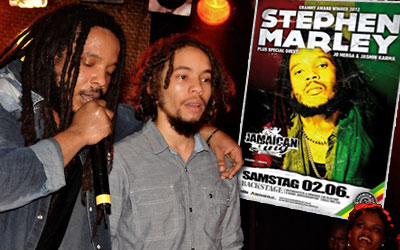 Stephen Marley in Munich, Germany @ Backstage 6/2/2012
with special guest: Jo Mersa Marley & Jasmin Karma
PHOTOS: STEPHEN MARLEY & JO MERSA MARLEY
Stephen Marley's extensive European Revelation Tour Part2, which kicked off in Rotterdam May 16th nearly two weeks ago, took a stop in Bavaria's capital Munich for a rare club-gig in Germany. Shortly after the introduction of Stephen Marley by his road manager, the mandatory Rastafari flag was raised on the left side of the stage. With Bob Marley's song Reggae On Broadway, the musical set started. Stephen greeted his audience in the name of Emporer Haile Selassie I, directly followed by Chase Dem from the Grammy-winning album Mind Control, full vibes hit the audience and the temperature quickly raised to extremes inside the venue.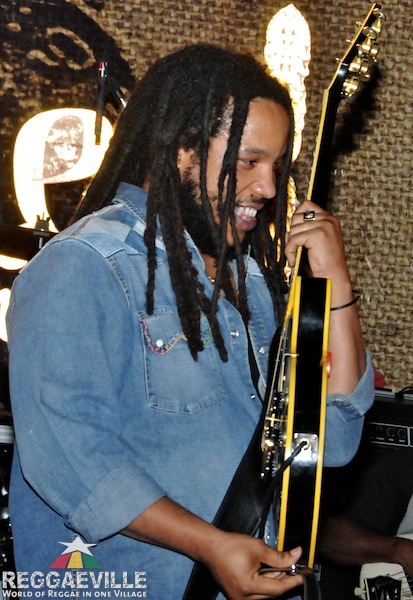 Reggae fans of all ages from nearby and places as far away as Italy and Croatia showed up, sometimes even with their kids. The dimmed blue light on stage created the right ambience for No Cigarette Smoking (In My Room). The female part was sung by Erica Newell [She contributed a song to the Reggaville Riddim Selection]. She is a long time friend of the Marleys from High School days, and was also a member of the Melody Makers.

With Pale Moonlight, Stephen covered his father's classic How Many Times in an unique way.
Then Jasmin Karma was introduced to the crowd. The Australian singer met Stephen Marley after a show in Miami in February 2009. Since then, she has produced and recorded with him. She performed Brand New Second Hand, originally written by Peter Tosh, in a very pop styled duet with Stephen, closing with a fast ska version. After that, a small Nyabinghi drum was placed in front of Stephen's mic, providing most intense vibes for the song Made in Africa.

After a bunch of more covers of his father, including Work, Buffalo Soldier, and a wonderful version of Jammin' with a fantastic solo by the saxophonist, Stephen came up with the song Iron Bars. Traffic Jam was the tune when his son Joseph, who goes by the stage name of Jo Mersa, now the third generation of Bob, entered the stage. Performing Bad So, his second single, which was released in November 2011, Jo Mersa showed that he`s well prepared for his own career and it looks that he can easily handle any audience, even if it`s a club show or playing in front of a festival massive. Sadly he only had the chance to perform one song, but we will see more of this new talent who`s also carrying the Legacy of Bob Marley to the world.

Redemption Song and Could You Be Loved were easy crowd pleasers. Stephen seemed overwhelmed when the massive recognized Three Little Birds during its flute intro. Tight Ship of his latest album Revelation, Pt. I followed suit. He closed his appearance with his father's mandatory anthem One Love.

People were obviously satisfied and happy. It felt like this could go on for several hours. Stephen Marley sent the audience vibing into a warm summer night.
watch Reggae On Broadway,Chase Dem & Break Us Apart: