Photos & Review: Stephen Marley in Los Angeles, CA 6/12/2011
06/14/2011 by Jan Salzman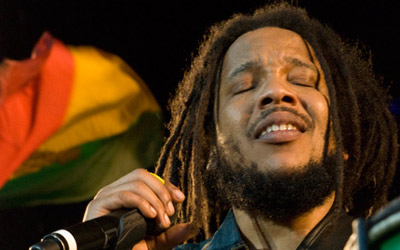 Review: Stephen Marley in Los Angeles, CA @ The Greek Theatre 6/12/2011
PHOTOS: STEPHEN MARLEY 6/12/2011
It was a lovely, California day for an open venue like The Greek Theatre, where Stephen Marley was opening for rock group Dispatch. Stephen did a short but fantastic set of forty minutes. The seven time Grammy winner took to the stage at dusk opening with "Punky Reggae Party", a classic hit from his father's repertoire. The show was high energy with a driving reggae riddim that had the audience on their feet dancing from the start.
Stephen would often let the crowd fill in the lyrics to his songs while pointing the microphone toward the audience…his wonderfully, slightly scratchy voice so reminiscent of his dad. He performed selections from his new CD "Revelation Pt. 1, The Root of Life" and also from his Grammy winning CD, "Mind Control", as well as a few songs from his dad.

Stephen was joined onstage by Mr. Cheeks and Spragga Benz for his song "Iron Bars". On "Traffic Jam", Damian "Jr. Gong" Marley came onstage as Stephen pretended to call him on the phone with a ringing sound on the mike. Damian continued onstage chanting back and forth with Stephen for the duration of the set including such songs as "Tight Ship" and "Jah Army". I also spotted Stephens brother Ziggy on the side of the stage grooving to the music. I love the easy going, roots reggae pace of Stephens's music.With the abundance of dancehall music coming out of Jamaica this albums' pace and riddim is very refreshing and satisfying for us roots reggae lovers.

Stephen closed his set with his father's classic "Could You Be Loved" to a standing and skanking crowd…this song has been the closing since days with Ziggy Marley & The Melody Makers and Stephen still chooses to leave the crowd with this message…"Could you be loved, then be loved".

I left after Stephen's performance so that I could get home quickly and start working on the photos. I've been listening to his new CD in the car and at home constantly. I just love it! Pick up a copy if you don't already have it for a superb roots reggae experience.