Review & Photos: Steel Pulse in Hamburg, Germany 10/19/2013
10/23/2013 by Gardy Stein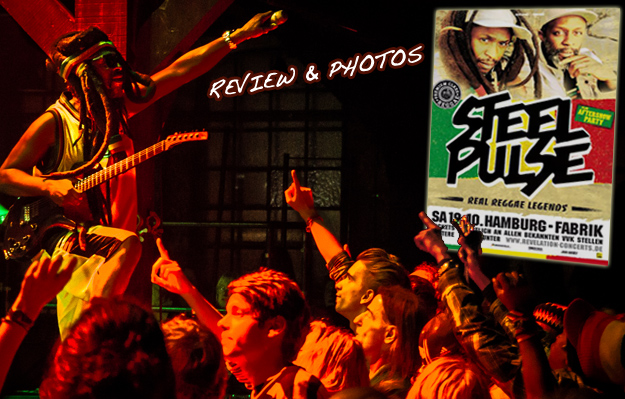 Steel Pulse in Hamburg, Germany @ Fabrik - October 19th 2013


Some days just get better and better. Especially if you succeed to welcome changes in your original plan for what they are – a chance to experience things you would have missed otherwise!

Fortunately, on this Saturday evening, everything worked out as planned. On our way to the Fabrik, venue of the only German stop of their present tour, we ran into a few members of the group that can be considered a living legend: Steel Pulse! Founded almost 40 years ago, they have always stayed true to their commitment to fight for justice and to promote love and positivity. Since the band had just finished their sound check and was on the hunt for food, as Sidney and Jerry told us, we were invited for a chat backstage later on and thus adjourned our questions.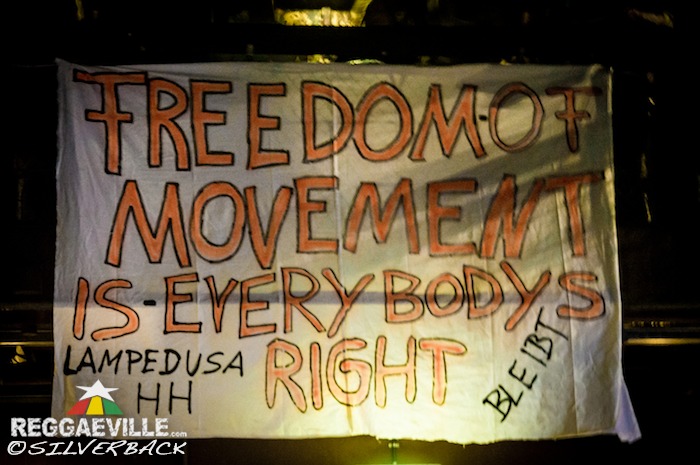 Arriving inside, we were greeted with a sweet One Drop. Tonight's accompanying selection of Crucial Vibes (as well as a freestyle-song by supporting act Highn B) was dedicated to the people who need the above mentioned justice and positive support desperately right now: about 300 African refugees who had survived the dangerous trip to Lampedusa and were then sent to Hamburg by Italian authorities 6 months ago are facing deportation in many cases. "Africans are welcome in Hamburg!", Crucial B announced just before the concert started, pointing to the highly visible banner just opposite the stage (see pictures!).

At 10pm sharp, music slowly subsided, lights were dimmed low and to the sounds of Blues Dance Raid as well as welcoming cheers from the crowd, the masters of ceremony appeared on stage. While I was still busy trying to take in the different band members and their colourful outfits, David "Dread" Hinds, founding father and driving strength of the Steel Pulse took his place in the front row and started singing. From that moment on, the rest of the evening kind of sank in a blur of fascination, so please forgive me for not pinning down each and every song performed.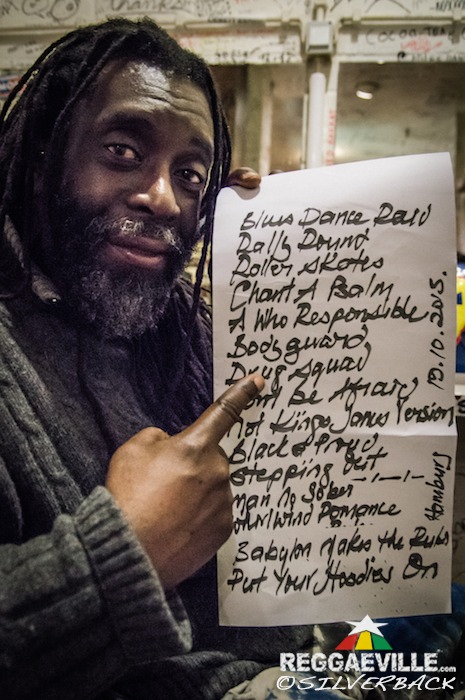 The lead singer – who plays guitar as well and is behind most of the band's hits – has both a unique voice and a commanding stage presence, and for people like me who witnessed his performance for the first time, it was quite overwhelming. For those who have experienced him before: if you find his lyrics profound and inspiring, you should check out his blog Dreadview on the band's website – words of truth and wisdom!

Alas, and there was more to be prepared for that night. A big surprise held the end of Rally Round, when the composed and stern-looking gentleman in a long traditional African robe, keyboarder Selwyn "Bumbo" Brown, suddenly grabbed the mic and delivered an electrifying Raggamuffin-Solo. The audience went wild with applause once he'd finished, and the threefold repetition of this little side-act in the course of the show peppered up the whole evening.

Talking about spices: Amlak "AmBASSador" Tafari is not only a hot virtuoso on his instrument, but also knows exactly how to play the crowd. Darting left and right and back and forth on stage, he egged people on to clap, lift or wave their hands, which they readily did. Obviously, the musician had had plenty opportunities to practice, as he has played in a band and toured the world since the tender age of 14. Apart from all that musical commitment, he takes time out to give workshops and motivational talks in schools and prisons – chapeau! With all that energy, no wonder he jumps around on stage like a bouncy ball.

He wasn't the only one jumping, though. Keysha McTaggart, the only female band member, was more of a foreground dancer than the background singer, and her energetic movements passed on to the audience, thus contributing to the overall festive mood. In Chant A Psalm, she was joined in her performance by Jerry Johnson who stepped into the spotlight to deliver a first stunning solo on his saxophone. Actually, this man is a star in himself, having worked with pretty much every Reggae Grand and releasing his own music as well.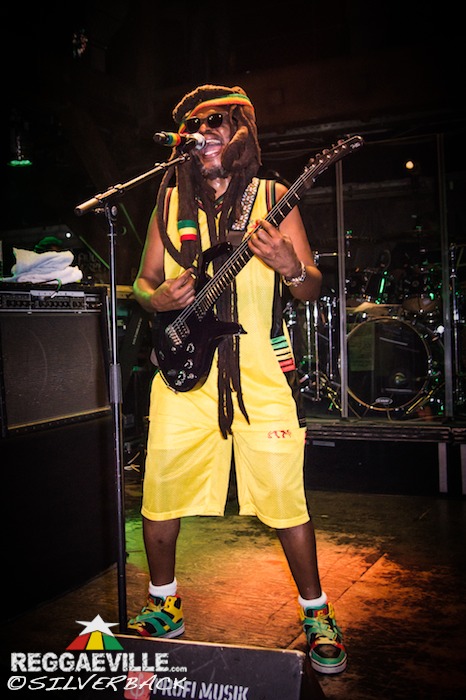 With a heavy focus on the instrumental parts, the band played through a celebrated A Who Responsible, introducing guitarist Donovan McKitty in its wake. As he rocked away on his guitar during the next song, another astonishing incident called for the attention of the spectators: Who was this young man who appeared from nowhere and rapped verses in a HipHop flavour? As inquiry later on revealed, it was Baruch Hinds, eldest son of David, who took the chance to present his skills to the European Crowd.

When he left, Jerry came back front for a solo until David intervened, and the two of them fought a mock battle over who gets more applause. This stage is buzzing with action! While I was still wiping tears of laughter from my eyes, bass-player Amlak suddenly disappeared in the crowd, just to join his fellow musicians seconds later with a big grin on his face. Those guys are undeniably having fun, and even Derrick Parker (the mixer at the other end of the hall) can't help smiling. He didn't let concentration slip for a second, though, and subsequent Stepping Out was another explosion of words, sound and power.

Drummer Wayne C# Clarke ended the next songs with a massive drum roll, and after performing for almost 60 minutes, the band withdrew. Protests, claps and whistles from the massive brought them back quickly, though, and keyboarder/ percussionist Sidney "Predator" Mills dedicated the following song to the ladies. After this excursion into love & romance, lyrics became more critical again with Babylon Makes The Rules, at the end of which David announced that "We have to move on!". But before they left for good, the band brought to our attention one last piece that was written in memory of the tragic death of Trayvon Martin. The 17-year-old was killed in February 2012 by a Neighbourhood Watchman, who in court claimed that the boy had worn a hoodie, allegedly making him a suspect. Enraged by the following not-guilty-verdict, Hinds and his band wrote the song Put Your Hoodies On.

To a recording of the legendary speech of Martin Luther King ("Free at last!"), these wonderful artists waved their goodbyes and slowly left stage. The familiarity of the evening makes them stop on their way out, however, exchanging handshakes, smiles and greetings with their fans. Sidney told me later on that he really liked the energy of the place and that this closeness was a special experience: "It's these kind of shows that keep us going and inspire us to write new songs!".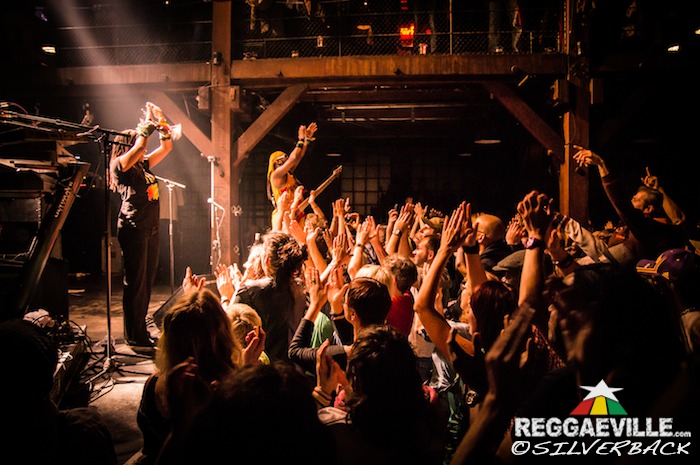 And actually, this seems to be a favourite leisure-time-activity for all band members; everyone is involved in creating, producing or publishing different musical projects too numerous to mention here (it's worth checking on them!). The really remarkable thing about it all is that most profits are used to support social projects one way or the other (for instance, the funds raised from the song Hold on for Haiti directly support solar-powered health clinics in Haiti!).

"We are here for a purpose," summarizes Sidney, "we have to give back whatever we can to the community! You see, this is what Steel Pulse is all about: everything we do, we give it a positive meaning.". His words and this evening leave me awed and inspired. In case you feel the same, watch out for the new album as well as the upcoming documentary about Steel Pulse. And always keep in mind: If one door closes, another one will be open!

➜ VIEW THE PHOTO REPORT HERE