Review
Album Review: Sting & Shaggy - 44/876
04/20/2018
by Gardy Stein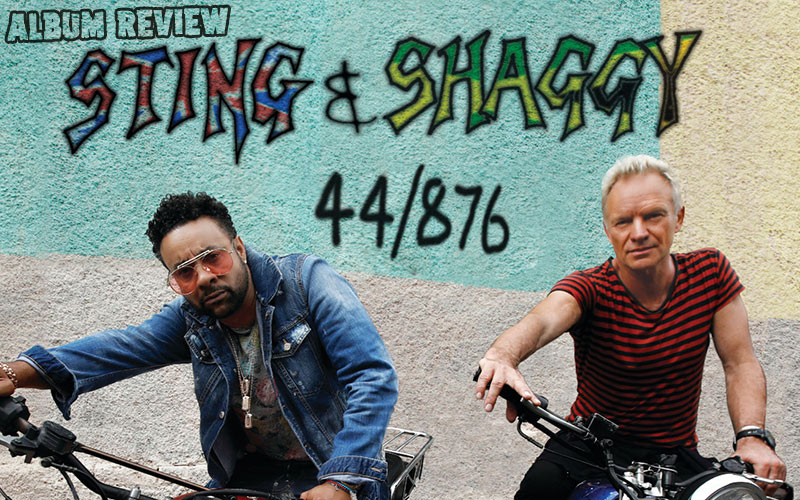 While features and collaborations are a common thing in Reggae and Dancehall, most stay within the genre's boundaries. Recently though, these boundaries have remarkably expanded to include Cuban music (e.g. Jake Savona's Havana Meets Kingston) and the motherland (e.g. Kabaka and Stonebwoy in Borders or the latter and Demarco in Say It), a welcome move to accommodate the growing popularity of Afrobeats. With 44/876, this expansion-movement has been taken to the next level - a full album-length collaboration of Orville Richard Burrell and Gordon Matthew Sumner, better known as Shaggy and Sting!

As unlikely as this combination might seem at first glance, the two superstars have a lot in common. Both are Grammy Winners, both look back to decades of creating amazing music, and both have already crossed over into the other's genre - Sting even claims that Reggae has been a major influence on all of his music! On top of everything else, their voices complement each other perfectly.

Garbed in the masterful work of Shaun "Sting International" Pizzonia (the producer who is responsible for Shaggy's hit It Wasn't Me) and additional input by sound-cracks like "iLL Wayno" Shippy, Teflon, Shane Hoosong or Martin Kierszenbaum, twelve tracks present a convincing marriage of Sting's skilled, multi-octaved singing and the deep, bassy MCing of Mr. Boombastic.

Enough with the intro - let's take a look at the songs! Opening and title track, the cryptical numbers (indicating UK's and Jamaica's country codes) are a fast-paced ode to the Caribbean island and feature royalty such as Morgan Heritage and Dancehall-High-Fly'yeah' Aidonia. With its laid-back Reggae beat, Morning Is Coming makes for a sharp contrast, celebrating a nightingale's chirping and the rising of a new day. The melodious horn section played by David Barnes, Joel Gonzalez, Zachary Lucas, Robert Stringer and Branford Marsalis captures this pioneering spirit and leads over to the more melancholy, piano-driven Waiting For The Break Of Day. Similar in feeling, Sad Trombone gives you exactly what the title says, plus Sting's possibly best vocal delivery on this release.

Gotta Get Back My Baby brings in a rocky flavour, but much more interesting is the next track, which is actually the one that sparked the album. When Shaggy was at Martin Kierszenbaum's studio in LA last year, Martin (who happens to be Sting's manager) sent the raw sketch of Don't Make Me Wait over to Sting to ask for a contribution. The Englishman had so much fun working on it that the mutual idea of doing more fell on fertile ground. A hit in itself, this love song is thus not only the nucleus around which the present album took form, it's also the first single, accompanied by a stunning video.

Just One Lifetime is a philosophical musing about the ups and downs of life, quoting the poem The Walrus & The Carpenter by British word-smith Lewis Carroll. Less philosophical but none less touching, the airily instrumented 22nd Street circles around a past encounter, while Dreaming In The USA talks about the very present danger of America disappointing the dreams of its people – admittedly in a quite subtle manner. Rhythmically, that's the most "Stingy" track on here!

Finding ourselves in court, Crooked Tree is a remarkable piece of storytelling in which the defendant brings across the simple truth that we are all carved of different wood, some more crooked than others. Goose bumps!

As if to lift the wistful mood thus induced, the much lighter To Love And Be Loved will have you skanking in no time, and the final Night Shift, despite the work-related lyrics, sends us off on a sweet, bubbling musical note.

What a ride! Fun, diversified and lyrically elaborated, 44/876 is a sparkling surprise for fans of both artists, artists who obviously not only work extremely well in studio together, but also on stage, as a planned tour will show (including a joint performance at the Queen's 92th Birthday!). Sting himself says that "an element of surprise is so important in music", and with this album, he and Shaggy certainly added a piece of major importance to the unfolding year's output. More of this, please!

---
Release details
Sting & Shaggy - 44/876
DIGITAL RELEASE / CD / VINYL [A&M Records]
Release date: 04/20/2018
Tracks
01. 44/876 feat. Morgan Heritage & Aidonia
02. Morning Is Coming
03. Waiting For The Break Of Day
04. Gotta Get Back My Baby
05. Don't Make Me Wait
06. Just One Lifetime
07. 22nd Street
08. Dreaming In The USA
09. Crooked Tree
10. To Love And Be Loved
11. Sad Trombone
12. Night Shift
Featured artists
Morgan Heritage
/
Aidonia