Review & Photos: Serani in Wuppertal, Germany 2/2/2012
02/04/2012 by Lea Yeah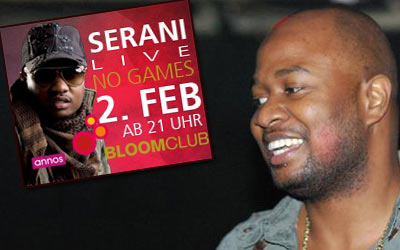 Serani in Wuppertal, Germany @ BloomClub 2/2/2012
Despite of double-digit sub-zero temperatures outside several peeps found their way to the weeknight concert of Serani that took place in the tiny BloomClub, located in the basement of downtwon Wuppertal's shopping arcarde.

After a period of warm up filled with sounds of the full range of black music from Soul, RnB, and Rap up to Dancehall and Soca, at 00.40 h in the morning the famous phrase "It's, it's, it's Serani" sounded out of the speakers and the entertainer entered the small stage.

Serani started his mission to convey dancehall music to the audience that was characterized by Hip Hop loyalists in large parts by delivering the shady contra bad minded people song Study People.

Proceeding showing his wistful side, Serani presented his ability of changing his tone of voice from high and clear to deep by giving the thoughtful song Doh.
Carrying on dealing with the subject matter of fighting against struggles and unkind people, Serani asked the crowd to raise their middlefingers against Bad Mind, his tune on the Good Life Riddim.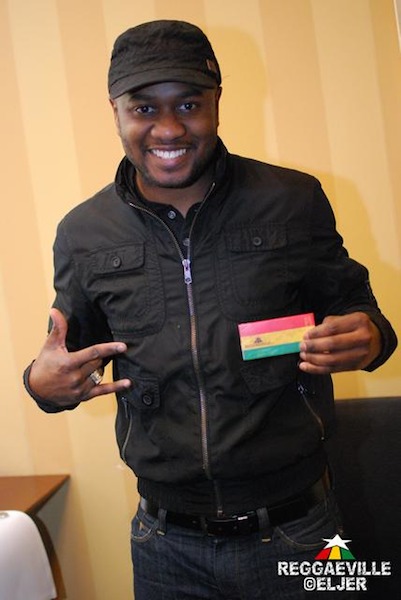 Serani used the probably most common version of the Good Life Riddim, I Am Blessed (originally by Mr Vegas), as an abrupt junction and mood elevator .

To give evidence of his life not only being consisting of dealing with problems of everyday life, Serani created a contrasting mood alteration by changing the theme of his songs from reflective to easygoing.

She Loves Me heralded the start of Serani performing a set of smooth lovesongs. From Romance Me over Skip To My Lue, Serani brought some smashy party flavor to the Wuppertal Club.

The climax of atmosphere was reached when Serani performed his successful mainstream club hit No Games.

After his performance Serani left the stage to move on to Düsseldorf, a city located only about 40 km away from Wuppertal, to perform another gig the same night.

Retrospectively you can say that Serani's impression of the German people giving him a warm welcome (as he said to Reggaeville in an interview earlier that day) seemed to be proved in Wuppertal once again.

Although most of the audience wasn't aquainted with most of Seranis songs yet (obvious exception, of course No Games), the 29 year-old singjay was quite able to thrill the audience.