Review & Video: Sara Lugo - Album Release Party in Munich, Germany 5/27/2011
05/30/2011 by Valentin Zill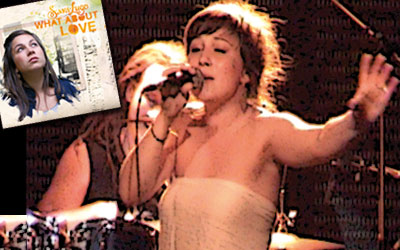 Album Release Party @ Feierwerk, Munich, Germany 05/27/2011

Three weeks after the official release of her arresting debut album What About Love, Munich's rising star Sara Lugo invited to her album release party in Feierwerk, a cultural project aimed at supporting upcoming Munich artists. The turnout was good already when Sam I Am opened the show, armed with nothing but his voice and a guitar. Sam, who also plays guitar for Jamaram, did not forget to mention that he knows Sara from when she was a baby. A handful of tunes later, Sara's new backing band took to the stage.

While the minimal setup of just four musicians naturally necessitated arrangements much less lavish than those employed on the studio album, her pick of some of Bavaria's most experienced reggae musicians ensured nevertheless a rich, catchy and groovy sound. The riddim section consists of Martin Rohac (the One Drop Band's drummer) and Francisco "Flaco" Mazon on bass. On keys, Sara has Sebastian Hopfner who used to play for Jamaram. Although he had pinched his finger moments before the show started, you just could not hear that in Daniel Rickler's virtuosic guitar play, even if you knew it. Umberto Echo's elaborate dub parts graded this show further up.

Sara Lugo filled a good one and a half hours with 14 tunes, and it was not just the rather intimate club ambiance that let the audience feel it. The vibes electrified even the bartenders. When Sara sings, there can be no human being left cold and untouched. The music, sheer magic on the spot, stood by to even get cameramen dancing. The setlist included all the tunes from What About Love. As on the album, Part Of My Life, Familiar Stranger - in a fully orchestrated version -, Locked Away and Nothing To Worry were among the most stunning and catchy songs. Bob Marley's Heathen seems to be a favorite for many background singer's solo parts. Sara delivered the most stirring version I heard in years. The last tune before the encore was her hit single Bombs Of Love, her safest choice to get the massive to sing along.

Sara Lugo proved once more that she has grown a lot artistically in the last years. She is definitely ready to hit the big stages with her own full slot. Expect a lot!