Review
Album Review: Roots Queen - Powerful Energy
09/23/2013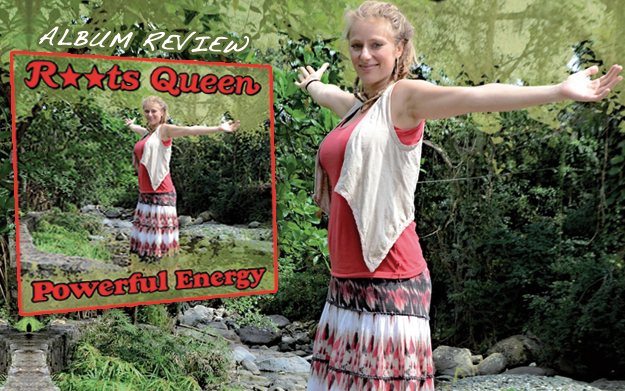 Roots Queen (aka Birgit Pydde) has dropped some solid and sensible sounds in her inaugural Powerful Energy album. The German native who used to be based in Jamaica – where the album was produced - has compiled a crucial cut with the assistance of several of the island's top musicians and technical production/engineering experts. These span Tuff Gong and Gibby's to vocalists Denver Smith and Nikki Burt, with engineers such as Muzeeko and D-Lowe ensuring that the Roots Queen's talents are expertly showcased. Steven Stanley was in charge of the mixing of most of the tracks.

Opening the album with an appropriate 'blessed love' tribute to Jah in a Nyahbinghi stylee, one might assume that they are listening to a Jamaican native. The album's pace picks up thereafter, confirming the artist's ability to crossover from roots to dancehall settings. Callaloo reveals this Queen's fluent mode of vocal delivery, before the album's first single Feeling Free tells about the singer's preference for Jamaica over her German home, despite all of the island's adversities. The Protect Dis Nation track then presents some neat vocal harmonies - with the Queen in charge - before Mother Earth's brass fuelled preservation theme righteously prevails. The pacey Ina di Night track follows and will certainly put 'ants in the pants' of all those in the dance, before the singer rightly exhorts all to say Yes To Life on the follow-up cut. Given the Roots Queen's mode and method of delivery, the massive will have no option but to say 'Yes' to this track's uplifting message!

'Pretty and Beautiful' feat. Ras Pyton follows, with the song's title and message appropriately assuring us all of our self-worth. Nature Call and Lost without Jah then kick in, reminding us that Roots Queen is well embedded amongst the Rasta ideology and bredren. The Queen's upcoming single release - Fly With Me- then successfully slows the pace to reveal her wide variety of vocal span, as the horns embellish a seductive invitation to 'come with me, spend your life with me'. Closing the 12 track compilation, Roots Queen confidently persists in her uplifting themes with a throw back to Jimmy Cliff's 1970 'You Can Get It If You Really Want It', as she exhorts listeners to believe You Can Get It Yet, whatever you may want. In an era of 'doom and gloom', with worldwide warfare and economic recession, it's a fitting way to close the compilation, reaffirming this artist's positive and uplifting exhortations, delivered in an engaging musical manner, with lots of 'Righteous Energy'!

Whilst reggae from non-Jamaican artists has had some success over time there remains a shortage of female 'international' protagonists. Roots Queen's Powerful Energy has the potential to put a dent in the deficit, drawing attention to this large, yet underrated part of the industry. May the seed grow.
 
---
Release details
Roots Queen - Powerful Energy
DIGITAL RELEASE [Royal Queen Records]
Release date: 09/24/2013
Tracks
01. Intro
02. Callaloo
03. Feeling Free
04. Protect Dis Nation
05. Mother Earth
06. Ina Di Night
07. Yes To Life
08. Pretty And Beautiful
09. Nature Call
10. Lost Without Jah
11. Fly With Me
12. You Can Get It