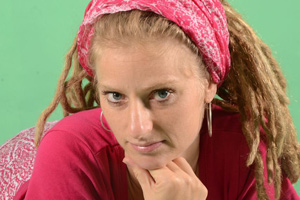 Birgit Pydde more popularly known as Roots Queen is a German based Reggae/Dancehall artist, song writer and producer.
Her connection with the Reggae/Dancehall industry started in the late nineties when she began listening to music by Bob Marley, Gentleman and other roots and culture artists. Once she was able to interpret the lyrics and realized that the messages were positive and uplifting, she fell in love with the genre and began to listen more frequently.

Birgit grew up as an only child to average middle class German parents. She lived what many would consider a normal life which meant getting an education and entering the work force immediately thereafter. She worked a regular 9 to 5 job for a while but eventually began to question the systematic routines in which she found herself. She felt that there had to be more to life than just working for someone and only making enough money to pay bills at the end of each month. Having always had a passion for music, she got an epiphany after attending the annual Summer Jam Festival (held in Cologne, Germany) one year. It was there that she was able to see live performances by several Jamaican artists and witnessing their command of the stage and their audiences made her realize that this is what she wanted to do with her life.

In 2004, Birgit made her first trip to the island of Jamaica. Upon arrival she immediately acquainted herself with the people and the culture and was exposed to the underground Reggae/Dancehall scene which was hidden from her while in Germany. The people she interacted with felt her positive energy and began calling her Roots Queen, a name she whole heartedly embraced and adopted. After her visit in 2004, Roots Queen returned to Germany armed with a better understanding of the Jamaican music industry and began making plans to become a part of it. She composed her own beats as she was not comfortable recording on other producer's projects, as well, she wanted the independence and creative control that comes with being a producer.

Another challenge she tackled once she returned home was her vocal delivery. Roots Queen contracted and worked with some of the best vocal coaches in Germany, namely, Miriam Sabba, Christiane Endmann, Anno Lauten, Renate Otta and Patrick Surth.

Once she felt she was ready musically, Roots Queen gave up everything she had in Germany (a comfortable two bedroom house, a brand new high end vehicle and several other luxurious items) and relocated to Jamaica. She settled in a cottage located in the residential district of Ocho Rios, St. Ann and made friends quickly.

She recounts that she learnt everything from cooking to speaking (English and Patois) from her Jamaican friends and the experiences shared with them inspired a slew of lyrics and beats.

A major point in her career came when a friend of hers, Tamba, who is a known dancer and MC offered her the opportunity to perform at a huge stage show. Roots Queen's performance amazed the crowd (who seemed to be blown away by seeing a white woman perform reggae and dancehall so well) so much so that they insisted on an encore.

Another MC that was present at the show invited Roots Queen to other events where she also did great and was well received.

Once she realized that she was accepted by the Jamaican masses, she turned her attention to producing and promoting her own projects. Alas, she quickly found out that a great deal of money was required to cover things such as studio time, musicians, transportation etc. Determined to succeed, Roots Queen began looking for work in Jamaica but eventually had to return to Germany where she was certain to generate the kind of money needed to finance her career. She lived in Jamaica from 2007 to 2010.

After returning to, and spending two years in Germany, writing lyrics, composing beats and acquiring funds, Roots Queen went back to Jamaica to work on her first official studio album entitled "Powerful Energy", while simultaneously promoting the lead single, "Feeling Free (Landlord)".

"Powerful Energy" clearly defines the inner person that is Roots Queen. The album is a collection of songs that captures specific moments of her life and her thought process. Though the planning for this project was done in Germany, the actual production was done in Jamaica at some of the best music facilities on the island. Production, mixing and mastering of "PowerfulEnergy" was done at Tuff Gong, Gibby's Front-room, Dehva's House, Steven Stanley, Frenz For Real and Rohan Dwyer Recording Studios. Tuff Gong, Gibby's Front-room, Dehva's House, Steven Stanley, Frenz For Real and Rohan Dwyer Recording Studios. Indeed this album features some of Jamaica's most talented and professional musicians, such as Denver Smith, Niki Burt and Dale Haslam. Engineers that assisted with the project in various ways are Muzeeko, D-Lowe, Ricardo "Red Boom" Reid, Chadwyck "Dehva" Gillings and others.