Review & Photos: Ganjaman Record Release Concert in Berlin 12/14/2012
12/17/2012 by Gardy Stein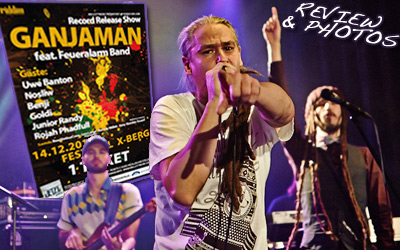 Review: Ganjaman Record Release Concert in Berlin, Germany @ Festsaal Kreuzberg 12/14/2012
all-rounder [awl-roun-der]: a person of great versatility or wide-ranging skills

Producer, singer, songwriter, performer, sound engineer, instrumentalist, mixer, cutter, organizer, do-gooder… the list of this man's achievements could be expanded almost endlessly. He has been involved in countless projects during the last years, including CD- & video-(post)-production & mastering for various artists. On December 14th however, Ganjaman invited people from near and far to celebrate the release of his own new album entitled JETZT ('NOW' in German).


The party that shook the foundations of Berlin-Kreuzberg (Germany) Friday night could have been subtitled 'Coming in from the cold'. Entering the location from a freezing -5° Celsius of German winter, an instant temperature raise of at least 25 degrees welcomed the estimated 500 visitors and added to the cheerful anticipation hovering above the place.

In charge for the warm-up, DJ Lou Large observed correctly that "it's only quarter past ten and the Festsaal Kreuzberg is already full – people, you are great!". He then played the hymn of the local arts & culture centre, YAAM must survive, generating approving cheers. About half an hour later, the Feueralarm Band (Big Finga - Drums, Pollensi - Keys, Odi – Bass & Stahl – Guitar) entered the stage to the sounds of Bob Marley's One Love and paved the way for the first singer of the night, Uwe Banton. He performed a set of nine songs taken from his new album Mental War.

After a short break, the moment everyone had waited for was there. Preceded by a gripping speech of JFK, Ganjaman stepped into the spotlight and started off his first song In Den Untergang, equipped with microphone, towel and the powerful background singer Saralène. It was after this intro that he passed his traditional greeting to "all the beautiful people in the building". The second song Wir Gehen Diesen Weg was accordingly received with happy cheers. Thereafter, "Brother" Jr. Randy (introduced as the first of a whole slew of "specially special guests") accompanied the next two songs Die Welt Schreit Auf and Alphabet, the latter explaining and celebrating Roots Rock Reggae together with the crowd – by now wide awake and ready for more.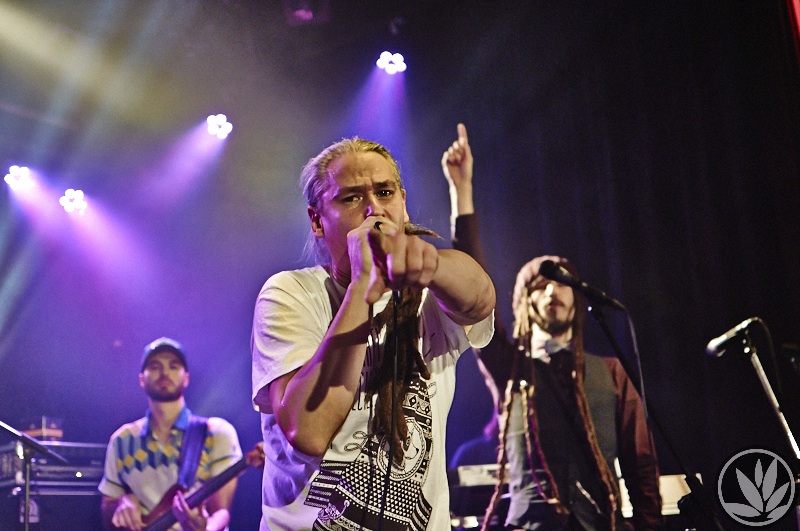 Ganjaman expressed his gratitude for everyone present, stating explicitly that he is "overwhelmed and filled with pride and awe that people came from places as far away as Cologne, Dortmund and Stuttgart". At that point, Goldi joined him on stage and performed a vibrant love song called Puzzle. Love was also the subject of the next tune Sie Könnten Alles Nehmen. While the listeners hung on his lips, Ganjaman explained that love is the one thing that can't be taken away from us. A musical surprise was included in the following piece Nur Jah Weiss, in which a young man called Richard appeared on stage and played a haunting flute. Die Zeit Ist Da, one of the most catchy tunes on the album, made everyone dance while Ganjaman kept interacting with both the audience and the band. Featuring Ephraim Juda, No Sleep talks about the feeling of helplessness and frustration when seeing bad news in the media. Consciousness! Continuing in these lines, Uwe Banton reappeared on stage for Fels In Der Brandung, an appeal to be solid as a rock instead of blowing with the wind. After another combination piece (Danke Jah, Rom, Hab Dank), the calm emotion of Du Hilfst Mir Auf seemed to cast a spell over the audience, who listened with lighters flaring.

This mood made the transition to the next part of the program appear sharp: Rojah Phad Full entered the stage and asked "Did you bring your dancing shoes?" while the Punnany Riddim started playing – FIRE! Up next, Benjie (like Ephraim Juda a member of the Urban Tree Family), contributed with some more dancehall tunes to the diversity of styles, sitting on classic riddims such as Sleng Teng, Come Down and even Jamrock (once again, biggest respect is due to the band!). The crowd went mad when he intoned the well-known song Ganja Smoka, and many sang along. Taking back over from him, Ganjaman dropped Das Gleiche Alte Lied and Nur Einmal on this vibe, at the end of which everybody raised hands and sang along. At this point, Ganjaman took his time to big up the people working in the background to make this event possible (amongst others sound-engineer Muk, light-engineer Jens and Promo-Team reggaeinberlin.de) and plunged into a highly energetic medley of Gib Niemals Auf/ Wie Weit/ Schrei Es Raus/ Der Anfang. A captivating special was the re-appearance of Richard with bag-pipes, playing a beautiful version of Redemption Song.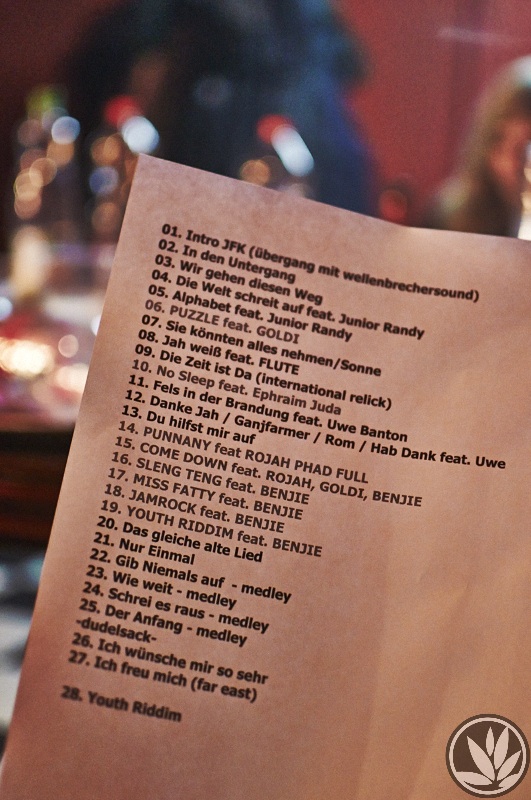 Meanwhile almost 2 hours on stage, Ganjaman stated that now all the tension and stress of the last days had left him. With Uwe Banton on guitar, he intoned his hymn against war, Ich Wünsche Mir So Sehr, which once more caused goose bumps (and lighters). Heralding the final round of this marathon-stage-show, yet two more special guests were announced. After some more conscious messages transmitted in Ich Freu Mich, Ganjaman asked the spectators to welcome Kimoe on stage, who sang a tune on the Youth Riddim, followed by versions of Goldi, Saralène and Benjie. A formidable close 'ina dancehall style' was delivered by Dr. VolkanikMan (by the way a real doctor, working in Berlins University Clinic). Under rounds of applause, Ganjaman left the stage after wishing everyone a safe trip home and once more expressing his gratitude for their participation.

A lyrically charged show thus came to a close. The beauty and profundity of lyrics like "Jeder Gedanke, der ein Wort nach sich zieht, jedes Wort gesprochene Realität (…)" (Every thought that entails a word, every word a spoken reality) is hard to translate. Maybe JETZT can serve as an incentive to start learning this language of poets and thinkers? There is so much to discover, especially since more and more artists of Germanys vibrant Reggae-scene use their mother tongue to express themselves.

Two important subjects emerged as central to the whole performance. First of all: responsibility. Ganjaman made it clear that we all are responsible for the resources of this planet and should think about how our way of living affects others and our children's future. Second: mutual support. "If we don't learn to look after and take care of each other, nobody will." Asked why it was so important for him to plan his Release-Party with all the above mentioned guest-appearances, Ganjaman said he wants to involve as many people as possible to make a positive change: "The more people sit in a boat together, the stronger we are rowing it." Plus, these artists are important to him in his private life as well. His aim is to "create a platform and make it accessible to those who have something to say". Supporting each other is easy, as many examples of this special night have shown. In support of each other, Uwe Banton and Ganjaman announced the evening to be a "double release party" for both the albums "Mental War" and "Jetzt". In support of each other, Rojah Phad Full wore a T-Shirt of Mono & Nikitaman. These are small and easy-to-achieve actions that promote togetherness and foster a family feeling, a spirit that ought to spread to the whole German Reggae-scene.

The 'Coming in from the cold' metaphor evoked above thus didn't relate to the physical sensation alone. The concert was as much a spiritual experience - yet another battle won in the fight against anonymity, injustice and social coldness! It is certainly no exaggeration to state that the people who witnessed this show left with a warm glow in their hearts and a happy smile on their lips.

Photos by Blattkunst