Review
Review: RC - Rough Survivor EP
07/05/2014
by Angus Taylor
Righteous Child has nice songs and an exquisite voice.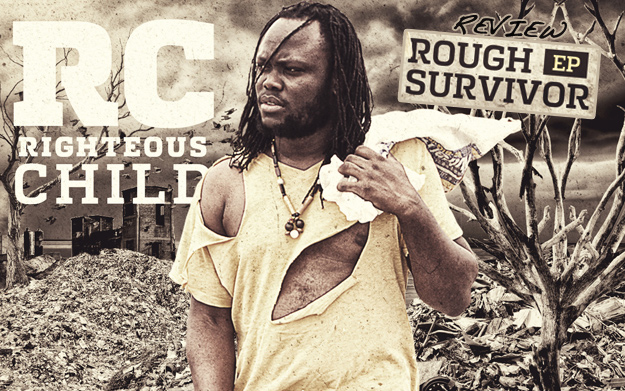 RC aka Righteous Child has one of those velvety yet gritty, distinctly Jamaican voices that could bestow sincerity on the transcript of a politician's speech.

He came to the attention of the Jamaican public by reaching the 2009 final of Magnum Kings and Queens of dancehall - the same contest that later produced Jah Bouks. And he has been mentored by Donovan Germain of Penthouse who did the same for Digicel Rising Stars winners Romain Virgo, Shuga and Dalton Harris. There is a question to be asked about why Jamaican talent shows consistently produce actual talent while singers from shows like the X Factor are soon forgotten - but perhaps not here.

RC's debut EP is supervised by Germain and includes four of his rhythms as well as two from Vikings, one by Tee and Jaa Records, one from Austria's Bassrunner and one via Germany's Silly Walks.

It's been 5 years since Magnum Kings and Queens and the backings all have that mid to late 2000s roots sound: glossy and poppy but with organic instrumentation. The soprano sax of Dean Fraser is often present - both an instrument of smooth jazz and roots reggae at the same time.

Over them, RC sings reality themes in his poignant tones. The Germain-produced Like Palestine suggests a retreat to the hills where the fresh and air and moral high ground will save the virtuous from final judgement. Why Should I on Silly Walks' Jamaica conquering Honeypot riddim makes the raw admission that that singer is from the gutters of the ghetto where he doesn't want to return.

Many of these tracks such as Why Should I, Gideon Boot and Holding Firm will be known to singles buyers and this is more of a tasting menu than a cohesive whole. No matter - it is worth hearing because Righteous Child has nice songs and an exquisite voice. Hopefully an album will follow.


---
Release details
RC - Rough Survivor
DIGITAL RELEASE
Release date: 06/24/2014
Tracks
1. When Blessing A Rain
2. Good Morning World

3. Why Should I

4. Try A Little Love
5. Holding Firm

6. Gideon Boot
7. Palestine

8. Never Let Them Lead You Astray