Review
Album Review: New Kingston - A Kingston Story: Come from Far
08/28/2017
by Gardy Stein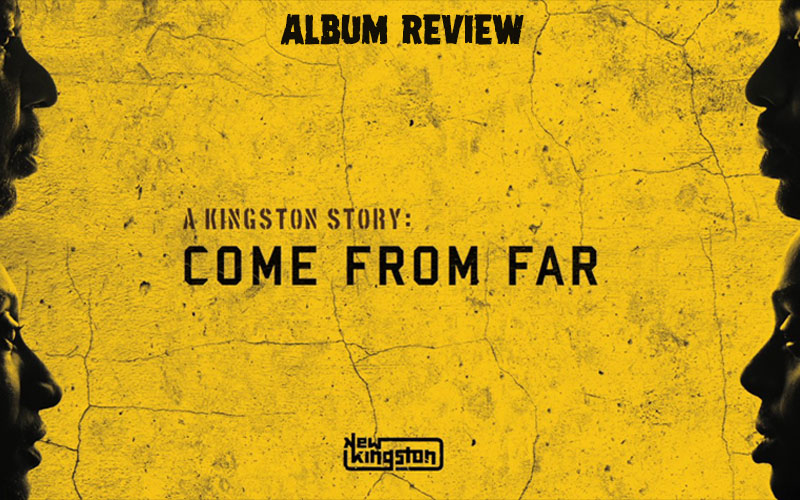 "Brick by brick we ah set it rocksteady, took some time for us to get ready…"

New music for a new world from New Kingston: the Jamerican band is just starting its international ascent, despite its solid US-fan-base and a decade-long existence. The founding bricks were laid by Jamaican bass-player Courtney Panton who moved to New York with his family in the early 80ies and, about 20 years ago, enthused his sons to pick up and learn one or two or three of the many instruments he had accumulated in his house. The result is a home-grown band of four: while Daddy Panton naturally provides the bass, his eldest son Courtney Junior rocks the drums, Stephen plays guitar and "baby" Tahir hits the keys.

Since all three sons are blessed with strong, melodic and soulful voices, no additional or background singers were necessary to provide the full sound spectrum that is part and parcel of both their live-performances and the band's studio works, all of which reflect their Jamaican heritage. After the releases Kingston University (2013), Kingston City (2015) and Kingston Fyah (2016), they now introduce their new album A Kingston Story: Come From Far. Recorded at their Brooklyn home-studio with a little help from engineer Fabian Cooke, the Easy Star Records release sports nine tracks and a peaceful, sunlit snippet called Browne's Interlude. The latter contains indeed a short sequence played by bass-legend Glen Browne and perfectly settles our mind for the magnificent, violin-ridden Agape, which does not talk about open-mouthed astonishment, but the Greek term for divine love: "Love is everything you need in life!"

More feeling and beauty is delivered in Sunlight, a very lyrical piece (I mean, check this: "When the sunlight fades away and the moonlight starts to wake…") in which the one called Pressure Busspipe has a featured appearance. Lyrics are one of the band's many strengths anyway, as Honorable And The Beast shows, a song in which the daily fight against the evil in and around us is discussed. Also, Stereotypes has to be mentioned in this context: "Break down every gate, break down every barrier, righteous is the way, people won't you follow us?" Less revolutionary, Solid As A Rock is a reflective, encouraging track, while Meditation focuses on the need to be at peace and release the negativity. Inspiration!

Most of all, however, the first and title track Come From Far has permanently settled in my heart and soul. Not only because of the wanderlust-inducing train sound, the haunting keyboard or the gripping Roots beat, but especially because the catchy chorus and the truth of its words felt deep inside make it an instant favourite.

No pre-manufactured riddims, no auto-tune, just honest compositions and a very personal take on Reggae – A Kingston Story: Come From Far is yet another high-quality release of this musically rich year. Says Courtney Panton Jr.: "There's always a moment in life where we subconsciously show gratitude to where we are now by reflecting on where we came from. Come From Far is our experience; as a family, as musicians and as human beings living in a world where anything is possible."

With a heavy UK- & US-Tour ahead of them, the possibility to spread their message of love and empowerment further is indeed almost limitless!

---
Release details
New Kingston - A Kingston Story: Come from Far
CD [Easy Star Records]
Release date: 08/25/2017
Tracks
01. Come From Far
02. Honorable & The Beast
03. Starlight feat. Pressure Busspipe
04. Browne's Interlude
05. Agape
06. Stereotypes
07. Meditation
08. Solid As A Rock
09. Reggae Music's Playing
10. Kingston Fyah Dub
Featured artists
Pressure