Review
Album Review: Perfect feat. House Of Riddim - Over The Top
09/09/2013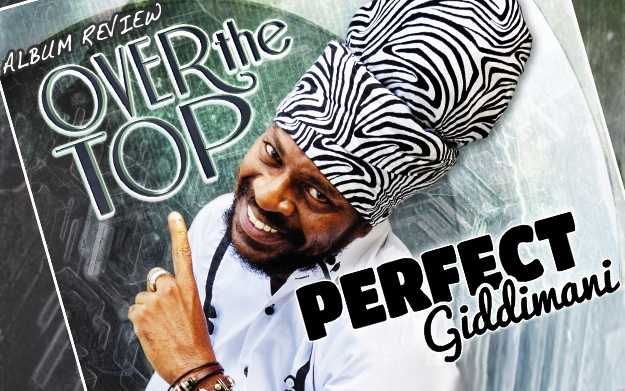 Produced in collaboration with Austria's brilliant House of Riddim, this release is packed with 20 tunes.The title track Over the Top showcases Perfect's unique style, never taking himself too seriously here with the mission at hand to go over the top, chanting "Got to be a winner, got to find my dinner".

Country Cousin is classic Perfect. His real world storytelling launched with Handcart Boy and it nah stop. With its chorus, "Everywhere each and everyone, we all have a country cousin". He points out that in Jamaica, these people can sometimes be taken advantage of by their fellow urbanized citizens chanting, "Dem still take the handcart bwoy fi idiot".

Better Days reminds the listener of Perfect's humble roots and his success despite them as he sings,"One shirt on my back, and my feet was always naked", sung as a gospel/R&B ballad with sax and driving piano threaded through.

For Still, in straight deejay style, Perfect pulls out the stops, listing the reasons why he is still the Don, never diverging from the mission. Next up is Looking Glass with its bass-heavy band vibe and rich background vocals that ask as you look in the mirror, to look at the world from other perspectives.

Chronic Intake starts out subtly, with a lovely falsetto-soprano chorale singing this ode to the herb. The groove is supreme, driving the message, "Ganja fi burn mi say, mi nah stop it....OG from L..A. inna mi pocket" referring to the OG Kush variety. And "Bobo Shanti 'pon the stage me nah rent it", which refers to his sacramental usage versus "Renta-Dread" hype.

The duet, I Hail Jah enlists the forces of Pressure Buss Pipe whose distinct pipes sound like a trumpet, singing the chorus and "Even when they wish to see my downfall, still I wish goodness for them all". As the release closes out, Ras Attitude joins Perfect on Lost with its message to find yourself in this time, the chorus, in this deep vintage R&B vibe, a warning to those "lost without righteous".


---
Release details
Perfect Giddimani - Over The Top feat. House Of Riddim
CD / DIGITAL RELEASE [House of Riddim Productions]
Release date: 09/10/2013
Tracks
01. Still
02. Interlude
03. Over the Top
04. Love to Be Loved
05. I Hail Jah feat. Pressure Buss Pipe
06. Double Wrong
07. Better Days
08. The Best Thing
09. Greatest Friend
10. Marcus Garvey
11. Proud to Say
12. Ribbi Dubang Skeng
13. Lost feat. Ras Attitude
14. Never Fall
15. Country Cousin
16. Chronic Intake
17. Smoke Billy
18. Silly You
19. Looking Glass
20. Africa Bound


Produced by
House Of Riddim
Featured artists
House Of Riddim
/
Ras Attitude
/
Pressure Busspipe