Review & Photos: Danakil & Rootz Underground in Paris, France 3/18/2011
03/20/2011 by Wally Fall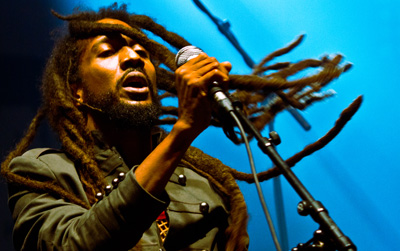 Review Danakil & Rootz Underground @ Zenith, Paris, France 3/18/2011
click here for the photo galleries: Danakil and Rootz Underground
On an artist's long and bumpy road leading to success and recognition there are many turning points that can tell a lot about them, their staff and on the persistence they must have displayed to get there. This is true for any type of music – with an exception for the reality TV shows they want to feed us with – and that is even truer when the artist doesn't get much airplay on national tv or radio. Well, playing at the Zénith de Paris is certainly one of those turning points that Danakil and Rootz Underground will certainly mark with a red stone in their career. Why red? I don't know but I believe white or black wouldn't have been enough to express the symbol right.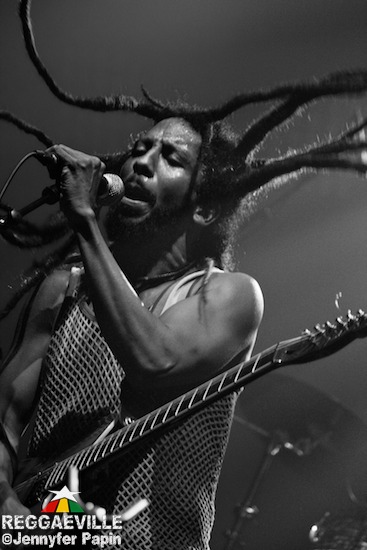 On my way to the venue, it was cold and raining in Paris. Rootz Underground was already on stage and people were still flocking at the doors. As I got inside I remembered their status that popped up in my facebook news feed a couple of days before which said: "France... we're here, just crossed the border…. Can you feel the energy?". And energy is what grabbed me first. I didn't know at that time that it wouldn't leave me for the whole evening.

I discovered them two years ago at the Reggae Sun Ska in 2009 and I had really found them impressive. Not only for the charismatic Stephen Newland the lead singer, but because you don't really expect what's going to hit you. They will bring you with them whether you want it or not. The melodies and atmosphere they create around their songs are unique. And the ecstatic Marley-like dance moves of the singer will finish the job in conquering your eyes and ears. People here make no mistake and come closer to get some of the energy Rootz Underground have plenty of to give away. Chances are many of them know the phenomenon already since they've been sharing so many stages with Danakil before. Their last big show in Paris was at the equally mythical Olympia alongside Danakil in October 2009 [photos here]. On the menu tonight, some of the best Marley covers I've seen and the powerful Rastaman Experience, Power to the People or Herb Fields that have won them crowds around Europe and North America. Just by looking at them you know they're at least as happy to be here with us as we are to be with them. They got off the stage at around 8pm leaving the massive boiling hot and ready for the rest of the show. My evening just had a really good start and there was still more to come.
Just the time to have a quick drink, get yourself together after such a great kick off and the uproar is back again ready to tear the roof off ! People are ready to welcome Danakil on the stage. No, eager would be the right word actually. With the cheers I hear the stress of the week getting away, in the eyes I see a long thirst being quenched at last. Balik the singer, tells us we are 5,000 people. Uproar again. He offers us to jump on the bus and leave the town with Quitter Paname (Paname is another name for Paris). Although it's a track from their new album released just a month ago, the whole Zénith seems to know it already and sings along. What a start, I think to myself! And as Balik rightfully points out at the very start, what a journey for these guys who met each other in the music school of their little Marly-le-Roi, a quiet little suburban town just outside Paris. That was 10 years ago. And like many other bands they started at the very bottom, playing between 5 and 10 shows a year almost everywhere they would be called to, no matter how much they got paid, when they got paid, according to Balik whom I interviewed over the phone a few months ago. Since that time music has taken a bit more space in their life I guess. Danakil has been constantly touring France for the last 5 years at least I think at a pace that could even make a French icon like Johnny Hallyday blush!

And fortunately I'm at Danakil's first Zénith this Friday and they are still taking people on their bus that has turned into a plane now. It doesn't take long to hear the voice of Natty Jean who is touring with them after a fruitful collaboration in Bamako at Manjul's Humble Ark Studio. Balik introduces him on the second track of the evening (Obéir). The voice is clear and powerful and the backing vocals he adds are always just as they're supposed to be. Again the massive are really quick to adopt him and all his solos are greeted with cheers and screams whether he sings in French, English or his native Wolof (Senegal).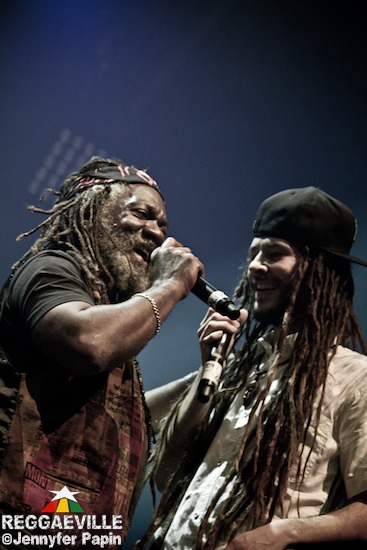 Danakil called a few of their friends to come and join them on stage to share this memorable evening with them: Papa Style, Daddy Nuttea, Winston & Matthew Mc Anuff, Broussaï and Brahim are like so many cherries on the top of a show that culminates when they revisit some of the classics that propelled them at the forefront of the French Reggae scene today: Dialogue de Sourds, Les Hommes de la Paix, La Vie est Longue and other beautiful tracks from their first two albums are genuine anthems that the whole crowd sing as one voice. Almost two hours on the counter and people are still jumping around me. They've been requesting it for half an hour now and finally the drummer agrees to deliver the missing anthem: Marley! Now the plane is a space rocket and we're all on board ready to go wherever Danakil and all their friends would take us. No wonder that when the massive reluctantly leave the venue they all had a large smile upon their face with stars in their eyes. I felt so great that I decided to run back home.