Review: SOJA & Gentleman in Los Angeles 3/10/2012
03/13/2012 by Larson Sutton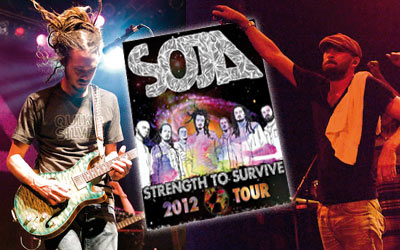 If passive, indifferent, and, at times, disrespectful are the stereotypical characteristics of a Los Angeles concert audience, the youthful gathering that attended this past weekend's consecutive sell-outs of SOJA at the House of Blues on West Hollywood's famed Sunset Strip did their best to dispel any and all of those notions. And, youthful it was. The mere mention of the headliner by openers Anuhea and Gentleman evoked whistles and screams normally reserved for boy bands, not dreadlocked social messengers. Good news for those worried about the future of the planet. Even better news for those worried about the future of music.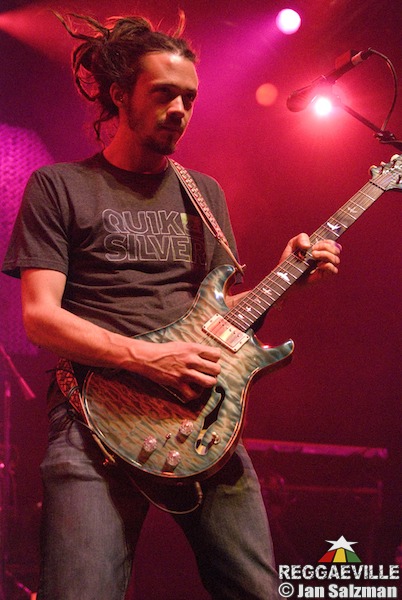 Perhaps sensing the frenetic anticipation of the crowd, it was evident from the raise of the proverbial curtain (in this case the HOB video screen), two days shy of the tour's end following a national television appearance on The Tonight Show, that this would be as highly energized a date as any of the previous, if not more. Frontman/guitarist Jacob Hemphill acknowledged as much, offering a pledge to bring the band's best as the 8-piece outfit (including new addition guitarist Trevor Young), launched their 90-minute Saturday set with Mentality, a track off their latest album Strength to Survive, their first to enter the Billboard charts upon release. Unfortunately for Hemphill, his night was plagued by multiple technical difficulties stemming from his in-ear monitor system, causing him to leave the stage several times. He needn't be concerned about the effect on his performance, or the band's, as the clave' click of You Don't Know Me gave way to the slow and slinky Tell Me, hypnotizing the hips of the myriad couples swaying to the trade wind breeze.

Bassist Bob Jefferson's deep-rolling vocal styling announced Be Aware propelled by the sniper-fire harmony horn lines of Hellman Escorcia (saxophone) and Rafael Rodriguez (trumpet), while another Strength cut Be With Me Now followed, showcasing the piano work of Patrick O'Shea on an extended outro whose power ballad sensibility seemed to evoke the ghost of Led Zeppelin. With perhaps the biggest reaction of the night, I Don't Wanna Wait garnered squeals of delight and sing-along moments despite the arrival of Hemphill's soon-to-be nagging tech problems.
The evening's peak came midway through during To Whom It May Concern, a heavy bouncer led by a circular riff of brass and wailing guitar that takes a left turn into 3 AM Tijuana with extended breaks from Rodriguez and Escorcia until drummer Ryan 'Bird' Berty and percussionist Ken Brownwell's flourishes crescendo to a dime's edge halt. The only less-than-incendiary take was on the latest's title track during which the band seemed perfunctory and still finding its footing.

It's worth noting that while one would never hope against the success of such a dedicated bunch as these guys are, there is something magnetic and magical about a bobbing mass pressed wall-to-nightclub-wall, in stride with every downbeat, that makes the inevitable next steps exclusively to theaters, festivals, and beyond somewhat bittersweet. Right now it is wired, and awesome, and fun. There is no spectacle, just spectacular, and the simplicity of a group that clearly is having a great time, dress themselves without the trappings of rockstar stylists or camera-ready affectation, has one humbly-assembled backdrop, (its moniker writ large), and shows a repeated and genuine appreciation for its audience is refreshing. While it's possible to maintain such a standard with growth, it's also hard not to believe that witnessing SOJA in a club will soon become something mythical, and regrettable if missed.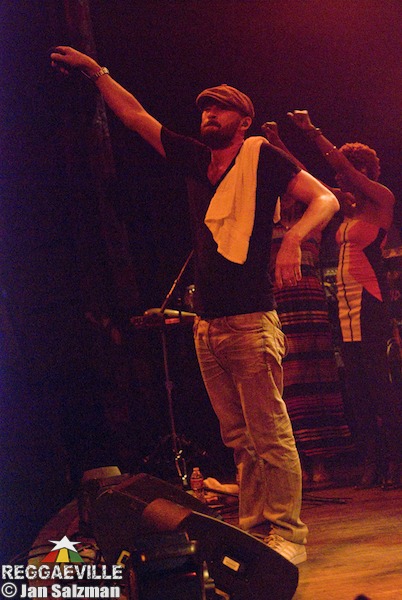 Middle of the bill found an hour-long Gentleman set that began with the prog-rock hinting instrumental crack of his backing band The Evolution and lifted off to a tightly bounding barrage of regggaeton-infused regalia. The German stalked the stage with endless energy, most songs seguing, and offered his gratitude for the SoCal crowd, at one point climbing down into it for a closer look. True to his title, Gentleman ceded the spotlight to his back-up female singing duo Tamika and Mamadee, each dazzling for a song, before resuming his cycle. He paused once to restart Celebration, and once to offer his critique of the insidious and distracting tendencies of Facebook and social media addicts, a risky but well-received rant in a city that is the capital of narcissism. Even more fitting to its locality, the note-perfect ensemble worked up a version of Wipeout before closing their run. A perfect compliment to SOJA's impending appearance, Gentleman and his band have honed their performance into a driving, daunting machine of musicianship and merit.

Hawaiian singer/songwriter Anuhea opened the proceedings with 35 minutes of soulful solo acoustic beach pop. Her set closed with Bob Marley's Redemption Song interlaced with hip-hop improv and was, as well, happy to be sharing the evening with two of modern reggae's best.