Review & Photos: Lee 'Scratch' Perry & Mad Professor in Germany 2/11/2012
02/13/2012 by Lea Yeah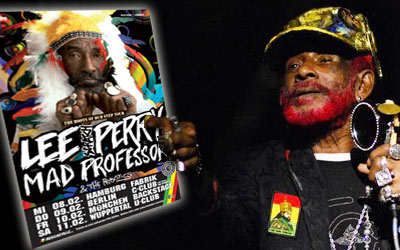 Review: Lee 'Scratch' Perry with Mad Professor & The Robotics
in Wuppertal, Germany @ U-Club 2/11/2012
PHOTOS: Lee Scratch Perry # Mad Professor & Robotics
Even before entering the location, deep base tones and vibrations were well noticeable to visitors standing in line outside the club. The sound already promised what kind of show was to be expected of the encouraging line-up of the Roots Of Dubstep Tour. No less figures than Lee 'Scratch' Perry and Mad Professor were doing oneselves the honour to give a gig in famous German U-Club located in Wuppertal.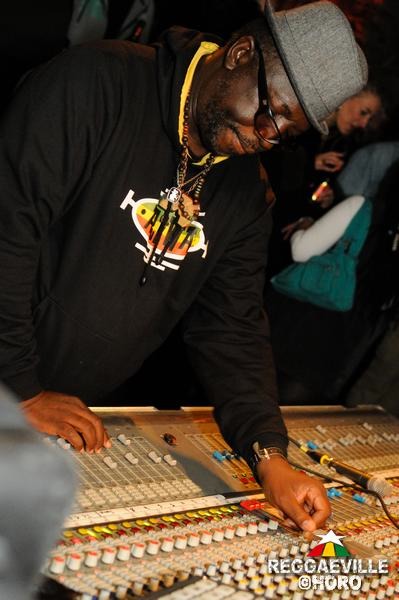 Already the first visitors were pleasently surprised by first-rate engineer Mad Professor showing his skills in mixing. Standing right in the middle of the dancefloor behind his mixing desk from the very first minute, he was deeply bound up in his work, the masterful handling of effects. Mad Professor's very special and individual dub variations of both long-known and recent reggae tunes like Damian Marley's Welcome To Jamrock were taking full effect based on his experience. While using unexpected sound effects, echoes and clarity, Mad Professor transformed the well-known songs into new pure dub tracks. The audience paid tribute to his work by building a cluster of people around him fascinated watching the genious while he was mixing.

The atmosphere nearly became an aura of spirtuality when the musicians of The Robotics entered the stage. The UK dub band showed an excellent interplay which was merely optimized by Mad Professor's interaction at the console. Simply by playing intrumental songs, the band members set the crowd in the right mood to welcome Mr Lee 'Scratch' Perry.

After about an hour of heated performance by The Robotics, the 'Mighty Upsetter' started his performance by stepping onto the stage dressed just as excentric as he is known for. Multicolored, flashy and funky possibly are the right words to describe Perry's extraordinary style. The stories he wants to tell by his songs seem to be as individual as his personality. Lyrically reflective and musically mainly base- and echoe-filled Rise Again broke the first ground of a setlist presenting all facets of Lee Perry's indisputable creativeness.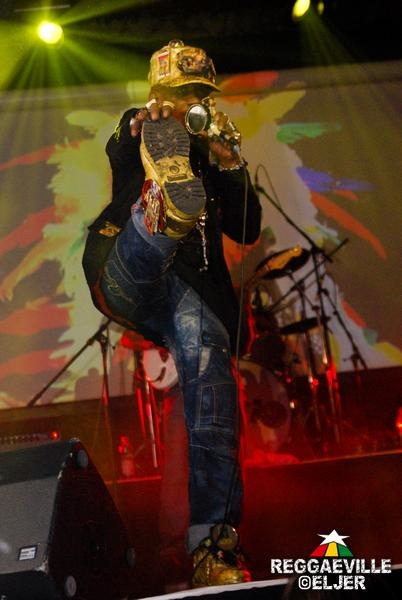 Starting at hypnothic and chilled but also energetic Exercising, over getting to rootsy and rebellious War Inna Babylon up to praising Rastafari Lives, Lee Perry still knows how to cast a spell over his audience. When he stroke up Jungle, you almost thought he had been travelling with a whole zoo, effects of roaring lions, bellowing cows and even braying goats enriched the track. Fast and rhythmic Inspector Gadget finished the regular show, and as an encore he performed Exodus by Bob Marley.

The entartainers age in mind, it even is more surprising how energetic and full of vibes the 75-years-old still is.

From dub over live music up to recent dancehall the whole night seemed to offer the full range of jamaican music which was well received. It was nice to see that Mad Professor took his time after the show to listen to the guys from Passa Passa Sound out of Gütersloh (Germany) who put on some recent dancehall music and kept the party atmosphere alive. Meanwhile he also didn't seem to get tired of chatting and having pictures taken with visitors.

On demand of Reggaeville, the humble engineer said he really likes to consult with listeners of his music. Sympathic.